Snacking smarter
Home to established brands like Ka-Pop! and Bubba's Fine Foods, Awakened Foods has blossomed into one of the quickest growing and most highly innovative betterfor- you food firms in the US
Authentic, simple and delicious – this is the not-so-secret recipe behind the vast and varied range of healthy snacks on offer from Awakened Foods, one of the USA's fastest-growing food businesses. A holding company for family-favorite healthy food brands, such as Ka-Pop! and Bubba's, Awakened also runs a highly successful private label and co-manufacturing business in Awakened Food Crafters.
Part of what sets Awakened apart from its competition is the company's commitment to authenticity and transparency. When the business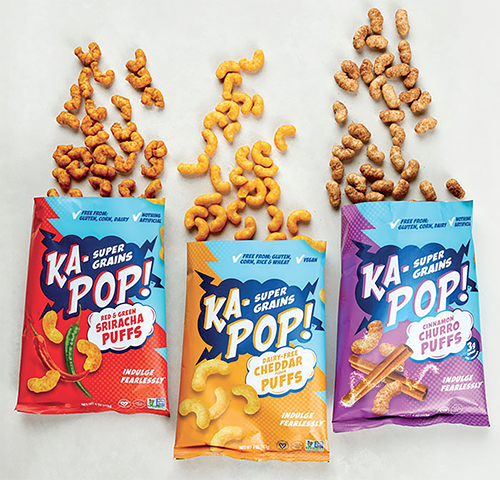 says it creates delicious, healthier snacks, it not only believes the claim, but can back it up.
"There are so many consumers out there nowadays looking for healthier food options," CEO Dustin Finkel says. "The problem is, most of the foods that are supposedly healthy do not taste good or are not true to their health claims. At Awakened, we provide products that are not only absolutely delicious, but that also check all the major wellness boxes, including wholegrain, vegan, paleo, keto, ancient grain and more. We do this across all our growing platforms, and do so with incredibly simple ingredients that make for a craveable taste that keeps customers coming back for more.
"A lot of consumers have lost trust with brands in today's market due to what they perceive to be inauthenticity. People in stores are constantly turning over packages to try and find out what is being hidden from them. We, at Awakened, are trying to bring that trust back. It's been a success so far and you can see that in the reviews we have had online and in-person. For instance, we've given our vegan cheese to dairy managers without telling them that it's vegan. They love it, and the look of shock on their faces when you tell them that it's dairy-free is incredible!"
Great tasting range
Launched by Dustin in 2018, Ka-Pop!, gained major traction when it appeared on Shark Tank in 2020. Famous for its popped chips and puffs made simply from the Ancient Grain sorghum, cold-pressed oil and seasoning, the company's huge range of flavors and freedom from allergens, dairy or gluten, have helped it become a perennial bestseller in snack aisles across the nation.
Ka-Pop!'s sister brand, Bubba's Fine Foods, is another member of the Awakened family. Launched in 2014 by Jared Menzel and his brother-in-law Jeff Schmidgall, Bubba's harnesses the power of green Saba bananas to produce healthy, paleo-friendly, Keto, and grain-free snack mixes with big, bold flavor.
"Bubba's is an incredible brand that focuses on what we like to call 'food tribes'," Dustin explains. "A lot of modern consumers are eating in a particular 'tribe', which could include keto, paleo, or grain-free. At Bubba's, we want people to be able to eat delicious foods no matter what their dietary requirements are, so we have developed an amazing, great tasting range that takes that into account.
"The only problem we've had," he continues, "is that 'Bubba's' as a name just doesn't represent the quality and premium nature of the products we are offering, nor does it really reference the food tribes we aim to serve. As a result, later in 2021, we will be instigating a complete transformation and rebranding process, which will involve a change in name from Bubba's Fine Foods to B. Fine Foods. Our new packaging will say things like 'B. simple', 'B. keto', 'B. paleo', and what we are communicating by that is really just 'be yourself'. We want consumers to know that we support their food choices."
The third and final element of Awakened's contemporary offering is Awakened Food Crafters, a manufacturing group that produces the company's own brands, as well as co-manufacturing for others – from start-ups to some of the USA's biggest retailers and CPG brands. Operating from two Colorado-based facilities – a dedicated top 12 allergen free facility and a gluten-free, paleo site – Awakened Food Crafters is a trusted partner at the heart of the industry.
"Awakened Food Crafters is an amazingly synergistic part of the business. It's an important third leg to the Awakened Foods' stool because the brands support the manufacturing and the manufacturing supports the brands," Dustin reports. "It allows us the flexibility and creativity to innovate quickly and move rapidly on market trends. We can go from idea to in-market launch in six weeks or less.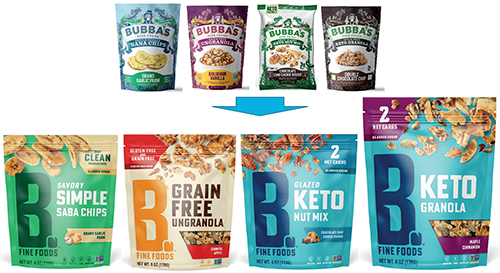 "Ultimately, this means we can effectively support growing companies in building their businesses, and help established firms innovate in a way they would not be able to within their corporate infrastructures. At Awakened, we understand the challenges many brands are going through because we have been through them ourselves, so we try and take the weight off for them."
In recent times, Awakened Food Crafters has carried out a number of major projects, including the development of a new flavor for a large retailer in less than four weeks, and the short-notice production of 600 additional cases of a new product within 14 days. Backed by market-leading R&D capabilities, this flexibility and nimbleness has proven to be an outstanding differentiator.
"We leverage an agile R&D model and we are lucky to have some of the best R&D scientists in the business. Jared, our Vice President of Research and Development, is capable of developing whatever a client requests, regardless of flavor, platform or product," Dustin remarks. "Another critical element of our R&D process is remaining in tune with trends. On the Bubba's side of things, we had the two most successful keto launches on Amazon in 2020, but keto didn't exist in the Bubba's range before that. We were out in the marketplace, seeing the growth in keto, adapting our capabilities, adapting our products, and then we launched a keto range with excellence. That's our level of flexibility, and innovation without flexibility is very, very difficult."
On the back of its growing reputation, Awakened plans to move into a new, 54,000-square-foot facility in 2022. The site will allow Awakened Food Crafters to grow its capacity to around $200 million in revenue, as it continues to support brands new and old. Of course, without people, Awakened's advanced new facility would be nothing, and as such, Dustin is determined to recognize his employees' hard work and support them in their efforts.
"When I started this company, there were just two of us, but we now have over 50 team members, all of whom are incredibly important in what they do for us," Dustin states. "In line with ongoing initiatives like weekly Core Value Awards, the goal now is to enable our people to feel real ownership for what they do. We are working towards a place where all employees, no matter what their level, know that their feedback is important and that we need it to shape the future of the organization. For instance, I can't tell you what is going to work better on the line, but you know who can? The person on the line. I want them to give our team the power to bring those ideas forward."
Whether it's with colleagues, suppliers or partners, Dustin is certain that relationship building will remain a key part of the operation at Awakened for the entire life of the business. For now though, after working with like-minded Boulder, Colorado firms to navigate the challenges of the Covid-19 pandemic, the firm is looking forward to an exciting year ahead in 2022.
"We have incredible expansion plans with Kroger and Whole Foods in the pipeline and the revitalization of Bubba's to B. Fine Foods is going to lead to a dramatic increase in awareness and sales," Dustin asserts. "As I mentioned, our Crafters business also has a lot of opportunities to support other companies lined up, which will help take us to the next level.
"Looking to the future, we are a company with a lot of in-built flexibility and this means we can continue to innovate through our current brands, as well as incubate new brands and see how they perform within different channels. We have the potential to be so much more to so many companies and really have an influence on the trajectory of the natural foods industry.
"I am very excited about what we are building at Awakened. Hard work now will enable us to blossom into something beautiful within the next few years."
www.awakenedfoods.com