The B.F. Saul Company Hospitality Group keeps the food and beverage offerings in its hotel properties fresh to attract guests and others.
The B. F. Saul Company, which was founded in 1892, is a significant owner and operator of commercial real estate in the Washington, D.C. region. With a successful history of 125 years in business, the organization combines a long-term, strategic focus with professional execution and organizational depth across the range of real estate types: office, retail, hotel and residential.
In 1976, the company formed the B. F. Saul Company Hospitality Group to own and manage its expanding hotel portfolio. The group today operates 20 hotels with 3,500 rooms, as well as two adjunct conference centers. The facilities are in the nation's capital as well as in Virginia, Maryland, Florida and Michigan.
The Hospitality Group operates properties franchised from major hotel companies including Intercontinental Hotels Group, Marriott International, Hilton Hotels & Resorts and Best Western Hotels & Resorts. In addition, The Hay-Adams, a member of Leading Hotels of the World, is a fine hotel in the group. Early in 2018, the company will open its newest addition, the Homewood Suites by Hilton in Arlington, Va.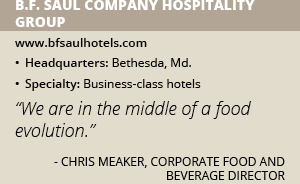 The Hospitality Group operates with a clear focus on guests, team members, market performance and the community. This mission is supported by a culture that is based on six core values: success, respect, communication, collaboration, encouragement and change.
Staying Competitive
B.F. Saul Hospitality Group's properties include full-service hotels as well as mid-size select service properties and extended stay hotels. The full-service hotels include casual dining restaurants, bars and flexible meeting/venue space with extensive catering offerings. The select service properties include breakfast areas and meeting space with full service catering offerings.
The company's onsite food and drink offerings include O'Malley's Pub, a chain of concept restaurants with locations in Michigan and Northern Virginia. Other concepts include Harvest Plates and Pints in Gaithersburg, Md., and Fresh Kitchen in Arlington, Va.
The restaurants, bars and other food and drink outlets in the Hospitality Group's properties target more than just hotel guests.
"Our goal is to be current when it comes to flavors and culinary trends, and competitive when it comes to our offerings and pricing," Corporate Food and Beverage Director Chris Meaker says. "We want our offerings to be competitive with other hotels as well as with restaurants, casual and even fast-casual food outlets.
"The days of hotels having a stranglehold on catering are done; whether it's offering a full meal or a continental breakfast or a sandwich for lunch, everyone is competing for the same dollar," he adds. "We really want to go after not only the overnight business traveler in our outlets, but local businesses for meetings/conferences, happy hours or catering events."
In The Community
The company offers different menus across its outlets, each of which was developed with the input of food and beverage directors and general managers at its individual properties. "Our Crowne Plaza in Michigan has a different offering than our Crowne Plaza in northern Virginia," Meaker says. "We want to make sure we're part of the local community not only in terms of food, but also in beverage."
Staple items available at all of B. F. Saul's hotels share menu space with local favorites and trendy dishes. "In the restaurant and bar business, there are staple items that you have to have, such as cheeseburgers and chicken wings, but around those, you have to offer food that is current. For example items like Brussels sprouts and mac and cheese are popular in today's culinary worlds. How you manipulate those items can be memorable, unique and specific," he adds.
Each B. F. Saul Company Hospitality Group hotel offers a seasonal catering menu highlighting ingredients through entrees and drinks that are most prevalent regionally during a particular time of year. The winter menu featured cranberries, while the spring menu will offer basil- infused dishes and cocktails. The company in summer will introduce a garlic menu and the fall will feature carrots as its seasonal ingredient.
The company last year re-engineered its hotel catering menus to provide a range of items that fit today's palate. Within the new catering menu specific to dinner there are three core options: a southern menu featuring smokehouse options, a west coast menu, highlighting coastal salads and fresh seafood; and an Annapolis, Valley menu, featuring Virginia and Chesapeake Bay items specific to that region. The catering menus were developed to give options in flavors and food but also be able to be customized to fit the guest's needs and style. This is where the a-la-carte items complimenting each menu theme can be mixed and matched depending on the occasion, Meaker notes.
The B. F. Saul Hospitality Group's catering and dining operations are mindful of dietary preferences such as gluten- or allergy-free foods, as well as modern beverage preferences.
"People today know more about food than ever before, and that is not going to change," he adds. "Our guests have become more and more sophisticated."
The catering operation also offers interchangeable options for wine, beer and spirits that reflect current preferences. "Our clients are more knowledgeable about specific brand names and they want those brands and items in their offerings. House brands are still available but becoming less popular as beverage options are so vast. Regional preferences play a huge part in the decision making process, and to be able to expose the guest to brands specific to the region is becoming an expectation and not just an add-on when you engineer your menus," Meaker says.
'A Food Evolution'
Meaker joined the B. F. Saul Company Hospitality Group over two years ago. He previously served as an executive for well known Restaurant Groups such as American Blue Ribbon Holdings and Darden Restaurants. He also was a senior executive for a well-known Canadian restaurant company, S.I.R Corp (short for Service Inspired Restaurants). An entrepreneur by nature, he also co-owned and operated a Restaurant Company in Texas and Arkansas.
Meaker's plans for the future of the B.F. Saul Company Hospitality Group's food and beverage operations include further investment in team member training and service standards, as well as continuing to evolve the group's culinary offerings.
"Food and beverage trends and tastes of our consumers are constantly evolving; we need to stay on top of the changes and adapt consistently. Our focus is on our guests' needs, and we ensure that the presentation of our food is consistent and eye-appealing," he says. "We must be adaptable to the fact that our guests' needs and wants are constantly changing; we work to continue to get better and better."