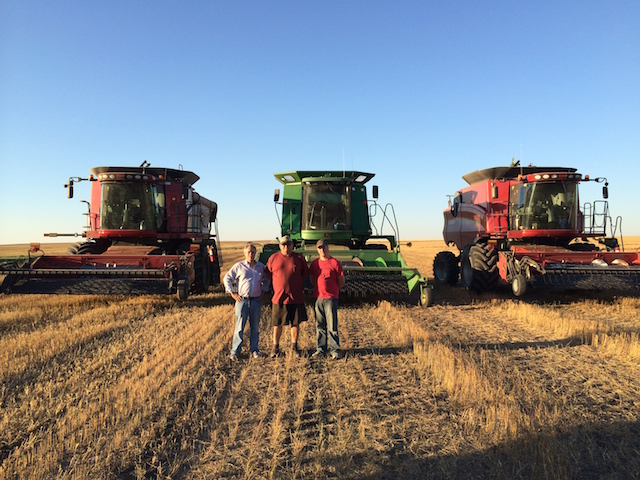 B. Terfloth and Associates
B. Terfloth and Associates brings extensive experience and knowledge to food supply chain management.
B. Terfloth and Associates is a trading company responsible for importing and exporting food and food-related products around the world. But deliveries are not the primary reason for the company's longtime success, CEO Marc Terfloth says. "We offer unparalleled customized service providing flagship navigation through the international marketplace," he says. "Our product is not the physical deliveries we make. Our product is the service."
Indeed, quality service is at the root of B. Terfloth's reputation, which the family owned company has cultivated for more than 240 years. "We really are an old-school trading company," Terfloth says. "Our currency is in our name. It's the family lineage."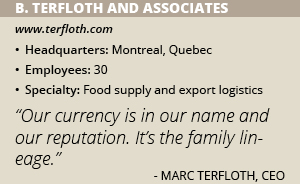 The Montreal-based company counts importers, distributors, supermarkets and food manufacturers among its clients. It also supplies branded as well as private-label products to food distributors, supermarkets, manufacturers and foodservice providers. "We work on behalf of companies who are looking to sell products," Terfloth says. "Our typical customer is the small- to mid-sized business."
Competitive Advantages
But B. Terfloth's services extend beyond importing and exporting. The company also offers compliance services by ensuring that products comply with a country's import requirements including labeling, nutritional information, food safety standards and relevant certification. B. Terfloth also performs its own factory audits and has a strong background in supply chain management and logistics.
This broad-based expertise is what sets the company apart, Terfloth says. "We know sourcing, transportation, quality assurance, logistics and costs," he says. "Our suppliers know our word is our bond." Terfloth also has a keen understanding of the currency issues surrounding the import and export markets, relying on his experience as a money market trader to advise clients, he says.
Despite the company's extensive industry experience, clients sometimes choose a competitor to provide similar services or decide to perform the work on their own. Yet Terfloth is confident in his company's reputation. "[Former clients] will find out quickly how good or not good another company's service is," he says. "It's not just about price. We offer the lowest costs over time. We're stable. We share timely information. We stand behind the product. We offer recourse to our clients."
For example, if inclement weather destroys a crop, Terfloth has a vast network of alternative suppliers to fill an order, he says. B. Terfloth purchases the majority of its products in North America and Asia for sale in Europe and the Caribbean.
The company's primary products are meat, seafood and poultry; fruits and vegetables; dairy products; canned and frozen foods; industrial products; pulses (organic and conventional); and specialty products such as syrups, sauces and marinades. The company does business in approximately 70 countries.
Quest for Excellence
B. Terfloth recently adopted a strategic plan to help drive future success. Part of the strategy is to keep technology as an integral part of its offering. The company recently purchased 50 percent of a telecommunications company in Montreal. "Communications is a more and more critical part of the business," Terfloth explains. He adds that the company values voice communication in an age when emails and texts are dominating the business world.
"We felt we were getting away from voice communications," Terfloth says. "We wanted to have more than a keyboard relationship. We want to stay in close contact with clients." The company also achieves that goal by meeting with most clients once or twice a year, he says.
Another part of the strategic plan involves constant improvements to every aspect of trading. With a new website launch and ongoing improvements to proprietary software programs, Terfloth stays on top by keeping pace with emerging trends. Organic products is one example. Although organic goods are well known throughout the world, Terfloth started trading organic pulses in 1996. Volumes grew until 2010 when they grew exponentially. Then, in 2015, one pulse in particular, Quinoa, became a household name. Terfloth was poised to take advantage of the market demands.
The company's strategic plan includes the development of centers of excellence, in which certain Terfloth experts will be available to advise clients on their buying needs by category. Terfloth's Atlanta office will be the home of the frozen proteins center of excellence.
Centuries of Experience
B. Terfloth entered the trading business in 1774 in Greven, Germany. The company traded food products and lumber and was involved in the building and operation of ships related to this business. Over the years, the Terfloth family built the business to become well known in neighboring countries and a leader in the food-trading industry.
In the 1970s, the company's interests shifted to worldwide trading in agricultural, marine and food products in combination with the GraceKennedy organization by forming Terfloth & Kennedy Ltd. This alliance focused on the development of the GraceKennedy business and on the Grace brand of foods. Since then, the alliance has reverted to the previous customer/supplier relationship but still works very closely together.
B. Terfloth has received numerous industry awards and recognitions over the years. In 1985, it was the first trading house to be awarded the Canada Export Award. In 2003, the company was the recipient of the Quebec Manufacturers and Exporters Association's Export Award of Excellence for Trading House of the Year. In 2012, Terfloth won the Award of Excellence for Work in International Trade and Export Development of Quebec from the Quebec Association of Export Trading Houses.
As for the future, Terfloths' vision is a quest for excellence through continuous improvement, agility in world markets and providing promised execution and satisfaction to all of their clients.