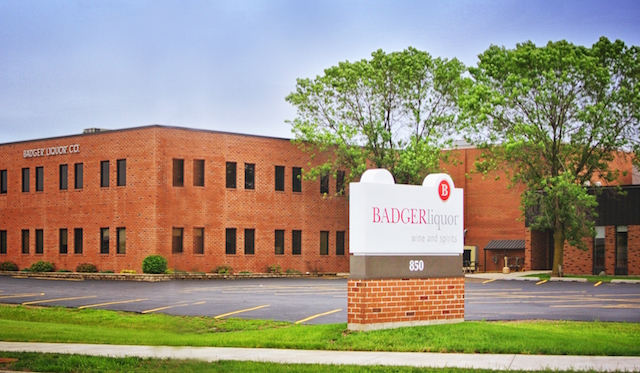 Badger Liquor is building a new education center at its headquarters to train its employees in wine, spirits, sales and management.
An important function of distributors is education, and that is what Badger Liquor Is investing in for its employees. "We are continually trying to develop our training and development programs within Badger Liquor," Executive Vice President and co-owner Lacey Sadoff says. "We are currently working on Badger University, which is not really a university but a training forum for our employees that's going to be launching in January of 2017 a whole host of classes."
The classes will include ones on selling skills, customer service, business math and communication, and specialty programs such as classes about liquor and wine. Badger Liquor is building a three-story structure at its headquarters in Fond du Lac, Wis., to house Badger University. The building also will include training and meeting rooms; a hospitality suite for food and liquor pairing and tastings for employees, suppliers and customers; and that region's sales department.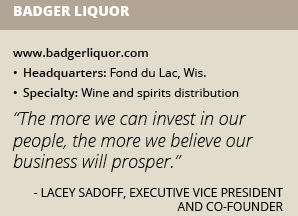 Badger Liquor managers will teach the courses. Besides constructing the building, Badger Liquor has recruited teams of employees to prepare the course work for the classes. "Building a structure and a curriculum takes a lot of time," Sadoff points out.
A one-story building was torn down to make way for the new building, which will join an office building and warehouse on the site that are connected. They also will be connected to the new building. "We focus on this as an employee benefit and to strengthen our employees," Sadoff stresses. "The people are what makes our business strong, so the more we can invest in our people, the more we believe our business will prosper."
Sommeliers and Mixologists
Badger Liquor distributes only wine and spirits, so its educational efforts center on those products. Education at Badger Liquor includes training for sommeliers and mixologists. A sommelier is a wine expert, and candidates must receive a specified education plan to earn the distinction.
"We have three sommeliers on staff and some in training," Sadoff reports. "In the wine world, there's a number of tests and certifications you can take to become a certified specialist in wine. Then it goes up from there and you end up with sommelier accreditation."
Badger Liquor helps its employees to take those tests if they choose to. "Some employees focused on the wine side are usually in training seminars for a few months leading up to the sommelier test, which is hosted once a year," Sadoff says. This year, the Certified Specialist of Wine exam in Badger Liquor's area was in Madison, Wis., and the year before that, it was in the Chicago area.
Badger Liquor also has a mixologist on staff who educates employees and customers. "Our mixologist works with bar managers or restaurant owners to help them create their cocktail menus," Sadoff says. "On the wine side, we help restaurants with wine pairing and work with their food menus. We want our customers to be profitable and to be able to sell the most product that they can."
Why Wisconsin
Fourth-generation family owned Badger Liquor restricts itself by law to the Badger state of Wisconsin and is named after the state's official mammal, whose carved likeness adorns the state's capitol in Madison. "We've chosen to focus on Wisconsin because that has been working really well for us," Sadoff explains. "If we wanted to open in a new state, it would be a whole new set of legal regulations. We're born and bred here. We joke a little bit that there's no better place to be doing what we're doing than Wisconsin. There's a lot of bars here, people like to drink and it's part of our culture, almost more so than other places in the country."
Sadoff expresses the same satisfaction with her company's product offerings – which do not include beer – that she does serving only Wisconsin. Wisconsin is blessed with hundreds of breweries and microbreweries – it's beer that made Milwaukee famous, after all – and many founding residents were of German extraction, but this is a portion of the liquor business that Badger Liquor cedes to others.
"Warehousing beer is a bit different and the sales process is a bit different," Sadoff observes. "It would just change our business model to open up to beer, which would be fine. But we've dabbled in beer a little bit, and we've chosen to stick with what we're great at, and that's wine and spirits."
Badger Liquor distributes some non-alcoholic beverages, some of which – like ginger beer – are used as mixers. It also carries energy drinks, one with cannabis in it that is manufactured in Amsterdam. "We sell some juices – mainly mixers – to be more of a full-service distributor to our customers," Sadoff says.
The company's distribution center in Fond du Lac is temperature-controlled at a cellar temperature from 50 to 60 F rather than being refrigerated. It stores a full range of wines, from inexpensive ones all the way up to those that cost hundreds of dollars a bottle.
Print and Design Shop
A valuable benefit that Badger Liquor provides for its customers is its state-of-the-art print and design shop. "We help customers develop menus and grocery and liquor stores do signage," Sadoff says. "We can print on mirrors for bars. We can print on anything with our flatbed printer. We do posters and banners. It's really another way we can serve our customers."
Approximately seven employees work in the print shop. Sometimes customers pay for the services. "Sometimes we'll partner with our supplier," Sadoff notes. "We've actually done some printing for our suppliers that gets sent all over the country." However, Badger Liquor has not diversified into the printing business. "Hypothetically, we could, but it's more just part of our services offered," Sadoff says.
Liquor Trends
As a distributor, Badger Liquor has to bring the latest products and trends to its customers. "Flavored vodka is still big," Sadoff observes. "Bourbon and whiskey are very popular right now. What we are really trying to hone in on is the craft brand and craft cocktails. That's why we hired a mixologist and have sommeliers on staff."
Badger Liquor also is gauging the buying power and preferences of millennials. "They really just want something special and unique," Sadoff remarks. "Millennials are interested in variety. This is the first time I think that the industry has seen individuals going out and drinking a drink in every category in the same evening. Maybe they start with wine and then have a vodka cocktail, a bourbon cocktail and a beer at the end of the night. Historically, somebody has gone out and stuck with the one thing they started drinking.
"So we're trying to make sure that we don't only focus on the major commodity brands, but also the smaller ones," Sadoff continues. "We're also making sure that the bigger brands have applications across the consumer base."
A packaging trend in wines is the popularity of boxes and screw caps and synthetic cork for bottles. Practicality seems to be trumping traditionalists' preferences for natural cork. "Screw-cap wines are very popular in the banquet setting," Sadoff declares. "They are faster and easier to open and serve."
Community Involvement
Badger Liquor has an extensive involvement in the communities it serves. The company's family foundation concentrates largely on supporting charities for children, education and the arts.
Founded by Sadoff's great-grandfather, Abraham Sadoff, in 1935 – two years after the end of Prohibition – Badger Liquor celebrated its 80th anniversary last year. The company is owned by Sadoff and her father, Gary. Sadoff attributes the company's longevity to "great relationships, treating our employees well and believing in the brands that we sell. Our employees are treated like our family. We have many employees who have been working for us for more than 30 years."
Badger Liquor has been improving its employee benefit packages and training. "Now that we have a really great handle on that, we're putting an added emphasis on our brands and customers," Sadoff says. "We're making sure we're the best wine and liquor distributor in the state, which we feel we already are, but we can always be better. We've made selling wine and liquor into our craft. After you do something for 80 years, you hope to be pretty good at it."