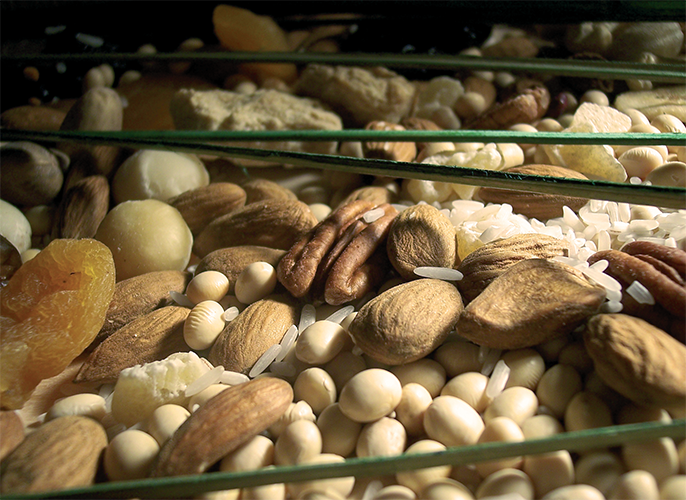 A healthy future
Bakalland's stringent quality control of its raw products is a winner with its new target consumer group
The year 1991 marked the birth of Bakalland when three friends from university, including the current CEO of Bakalland, Marian Owerko, got together and launched Uno Tradex Sp. Zo.o. (UFT) in a 37 m sq flat. UFT was established as a result of a merger of two companies operating in the Polish market for about ten years. One of them was Uno Tradex, a market leader in packaged fruits and nut mixes, offered under own brand names – Bakalland, Uno Premium and Uno Family – and a distributor of the Sunsweet brand. Fresco, the other company, was an importer and distributor of a wide range of loose dried fruits, nuts and seeds. Following the merger, UFT had a major share in the fruit and nut mix market in Poland. Presently the company, using all its potential, is gaining shares in the canned fruits market.
The partners subsequently decided to focus the company on the Bakalland brand, which proved to be a very good strategic decision; and on the 27th March 2006, UFT Sp. zo.o changed its name to Bakalland SA. Forming part of the Bakalland Capital Group, the company is today a leader in the domestic dried fruits market with more than 27 per cent share – over twice the percentage of its nearest competitor. On top of the dried fruits and nuts, and canned fruits, Bakalland also operates in the pies and cake fillings market. "It's vital for Bakalland's product portfolio to develop and adjust itself to its target group," states Marian. "Until 2006, our products have been communicated as solely for baking, however the brand has been repositioned recently and now targets younger consumer groups specifically women aged 30 and over, for whom dried fruits and nuts are mainly viewed as snacking products, as this category is perceived in a healthy lifestyle, wellness and keep fit context. The main message of Bakalland's product is 'Naturally for snacking and for baking'."
Besides Bakalland SA, Bakalland Capital Group consists of four other companies: Polgrunt, a soy and soy derivatives' producer; Solger, a manufacturer of rice and grain products; and Bakalland Ukraine that deals with the distribution of Bakalland Capital Group's products into the Ukrainian market. Bakalland has plans to merge Polgrunt and Solger, enabling these two companies to sell their products under an entirely new brand name – Orico. With its headquarters in Warsaw, Bakalland Capital Group has three production sites located around Poland: a production plant of dried fruits and nuts in Janów Podlaski (near the Polish-Belarusian border); a site for soy derivatives in Dabrówka and Osina (central region of Poland); and a plant for rice and grain products in Kazmierz Biskupi in the Wielkopolska region (western part of Poland).
Supplying major chains operating in Poland including Metro Group, Carrefour and Tesco, as well as the traditional channel of wholesale customers, Bakalland's products are present in 15 countries with Central Europe being the key focus for Bakalland. Marian states: "We're constantly planning to expand our export market and are particularly interested in countries in the EU, Central and Eastern Europe as well as Russia. We have major plans to expand Bakalland eastwards and westwards."
The Bakalland brand offers a wide range of dried fruits such as raisins, apricots, Californian prunes, figs, dates, peaches, apples and desiccated coconut; nuts such as hazelnut, walnut, pistachios; as well as seeds such as sunflower and pumpkin. To ensure its products are of the highest quality, Bakalland adheres to a number of quality systems including BRC (British Retail Consortium), ISO 22000 – dedicated to food manufacturers, EU standards pertaining to raw materials, and its own internal procedures. Marian explains: "We source our raw ingredients from all over the world because we look for authentic, quality products. Our suppliers are predominantly located in China, Indonesia, India, Vietnam, Georgia, Turkey, Egypt, Chile, Argentina, the US, Canada, Spain, Greece and Italy. From time to time we buy via brokers in Holland and Germany. And, depending on the quality and price, walnuts are the only raw material that we source from Polish suppliers.
"We have a quality department that are very stringent with the quality of raw materials that come in. This acts as the first port of call where the raw materials are controlled, and based on internal protocols, are accepted or rejected. On top of that, every one of our suppliers is monitored according to internal quality performance indicators. At the end of the year, results are collected and analysed, which in turn helps us decide whether our relationship with a specific supplier will be going any further – there is no compromise on quality."
In a bid to expand its market foothold, Bakalland acquired Solger in November 2006, making it the group's most recent addition. The move saw the company, which was already the country's leading supplier of raisins, add barley, beans and cereals to its product portfolio. Along with expanding its snack operations, the acquisition saw the company increase its foothold in the baking and confectionery sector. The announcement came during a successful year for the company, which was looking to build on its 1.2 million euros net profit. Even without the acquisition, Bakalland's 2006 sales forecast was expected to see net profit rise to two million euros. With the group leading the market in Poland as a supplier of raisins and dried fruits, it has recently been listed on the Polish Stock Exchange. Through its new position as a public company, it will hope to continue its plans for growth in the country. Bakalland plans to raise about six million euros through the proposed sale of 2.5 million of its shares in a bid to consolidate its position in the market.
Marian comments: "The dried fruits and nuts market grows in the region of seven per cent a year, and to a certain degree, this growth is affected by consumer behaviour and consumption patterns. As the Poles declare that health is the fundamental value in life, dried fruits and nuts have become an alternative for chocolate snack bars and sweets, and perceived as an addition to a healthy lifestyle. This is presently one of the major drivers in the category."
He concludes: "It's our objective to develop our brands on the basis of naturalness and health, extending the brands of Bakalland Capital Group and making them more popular."