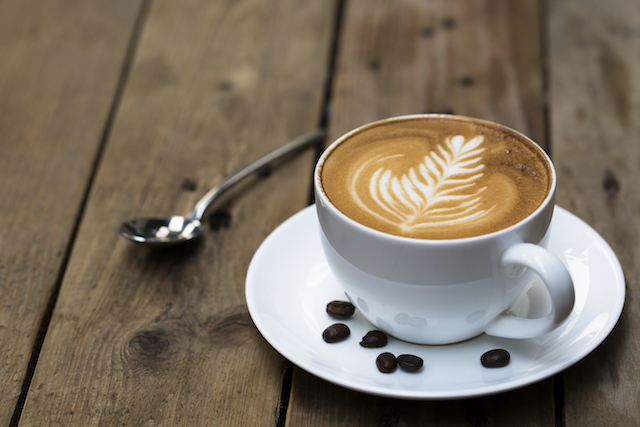 Balchem Ingredient Solutions
Balchem Ingredient Solutions combines the capabilities of its brands to bring innovative new products to the food and beverage industry.
Imagine your favorite ice cream without the swirl of caramel or fudge. Or a loaf of bread that goes moldy too fast on the shelf. And a meal replacement drink that leaves you hungry. Without the capabilities of Balchem Ingredient Solutions, many of the foods we all enjoy would be lacking delicious ingredient solutions that improve food experiences.
Balchem Ingredient Solutions, headquartered in St. Louis, is committed to providing an excellent food experience from indulgent frozen desserts to good-for-your health foods with its value-added ingredients.
"We like to partner with our customers on product development," General Manager Mike Size says. "It's always compelling when potential customers say, 'I didn't know you could do that.' We partner with our customers to make food better. Our experts take on the challenge and are always open to helping our customers make something better."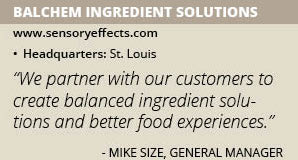 SensoryEffects® had three business units at the time of the acquisition: Powder Systems, based in Defiance, Ohio; Flavor Systems in Bridgeton, Mo.; and Cereal Systems in Lincoln, Neb. Its history stretched back to its founding as Consolidated Flavors in the 1960s, as a major supplier to the dairy industry.
As an early innovator in chocolate dairy powder, Consolidated Flavors served the dairy industry until its acquisition by Givaudan, a leading global flavor company.
Givaudan added the complementary dairy ingredients including specialty flavor systems for the frozen dessert market.
In February 2008, SensoryEffects acquired the dairy flavor systems from Givaudan and renamed it SensoryEffects Flavor Systems and grew to be a leading supplier of a full range of dairy ingredients including fluid dairy flavors, variegates and flavor bases. From this foundation the business extended its offerings to non-dairy applications and is now a supplier of chocolate systems and flavor bases to the baking, beverage and packaged food segments.
In addition to broadening new applications beyond dairy, the business has also broadened its offerings to include Kalva® compound coatings and 100 percent juice products when JuicePac™ was acquired.
After seven years of acquisitions, SensoryEffects emerged as a leader in customized technology-driven food and beverage solutions for multinational and emerging high-profile food and beverage customers in 2011. Its solutions enhance the senses, such as taste, texture, solubility, aroma and color to make its customers' products more desirable to the end consumer.
Balchem Corporation provides state-of-the-art solutions and the finest quality products for a range of industries worldwide, including animal nutrition and health, human nutrition and health, industrial products and specialty products. In 2014, Balchem acquired SensoryEffects Flavor Systems, Powder Systems and Cereal Systems.
This acquisition effectively expanding its offerings in the human nutrition and health sector to become one of the most comprehensive food ingredient solution companies in the nation.
In 2017, Balchem acquired IFP Inc. Balchem already had 50 years of microencapsulation experience in the food industry for bakery, meat and candy applications. The combined capabilities of these organizations together became the foundation of the newly minted Balchem Ingredient Solutions with market-leading technologies and capabilities for beverage, bakery, dairy, savory, confection, and cereal manufacturers.
At the time of acquisition, SensoryEffects had grown into a leading food and beverage ingredient supplier by delivering customized solutions to our customers, employing innovative technologies coupled with disciplined manufacturing, safety and quality processes. When Balchem acquired the business, it expanded the offering to the market with its encapsulated and functional choline ingredients.
"Our go-to-market strategy of putting the customer first combined with the products, services, intelligence we have, capabilities and applications makes up Balchem Ingredient Solutions," Size says. "Innovative Food Processors is part of our beverage business now and has amazing capabilities and applications."
Committed to Safety and Excellence
Balchem emphasizes safety first throughout the organization. Of course, injury free days at the manufacturing facilities, complying with regulations and being a step ahead in always doing the right thing is vital, but the company also emphasizes safety in its employees' everyday lives.
The company does not start a meeting without a safety reminder. "This really comes from our CEO Ted Harris and has become the culture throughout the organization," Size notes.
Balchem believes its commitment to personal safety to individuals within the corporation translates into their work. "We make systems for food and beverage production, so it's important our products are safe and high-quality, and those things go hand in hand," Size notes. "It's not just fewer injuries, but safety in the products we put out."
With an engrained culture of excellence and continuous improvement, Balchem is always looking for what's next in food and beverage. "For example, we take clean label requirements very seriously," Size says. "We are looking at how you take these amazing ingredients and capabilities and keep them as consumer friendly as possible by continuing to put our customers' mindsets on when it comes to new product capabilities so our customers can be relevant on the shelf."
Developing Dairy
Balchem brings more than 200 collective years of research experience that has led to some of the industry's most innovative ice cream and dairy solutions. "People knew SensoryEffects as a flavor systems supplier for amazing ice cream flavors and variegates," Size says. "We are taking those applications now and expanding it out to other capabilities like yogurt. Yogurt is a growth opportunity and our ice cream solutions fit well in the yogurt section."
Balchem Ingredient Solutions is also focused on using its applications that were created for dairy applications and applying those to plant-based applications. "While the dairy sector is facing challenges, we are seeing an increase in plant-based dairy alternatives," Size notes. "We are presenting our applications in vegan ice cream, for example. We are working to deliver the same mouth feel, flavor and texture in plant-based and incorporate key protein so you have a healthy indulgence rather than just indulgence."
The company is working to help its customers move forward in that way using its capabilities to keep them relevant in the changing marketplace. "We saw a big jump in Greek yogurt and then it leveled off and now the hot trend is drinkable yogurts and fermented drinks," Size says. "There is a continual movement to reduce sugar by finding natural sweeteners or natural sweetness to add in. We are using our capabilities with variegates, fruit preps and flavoring combinations in our systems-approach that we always used in ice cream and applying those to yogurt and other innovative dairy applications."
For example, Balchem Ingredient Solutions showcased its award-winning Mango Fiesta ice cream in July at the annual Institute of Food Technologists (IFT) trade show in Chicago, and its translation to a drinkable yogurt. "It's a system built on mango salsa with jalapeno in it, which you wouldn't think sweet heat as something people would drink, but attendees devoured the samples," Size says. "It's a good product and as consumers continue to demand healthy indulgence, we can provide the systems to build them."
Baking Up Excellence
Balchem is focusing on its fall feature flavors and inclusions line for bakery products. At IFT, the company launched lipid-based inclusions that go into bakery applications and when baked, release the flavor and texture within a cookie, bread, pita cracker or roll. "They add color, flavor and deliciousness," Size notes.
During the IFT show, Balchem Ingredient Solutions launched a cold brew brownie inclusion and a lemon elderflower inclusion that was inspired by Prince Harry and Meghan Markle's lemon sponge cake with an elderflower syrup drizzle. The company also developed an old fashioned inclusion to hit the mocktail trend. "It tastes just like an Old Fashioned without that hit of alcohol," Marketing Manager Tracy Snider says. "We joke that the only thing missing is the Kentucky hug."
New encapsulated products were also launched at IFT in July. Including BakeShure® CLS270 for preservation up to 21 days in bakery applications.
"We are always trying to innovate here as we move forward with clean labels," Size says. "We have a new clean label solution for preservatives for industrial bakeries."
Bold Beverages
Beverages are a primary area of focus for Balchem Ingredient Solutions, and one of the things it does really well is make things tastier, creamier and foamier. The acquisition of the IFP agglomeration technology allows for short run batches, which accumulates into fast mixing, great-tasting hot or cold beverages. The acquisition of IFP allowed for Balchem to increase its manufacturing capabilities and allow for greater flexibility, which resulted in faster hydration of products with increased solubility and wettability. "IFP really complemented our beverage capabilities and made us more flexible," Size adds.
Balchem Ingredient Solutions is also focusing on developing more flavor bases for meal replacement drinks. During IFT, the company highlighted a plant-based coffee meal replacement drink that offers 22 grams of protein, Albion® Minerals and VitaCholine®, which is also under the Balchem umbrella. "Both brands provide premium ingredients that offer superior delivery of health benefits and are built on strong science and innovative technologies recognized worldwide for their quality, efficacy and safety," Size says. "These nutrients gave us more options to make food better."
Continuous Improvement
Everything Balchem Ingredient Solutions produces is about improving a food experience. The company balances health and wellness, with food satisfaction. Balchem Ingredient Solutions is fast to market, has low minimum order quantities, and can work with its customers to develop clean label and GMO-free products.
Balchem Ingredient Solutions partners closely with its customers to develop new products as the experts in sourcing and developing ingredients. "Our primary expertise is customized solutions and we pride ourselves on superior customer responsiveness and making the experience of doing business with us pleasant, easy and productive," Size says. "We are constantly innovating and creating prototype samples on-demand for our customers. Our customers tell us, 'I tasted this and wonder if…' and our people make that come to life."