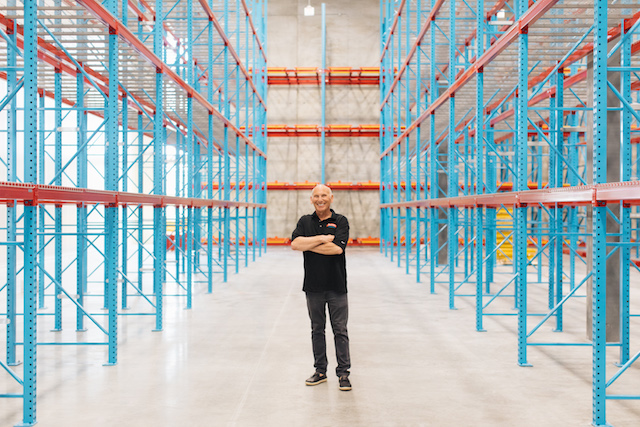 Banner Wholesale Grocers enjoyed massive growth with the opening of its new warehouse.
For Banner Wholesale Grocers, the key to thriving for the last 92 years has been its ability to be client friendly. "The most important thing is to watch your customers, listen to them, and see what they need and want," President Richard Saltzman says.
The Chicago-based business strives to do that as it distributes both Hispanic and American grocery items to independent retailers. Saltzman's grandfather founded the company in 1926 and retired when his children took it over after World War II.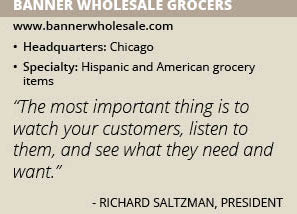 When Saltzman himself joined the business in 1968, he represented the third generation of his family at the company. It was under his tenure that Banner made a switch from distributing tobacco to Hispanic foods.
"My dad and I recognized that [tobacco] was dying out," he recalls, adding that they looked into how the products were sold in the Hispanic community and formed connections with wholesalers in California and Texas.
Since then, "We've become one of the largest distributors of Hispanic products in the United States," Saltzman says, noting that the company's reach extends beyond Illinois and into Ohio, Indiana, Wisconsin, Iowa and Kentucky.
With a fleet of seven trucks, "We're shipping a lot of overnights," he says, adding that its leadership in its niche is often due to its relationships with its wholesalers. "They'll inform me of new items that are selling well that I should bring to Chicago."
Some of Banner's biggest selling items include products from Maseca, Jarritos and Topo Chico. "These are really large lines that we move trailer after trailer of," he says.
Customer Friendly
Many of Banner's competitors have experienced consolidation or closed their doors, but Saltzman has stayed successful by "being very aggressive in this business and always moving forward," he says. "I outlasted everybody else and my business has been spectacular."
In fact, Banner has doubled its business in the last four years and recently moved into a new, 75,000-square-foot warehouse in Chicago. The facility features 60,000 square feet dedicated to cash and carry and a taqueria.
"We're making it really customer friendly," he says. "After we close the cash and carry down by three o'clock, we'll have order pickers come in and load the trucks. I also have a crew that comes in at night that replenishes and puts away everything."
The facility, he notes, will be something new for Chicago's South Side community. "Nobody has built a nice warehouse for retailers to come in," he says. "This should be really successful because the atmosphere is going to be good."
Saltzman notes that Banner is marketing the warehouse as a "backroom" to retailers. "[They should] feel free to use it that way," he says, adding that it will have 4,500 items on display. "I try to keep it exciting."
The facility, which took three years to develop and build, is located alongside the Chicago River and features a river walk. "The outside is as nice as the inside," he says.
A Little Group
Banner has nurtured a family-style work environment, which continues to include members of the Saltzman family. "My son Ryan and my daughter Carly are with me," Richard Saltzman says, noting that the two do "terrific" work in sales and marketing.
But the company enjoys longevity among its employees, which can span generations. For example, Warehouse Manager Frank Doman has been with Banner for 40 years, while his father worked for them for 30 years. "We're pretty hands on and employees enjoy working here," Saltzman says.
In addition to Doman and his children, key employees at Banner include Buyer Scott Hilligoss, CFO Gerry Doll and Sales Manager Victor Huertas. "He has eight outside salespeople and everybody works well together," Saltzman says.
"With a little group, we've moved forward pretty well," he continues, noting that he personally assists Hilligoss and his entire staff holds weekly meetings. "If there's a task at hand, they're usually right on it." His staff is often willing to sacrifice vacation time to make sure operations run correctly at Banner. "I'm very proud of the people that people that work for me," he says.
Going Ahead
Banner continues to experience industry trends, but Saltzman is staying optimistic. "I keep going ahead with my philosophy and what I feel is good for us and it keeps working," he says.
He notes that the company is not threatened by competitors such as Costco or Sam's Club. "They carry such a minimum amount of products that they really don't bother me at all," he says.
Saltzman sees a strong future for Banner with its recent move to its Chicago warehouse. "The next step is up to my kids," he says.
Those next steps may include Banner extending its service reach to more states in the Southeast. "That could be something in the future," he predicts.
He also is not ruling out more expansion. "I don't like to sit still, especially if the opportunities are good," he says. "Right now, the opportunities are hot, so I want to take advantage as much as I can."
One to Go With
Banner Wholesale Grocers says it has become renowned in its industry for carrying a selection of more than 2,500 Hispanic and American wholesale groceries, as well as other items. "Furthermore, we offer three different ways to purchase and receive wholesale grocery products from us," it says.
The first way, it notes, is through its Self-Serve and Cash N' Carry, where customers choose and purchase products from its wholesale food grocery. "The second is by Pick-up and Will-call, and is a convenient means to purchasing your wholesale grocery products and if before 12:00 noon, you can pick the items up the following day," Banner says.
Customers also can use its Store to Door Delivery, where Banner drivers deliver the items right to the client's store. "No matter what method you pick, Banner is the wholesale food supplier to go with for all of your wholesale grocery needs," it says.
Customer Friendly
Banner Wholesale Grocers notes that it offers a consumer-friendly site for customers by offering text in multiple languages, in addition to English and Spanish. This gives its clients in multiple states the ability "to reap the benefits of extensive online content that is easier to use and navigate," it says.