Although Bar Louie has flourished in cities for decades offering urban sophistication in drinks and dining, it has prospered most in a suburban setting. "A casual, urban atmosphere is very important and benefits us most in suburban locations," CEO John Neitzel emphasizes. "About 20 percent of our locations are in city centers, but most of our growth is in the suburbs."
Neitzel maintains that research commissioned by Bar Louie indicates that only 4 percent of Bar Louie's customers are choosing between Bar Louie and a national casual-dining brand. "In all honesty, we compete with local independents," Neitzel insists.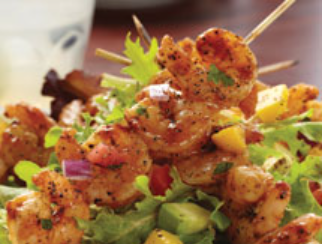 The secret to creating the Bar Louie experience is the music, atmosphere, lighting and temperature (MALT). "The atmosphere we provide is critical to the delivery of the Bar Louie experience," Neitzel says. "The atmosphere we create at lunch is different than late night. The music we play differs, and the lighting dims as the night goes on. Our typical late-night guest is 24 to 33 years old. We want to make sure the music being played is appropriate to the guest. That's very important to us."
The music is in the background for lunch but becomes more prominent as the day continues. By late night, the music is in the foreground. "One of the things that is really fascinating about our brand is that 51 percent of our customers are women," Neitzel points out.The research done for Bar Louie indicates that the company's typical customers range from 25 to 54 years of age, are highly educated and have median incomes of approximately $75,000. "So they're a fairly affluent, educated group of folks," Neitzel reports. "One of the things that is really unique is the average guest spends about two hours and 15 minutes in a Bar Louie. That's not traditional casual dining."
They may order a cocktail, appetizer, entrée, dessert and a nightcap. "They're gathering with others and the party may start at four people and grow to six," Neitzel says. "We design our restaurants to make it easy for groups to get together. We make it easy for people to share, so our menu is designed with a lot of sharable plates."
Most of Bar Louie's marketing budget is spent on in-store materials and events at its locations. "We do a lot to promote the events," Neitzel says. "We call them rituals." Among these are $1 or $5 burger nights on Tuesdays depending on the location, blues and brews on Thursday nights at some locations with live blues music, and drink specials. On St. Patrick's Day weekend, some locations open early with brunch. An annual tater tot-eating contest, Rock the Tot, is held at all locations, and National Martini Day is observed.
A relatively small budget is spent on traditional advertising. Social and digital media marketing are at the forefront of initiatives, along with discretionary spending on enhancing the guest experience. "One of our most effective marketing tools is giving each of the general managers 4 percent of their revenue to give away," Neitzel says. "They buy a cocktail or an appetizer for a guest for no apparent reason other than we want to make their day. It's effective."
Franchisees Sought
Most Bar Louies are located in city or suburban areas with populations of 100,000 or more. The typical size of a Bar Louie is from 6,000 to 7,000 square feet. The company has 61 corporate locations and 20 franchises.
"We've identified over 400 opportunities to build Bar Louies across the United States" Neitzel says. "We realize we're not going to be able to do that by ourselves. When all is said and done, roughly one-third of the units will be franchised and two-thirds company-operated. We've targeted primarily the western half of the United States and Florida for franchise expansion."
Bar Louie is seeking franchisees with multiple-unit restaurant experience, not necessarily in the bar or traditional casual-dining sector. Franchisees need to have solid financial backing and marketing experience and a business support infrastructure to operate five Bar Louies.
"We're talking to a couple quick-service franchisees with multiple locations who are looking for a different brand that doesn't compete to operate in the same markets," Neitzel says. "So those folks are the sweet spot." Bar Louie's affluent clientele makes finding franchised locations easier. "When we talk to landlords about operating in lifestyle centers, they're absolutely tickled to death to find out who uses us, because they're looking for that same affluent, educated guest," Neitzel asserts.