BarFly Ventures expands its HopCat brand into new territory, targeting customers with a thirst for craft beer.
BarFly Ventures founder Mark Sellers created a space he enjoyed spending time in when he opened the first HopCat restaurant and bar and ended up appealing to the masses. "I was in the financial industry in Chicago and it was so stressful that I wanted to do something else in life," he remembers. "I semi-retired at 38, moved back to Grand Rapids, Mich., and started a bar just for fun. I started the bar because I wanted to have a place I wanted to hang out in. Because that was the philosophy, I didn't try to please anyone else but myself."
Sellers relocated to his hometown of Grand Rapids in 2007 and found there were not a lot of bars he enjoyed patronizing. He noticed a spot downtown that had been recently vacated and a year later HopCat opened, featuring 49 beers on tap, more than 150 bottles and its signature "Crack Fries" described as "food your mom would make if she liked craft beer."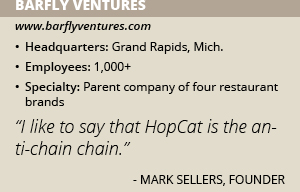 Two years later, BarFly Ventures opened Stella's Lounge, featuring giant cheese-stuffed burgers, vegan and vegetarian food, whiskey and 1980s arcade games. The company in 2010 also purchased McFadden's, an Irish pub with two private event spaces. McFadden's closed this year in preparation for The Waldron Public House, a concept mixing elements of a classic English pub with a contemporary club and event space.
BarFly Ventures in 2012 opened Grand Rapids Brewing Co., reviving a historic brand and becoming the Midwest's only USDA-certified organic brewery with a unique pub atmosphere and creative cuisine. Today, BarFly Ventures is the parent company of HopCat, Stella's Lounge, Grand Brewing Co. and The Waldron Public House.
The Anti-Chain
"I like to say that HopCat is the anti-chain chain," Sellers says. "What I mean by that is we don't sell any Bud, Miller, Coors beer, employees don't wear uniforms and we recycle and compost. We are the largest U.S. restaurant chain to recycle and compost as extensively as we do and that's something we are proud of."
BarFly Ventures is expanding HopCat and is now up to eight locations with more on the way. In 2014, the company opened HopCat in Indianapolis, Ind., marking BarFly Ventures' first expansion outside of Michigan. The opening featured the largest selection of Indiana-made beers and attracted a line of more than 400 people waiting to get in at opening.
The company in March opened its eighth HopCat in Lincoln, Neb., is building a ninth in Louisville and plans to announce more locations this year. "Our strategy is to go into Midwestern college towns," Sellers says. "We went to look at sites in Lincoln and fell in love with one of them that fit the size and dimensions our concept requires and we signed a lease. There's nothing like HopCat in Nebraska."
The typical HopCat customer resides in or near a college and is more open-minded about trying new food and beer. "We do well in those areas," Sellers says. "We don't target college students but people who work at the university, which is usually a sizable number of people, and maybe graduate students and local residents. It's the people who live in and around college areas that we target."
Every HopCat has 100 to 130 different beers and Lincoln boasts 130 beers on tap, Sellers says. "They are all microbrews and at least half are from local breweries throughout the state, not just in Lincoln," he adds.
Because HopCat offers a vast beer selection, the company employs one person at each location whose only job is to choose the beer list. "They interface with the breweries, get to know them and make sure we get their best stuff," Sellers explains. "Each location has someone full-time to just pick the beers. It's a really fun job for that person and that's all they do."
Moving forward, BarFly Ventures will continue to focus on expanding HopCat as it meets the growing needs of consumer interest in craft beer. "The craft beer consumer has gotten more sophisticated and it's no longer just a little niche," Sellers says. "There is a sizable percentage that's into craft beer. That's changed a lot and it's good for us."