Barmuda Companies' restaurant and bar concepts focus on delivering experiences unlike any other.
There's a reason people go back to their favorite restaurants over and over again, and the food is just part of the equation. Barmuda Companies President Darin Beck understands that there's more to a successful restaurant or bar than the menu, and that has been key to the success of his various restaurant and bar concepts over the years. Whether his guests are enjoying a beer and wings while watching the game at Hurricane Grill & Wings or enjoying a premium cocktail and tapas at The Stuffed Olive, Beck is concerned with creating a memorable experience on all fronts first and foremost.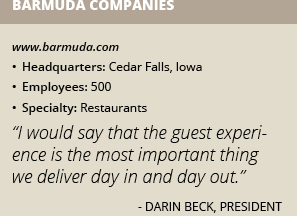 Beck has been in the hospitality industry since 1983, when he opened his first nightclub at 19 years old. A few years later, he moved to the Cedar Falls, Iowa, area and opened his first location in that market. The concept was a success, and by 1994 Beck had three nightclubs in the Cedar Falls/Waterloo area. He developed a marketing plan for all three that referred to the clubs as the "Barmuda Triangle" and offered a single cover charge for all three locations. That, plus the success of some pizza restaurants he also owned at the time, led Beck to establish Barmuda Companies as a management and consulting company focused on managing Beck's wholly owned restaurant and nightclub concepts as well as third-party clients.
Today, Barmuda Companies manages a broad array of restaurant and nightclub concepts, including Beck's Taproom Grill, Voodoo Lounge, Deringer's Public Parlor and Joker's. Although these concepts have a lot of elements that make each one unique, Beck says they are all united in his belief that they exist to provide guests with an experience that they will remember long after they pay their checks.
Attention to Detail
Creating a unique and memorable experience for guests means Barmuda Companies has to ensure that everything down to the smallest element serves that purpose, and Beck says this is what makes his concepts successful. "I would say the greatest strength we have is paying attention to the details," he says. "I've always believed that what the guest sees comes first at all costs, and I would say that the guest experience is the most important thing we deliver day in and day out."
Barmuda Companies is always looking for ways it can differentiate its concepts from its competitors, and each one of its concepts has at least one element that is unique in the marketplace. For example, at Beck's Taproom Grill, the dining room features a wall with 16 beer taps. Interactive tablets allow guests to learn about each beer before choosing one, and wristbands give them access to pour their own beers whenever they want. Customers pay for their beers by the ounce, which allows them to sample any of the restaurant's featured beers without having to commit to buying a full glass. Beck says the craft beer movement of the last decade has given consumers more choice than ever, and the Beck's Taproom Grill concept capitalizes on that more than any other restaurant in the area. "There's no one else in my market that's doing that," he says.
At the company's Noble Oak BBQ/steakhouse concept, Beck decided to move away from the practice of serving free bread at the beginning of each meal and instead offers every guest a free dessert with every entrée. "It's a simple dessert, but people love it," Beck says.
In general, Barmuda Companies' concepts emphasize the aesthetics of their locations and the human dynamics of its servers and bartenders more than many of its competitors. Additionally, its restaurant concepts tend to be chef-driven with unique menus that aren't typical for smaller markets like Cedar Falls or Waterloo. "We tend to put on a show, so to speak," Beck says.
'New Normal'
Beck says one of the biggest challenges for the company today is adjusting to the "new normal" left in the wake of the recession. Although the company was a bit more hopeful that the downturn wouldn't last as long as it did, it has taken action by closing some locations and finding new concepts for them that are a better fit for the economic realities of the time. Beck says these new ideas include more competitive pricing and more millennial-friendly concepts.
"We've constantly been trying to move the needle with millennials, and they don't necessarily like to eat at the same types of places as their parents or grandparents," Beck says.
For example, while baby boomers didn't mind spending $40 or $50 a plate for dinner and having a single beer or a glass of inexpensive wine, millennials are the opposite, putting their money in craft beers and specialty cocktails while choosing less-expensive dining options. "They value the finer things in life when it comes to the beverage experience," Beck says.
These changes have helped Barmuda Companies recover from the effects of the downturn and then some. Beck says the company's restaurant division recently outgrew the bar and nightclub division for the first time. Wherever the company goes in the future, Beck says, the focus on creating a top-flight experience for its guests across all of its concepts will be what drives Barmuda Companies to greater success.