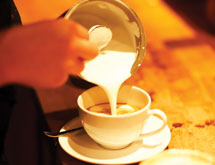 Founded in 1980 with one location in Winter Park, Fla., Barnie's Coffee and Tea helped pioneer the coffeehouse concept as it is known today. "Our first store opened their doors on Park Avenue in Winter Park with a clear purpose: share the best coffee and tea from around the world with our neighbors and friends," the company says.
Today, after more than 30 years of being Florida's "original coffee company," the company has transformed into Barnie's CoffeeKitchen. Although its commitment to having the best-quality coffee hasn't changed in the least, Barnie's has expanded its menu into other areas, creating a space where customers can pop in for their morning pick-me-up or enjoy a full sit-down meal. The concept, according to the company, is using the kitchen setting to create an experience.
"After 30 years as the leader in the Florida coffee market, we've got something big brewing," the company says. "The world is getting smaller, consumers are more engaged and we're having way more fun. Barnie's CoffeeKitchen is our natural evolution. From sourcing the best coffee beans from family farms and premier growers to sharing our enthusiasm for fresh ingredients, we believe in making coffee an experience."
Kitchen Comfort
According to the company, the inspiration for the creation of Barnie's CoffeeKitchen came about through the positive feelings most people have for the kitchen. Barnie's says it wanted to harness that positive energy and use it as the foundation for its new customer experience.
"The kitchen is a trusted place – a place for relaxation, sharing and conversation," the company explains. "It's also a place where we create, stimulate, nourish and satisfy. Barnie's CoffeeKitchen delivers this with an added sense of discovery and inspiration. In-store chefs create a personalized experience for each customer. Rich in natural colors and materials, CoffeeKitchen is full of sensory pleasures. From the music to the rhythmic turning of coffee beans in the roaster, from the aroma of fresh coffees to savory food cooked-to-order, everything is crafted to perfection. With the largest selection of personally brewed coffees in the country, hand-pulled espresso and latte art, CoffeeKitchen is all about this third wave of coffee."
The new concept includes expanded breakfast, lunch and dinner menus that feature dishes made with organic, all-natural and locally sourced ingredients under the direction of Culinary Institute of America graduate Chef Collette Haw. The breakfast menu features organic egg dishes such as a vegetarian frittata, corned beef hash and the All-American Scramble. The lunch menu features soups, salads, tartines and paninis. For dinner, Barnie's CoffeeKitchen features creations such as braised short ribs with farro ragout, shiitake and roasted cauliflower salad and the "turkey dinner" panini.
Coffee at the Core
Even with the expanded menus, the foundation of Barnie's CoffeeKitchen remains coffee. The company's many blends of coffee can be found at its Barnie's CoffeeKitchen locations; at retail outlets in whole bean, ground and single-serve varieties; and from the company's website. No matter how customers get its coffee, Barnie's CoffeeKitchen emphasizes the care and craftsmanship it puts into all of its blends.
"The art and science of roasting is anchored in the knowledge and skills of our buyers, our roasters and their palates," the company says. "Coffee shouldn't be about dark roast or strong flavors. It should be about harmony and finesse. It should be fun and easy. It should suit your mood."
For Barnie's CoffeeKitchen fans who want to keep a steady supply of Barnie's coffee coming into their homes or want to give a gift to the special coffee lover in their lives, the company also offers coffee subscriptions. For three, six or 12 months, subscribers can receive an assortment of Barnie's CoffeeKitchen blends delivered right to their doors.
With its core built around its popular coffee blends and revamped concept, Barnie's CoffeeKitchen says it believes it has all the pieces in place for continued success well into the future. The company notes that it never stops thinking of ways to improve. "Our roasters, baristas and chefs love sharing their craft and enthusiasm for learning every day. It's about bringing together all the right ingredients – coffee, food and community."