Bassett's Market's customer service, quality and convenience distinguish it from larger, national competitors.
Bassett's Market stands out in the highly competitive grocery store space in three ways. The first and most important distinguishing factor is the service offered by the two-location market's employees.
"Many of our employees have been around for as long as 20 to 30 years, and they understand the idea that the customer pays their paycheck," President and CEO Charlie Bassett says. "Almost everyone here is happy, friendly and willing to go the extra mile for the customer and exceed their expectations."
For Bassett's Market's employees, going above and beyond for customers includes special ordering products the company doesn't currently stock, staying late to finish customer orders, carrying groceries to cars and walking customers over to store shelves to find a product. "Our employees are engaged and ready and willing to help people," he adds.
Pleasing customers has been the goal of Bassett's Market for nearly 120 years. Nahmy Bassett, Charlie Bassett's great-grandfather, opened the store's original location in 1898 in Oak Harbor, Ohio.
Charlie Bassett represents the fourth generation of family ownership at the company. He worked at the market as a teenager before going to Asia for 10 years, where he managed a bungee-jumping company. Bassett has served as the company's president and CEO since returning to the United States in January 2016.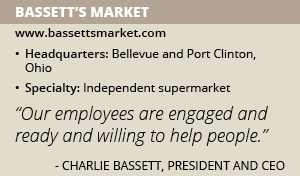 High Quality
The company's second strength is in the quality of the products carried in its locations in Bellevue and Port Clinton, Ohio. The stores' deli and meat departments carry products including fresh seafood flown in daily from Boston; prime beef veal and lamb products including all-natural and hormone- and antibiotic-free meats; and Boar's Head-brand deli meats and cheeses. Both departments prepare sandwiches, salads and other foods fresh daily from recipes developed in-house. The meat department also smokes meats on site.
In addition, Bassett's Market's two locations carry produce sourced from local farmers as well as a wide variety of organic products. The stores recently added herbs and vegetables that are hydroponically grown in-store. Bassett's Market's stores also have an extensive selection of specialty beer, wine and liquor.
Convenient and Fresh
The third factor that separates Bassett's Market from many of its peers is the convenience it offers customers. Both stores offer delivery services, and the Port Clinton location includes a 17,000-square-foot hardware store, as well as a pharmacy, bank, a UPS shipping location and dry cleaner in addition to grocery, deli, produce, liquor and meat departments. "That store is really a one-stop shop," Bassett says.
Convenience is the main goal of a new 10,000-square-foot store concept Bassett's Market plans to open next year. The store, located two miles east of the Port Clinton store, will include a coffee shop with a drive-up window, made-to-order sandwiches with Boar's Head products, liquor, beer and wine.
"We're trying to do things the opposite of the way convenience stores do now," Bassett says. "We will focus on cleanliness and friendliness, like we have at our other stores, and will offer fresh, healthy and ready-to go food, instead of selling hot dogs that have been sitting on a roller all day."
Excellence Recognized
Bassett's Market's customer service, product quality and convenience have earned it regional recognition.
The company last year was named as one of the "best of the best" businesses in the area by a local newspaper. In addition, the company in 2016 won the Ohio Grocers Association Pinnacle Award, which is given annually to single-store and multi-store operations based on "operational excellence and significant contribution to Ohio's food industry," the Association says.
Earlier this year, Bassett's Market was recognized by the Ottawa County Improvement Corporation as the county's medium-sized business of the year.
Bassett credits the stores' managers and staff with their success. Managers and executives enhanced their training last year when the company brought in consultant Dr. Robert Kirby to offer courses in time management, leadership, customer service and communication.
"Our employees are the reason a lot of people shop with us," he says. "We have great employees who care about what they're doing, and that's what brings people back."