A century-old flour miller seeks to predict changing consumer tastes.
In its century-plus history, Bay State Milling Company of Quincy, Mass., has mostly milled wheat flour. In recent years, however, Bay State has sought to change its direction.
"We're about six percent of the wheat milled in the U.S. and we have competitors about three to five times our size," says Pete Levangie, president and CEO. Today, Levangie says, Bay State has redefined itself as "plant-based ingredient company."
"We try to be different and anticipate where consumers and customers are going," Levangie says. "That inspires our work and strategy."
Bay State Milling, founded by Bernard J. Rothwell in 1899, is a family-owned business in its fourth generation and transitioning to its fifth generation over the next several years. The company operates six wheat flour mills and has acquired several other companies since 2012.
In recent times, consumer choices have changed. "About 15 years ago, the Atkins diet inspired a lot of change in how customers were thinking about food," Levangie says. "Since then, people want to be more engaged with food and want to know where it comes from. They want to achieve more wellness and nutrition without compromise. They want value and some are willing to pay more for value. We've seen an explosion of organic and niched and nutrient-dense foods. At the same time, they still expect excellent taste and value."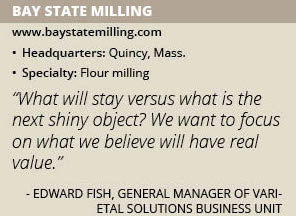 Demand for organic flour, for example, has been increasing about 8 to 10 percent annually, Marketing Director Colleen Zammer says. "Our view has always been to provide products that are as differentiated as possible," she says, "and given recent market dynamics of commoditization and consolidation, we have chosen to shift towards innovative plant-based ingredients."
"The pace of change is increasing," General Manager Edward Fish says. "Trying the next thing is almost as important as trying things that are better for you. What will stay versus what is the next shiny object? We want to focus on what we believe will have real value."
Market Disruptor
Those products that have real value include HealthSense, a new variety of wheat flour with significantly higher levels of fiber – up to 35 percent – from naturally occurring resistant starch. "HealthSense is enormous," Levangie says. "We believe this is an opportunity to disrupt the entire market. It will allow consumers to enjoy the refined wheat foods they love such as white bread, pizza and pasta, while also meeting their dietary requirements for healthy fiber."
HealthSense didn't come about quickly. "We have been at this almost 10 years with increasing levels of resource intensity," he notes. "A lot of companies don't have that persistence."
SowNaked Oats is another highlighted product. It has higher protein levels than traditional oats, is lower in carbohydrates and is purity protocol gluten free, a trait desired by the strictest gluten-free consumer. "Naked" refers to the oats not having a hull or outer covering which allows for less waste and minimal processing, making them a highly sustainable ingredient choice. SowNaked comes in a variety of conventional and organic forms including whole grain oat flour, rolled oats, sprouted oat flour and sprouted rolled oats.
SimplySafe is a heat treatment process that is combined with controlled post process packaging. It results in a 5-log reduction (99.999 percent) in salmonella, while ingredients remain organic compliant and chemical free. The process is validated by a third party and the following food ingredients are available: amaranth, buckwheat, chia, flax, millet, oats, poppy, pumpkin, quinoa, sesame and sunflower. This type of treatment is critically important for manufacturers who produce foods that do not have a final "kill step," but want to offer the safest of foods for consumers.
Bay State Milling has long focused on producing organic food ingredients, which always starts with growers and suppliers. Bay State Milling has developed long term relationships with both growers and suppliers in the United States and overseas. The company's organic ingredients meet standards issued by the National Organic Program and Quality Assurance International. While the company offers a broad array of products that are verified as non-GMO, organic products are inherently non-genetically modified. Just about every ingredient offered by Bay State Milling is available as organic as well as conventional, providing choices for all customers in the plant-based foods space.
Bay State also works with germination companies in the U.S. and Canada to produce sprouted ingredients for its BeneGrain product line. Those include sprouted whole wheat, brown rice, amaranth, millet, SowNaked Oats, quinoa, rye and sorghum, all of which are available as conventional and organic.
Sprouted grains are produced through a controlled germination process which entails a proprietary combination of moisture, temperature and time to deliver optimal flavor and performance. The use of sprouted grains as food ingredients has increased during the last decade according to the company. That increase is based on the belief that sprouted ingredients improve flavor, nutrition, baking performance and texture. Bread has been the main food to use sprouted grains but sprouted grains are also used in tortillas, granola, cookies, crackers and snack bars.
Customers who might be less familiar with some of these unique ingredients can also consult with food scientists, bakery scientists and culinary professionals at the Rothwell GrainEssentials Center at Bay State Milling. The Center was created in 2011 with customers in mind. It is stocked with equipment that starts with small scale milling, and includes a broad array of food production equipment for bread, pizza, pasta and snacks and ends with a suite of analytical instruments to measure relevant properties of ingredients and finished foods.
Making Connections
In recent years Bay State has acquired several other companies which it combined into a division called Mini Milling and Blending. Those include:
• T.J. Harkins of Bolingbrook, Ill.
• Certified Foods of Woodland, Calif.
• Clean Dirt Farm of Sterling, Colo.
• MGM Seed and Grain of Saskatoon, Sask. (35 percent stake)
The Mini Milling and Blending division focuses on whole ancient grains, edible seeds, gluten free flours and flakes, some sweet spices and a broad array of custom blends.
"These acquisitions have allowed us to enter new categories of ingredients that serve categories that are on trend with consumer habits such as snacking, going gluten free and seeking whole food nutrition, Zammer says.
More recently, Bay State has started working with emerging and entrepreneurial companies with new brands.
"We are trying to find them early and help them grow," Levangie says. "We try to find markets we can lead in. We've gone well beyond wheat [milling] today."
Changing direction takes more than a declaration. Bay State Milling defines its role in the food system as connecting agriculture to food. That involves developing a number of sub-connections throughout the value chain. "Food choices are a statement about personal identity," Fish says. "Our ability is to connect consumers to the farm." "Consumers want to see where their food comes from and have that connection," Zammer adds. "This trend brings them closer to the farmer."
That requires Bay State to maintain close relations with its farmers. "We not only have to build demand with customers, we also have to work with our partners at the farm level to build supply chains from scratch," Levangie says. That means connecting with farmers, processors, food companies, distributors and so on.
To help do that, Bay State Milling developed a Partner Sourced Ingredients program two years ago to document relationships with suppliers around the world, and verify their collaboration using a third-party auditor.
The company commits to "visiting every year, and we evaluate quality and food safety standards, meet with employees and assess the value that we bring to each other," Zammer explains. "We go to locations such as Inner Mongolia, India, Peru and other origins where our ancient grains and edible seeds are grown."
"We spend a lot of time at farms working on how to attract farmers to grow alternatives to commodity products, which are often new plant varieties" Levangie says.
"I think farmers are incredibly enthusiastic to try something that provides an alternative [to commodity crops]," Fish says. "[These products] also have a public health benefit."
Building that supply chain, however, takes time.
"A challenge in managing the complexity of new varieties is that you have to scale up from a couple of pounds to hundreds of millions of pounds," Fish says. "You need to build seed supply, storage and segregation."
Leadership at Bay State Milling is fond of saying that "change cultivates opportunity." Recognizing that this effort takes time and focus, Bay State Milling is committed to achieving its new direction.