bd's Mongolian Grill's unique business model is growing in popularity.
When it comes to combining food with entertainment, bd's Mongolian Grill has a winning recipe. The interactive dining chain, famous for its "create your own stir-fry" restaurant concept, dazzles its customers by cooking their food in front of them Mongolian-style.
Its expert grillers follow 13th-century culinary traditions of Mongolian warriors under the rule of Emperor Genghis Khan. "They would cook their food on their shields and use their swords to stir it up," says Carrie Martin, vice president of operations support. "Our grill is meant to represent a big shield and the griller uses what we call swords to cook the food."
The Burnsville, Minn.-based chain has 12 company-owned restaurants and 11 franchises scattered throughout Michigan, Ohio, Illinois, Colorado, Wisconsin, Missouri, Florida, Kentucky, Kansas and Pennsylvania.
Focusing on giving guests a plethora of options, bd's Mongolian Grill offers a dining experience that allows its customers to be in charge of their dining experience. Its "Stir It Up, Your Way!" philosophy gives guests ownership in choosing their own ingredients from a variety of choice meats and seafood, fresh vegetables, crisp salads and flavor-packed sauces and spices that are prepared for them on a seven-foot grill.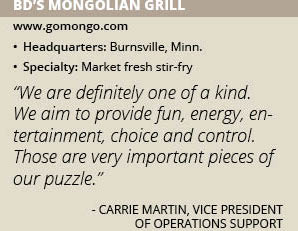 "We are definitely one of a kind," Martin says. "We aim to provide fun, energy, entertainment, choice and control. Those are very important pieces of our puzzle. You're in control of your experience. You pick your meats, veggies and sauces and watch it cook before your eyes on a flattop grill. You have control over everything, even your portion sizes."
Peppered With Options
Visitors to bd's Mongolian Grill will find the menu peppered with a variety of fresh options. On average, it offers roughly 12 different proteins, between 20 to 25 veggies and about 15 sauces. "You have tons of choices," Martin says. "The possibilities are endless."
For customers who need help with creating a dish, the restaurant offers a variety of recipe cards. "They rotate and we are always coming up with new ones," she adds. "And there's always someone to help you build that bowl."
The most popular dish is chicken teriyaki. Other recipes include Thai peanut curry, Louisiana boil, smoky ginger chicken, paella, kung pao beef, sweet pepper medley, sesame ginger chicken and cherry-glazed pork. In addition, the menu offers a variety of appetizers and desserts.
The recipes come from bd's Mongolian's own chefs as well as a few from its customers. In addition, some are created by celebrity chefs. The restaurant chain partnered with Stephanie Goldfarb, a Chicago-based chef specializing in seasonal, vegetarian and multi-regional cuisine who appears regularly on The Food Network. She provided bd's Mongolian Grill with 10 of her recipes.
"We change and offer new exciting things but still stay who we are," Martin says. "The things that will continue to change are the ingredients we offer in the market area. Over the summer, we source local produce so there's always something new. In the fall, we may have a butternut squash. We're always looking for new and exciting flavors. That's how we change and evolve."
Ordering Online
The company recently revamped its website to offer its customers the ability to create their dishes online. "We're very excited about giving them this ability," Martin says. "Now they can create their bowl for pickup or delivery. Currently, we have several participating locations, but we are working on getting everyone on board."
It also partnered with a number of third-party vendors, including UberEats, for delivery options. "We are working hard to find delivery options in all our markets," she adds.
Aside from revamping its website, bd's Mongolian Grill invested in a new e-learning training program for its employees last year. The online platform, called Hot Schedules, replaces the company's printed manual in most restaurants. "That's how today's teammates want to learn," Martin says. "It also helps us follow up to make sure they are getting the training they need to be successful."
Giving Back
The company has five core values: have fun, make money, growth, community and team work. Since its inception in 1992, bd's Mongolian Grill has helped thousands of organizations raise money for charitable causes. From local churches and schools to nationally recognized charities, the company offers a variety of fundraising programs.
Its Grilling for the Greater Good program offers a variety of fundraising events such as Guest Griller, Benefit Night and Dueling Swords. "We have a friends-taking-care-of-friends philosophy," Martin says. When the company's founder Billy Downs, whose initials are a part of the company's name, opened his first restaurant in Royal Oak, a suburb of Detroit, philanthropy was a part of his business model.
"Giving back to the community was one of Billy's philosophies since day one," Martin says. "He wanted to build a company that takes care of its people. The idea was to open a restaurant and involve his family, have fun, make stir-fry and make money and it just blew up. People were lined up around the corner to get some stir-fry."
The company has partnerships with nonprofit groups such as No Kid Hungry, Folds of Honor and OneHope Wine. Last year, bd's Mongolian Grill raised almost $26,000 for the Folds of Honor Foundation that helps the spouses and children of fallen or disabled U.S. military men and women.
bd's Mongolian Grill also rewards its loyal customers. Club Mongo offers customers exclusive offers, promotions and free meals on their birthdays. The company also has a loyalty app where they can redeem points for free appetizers, stir-fry and desserts. To earn points, they enter the barcode number from their food receipt into their web account, or they can scan the barcode into their smart phone using bd's app.
Franchise Opportunities
Entrepreneurs wishing to open a bd's Mongolian franchise must have at least $750,000 in liquid assets and a net worth of $2.5 million. The company charges a franchise fee of $45,000 per location. It also collects an ongoing royalty fee of 4.5 percent and a 1 percent ad fund charge.
A typical restaurant is about 5,500 square feet. Larger or smaller operations will be considered based on location. An ideal location is a mid-scale urban neighborhood or regional suburban market with a strong restaurant synergy. This could include being surrounded by coffee shops, specialty boutiques, banks, movie theaters, comedy clubs, colleges and office parks.