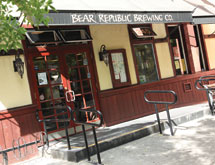 Bear Republic Brewing Co.
People who drink Bear Republic Brewing Co.'s beers for the first time tend to have a very similar reaction. "We call it the 'wow' factor," President and co-founder Richard Norgrove says. "We take our beers to people and they say, 'Wow, this is really good.'
With dozens of awards to its credit during a more than 15-year history, the Healdsburg, Calif.-based craft brewery and brewpub clearly has inspired the "wow factor" in many beer enthusiasts. Norgrove credits the recipes and palate of his son Ricardo – the company's brewmaster – with their positive reputation. "We make big, bold beers that are incredibly balanced in terms of hops and malts," he says.
The heart of Bear Republic's operations and the place where the younger Norgrove develops and first test-markets his recipes is the company's brewpub in the heart of wine country in Sonoma County, Calif. The brewpub typically serves about 18 beers on draft.
"The pub is the marketing arm for new beers and new styles, and gives us a chance to see how they're received," Richard Norgrove explains. "If the beers work at the pub, we can roll them out nationwide."
Bear Republic's brewing operations are based in a brewery in Cloverdale, Calif., located approximately 16 miles away from the brewpub.
Bear Republic is currently the 35th highest volume craft brewery in the United States. Six of its beers are bottled and available in 35 states and six countries. These are:
• Racer 5, which is an American India pale ale (IPA);
• Red Rocket Ale, which is an American amber ale;
• Hop Rod Rye, an IPA brewed with 18 percent rye malt that was one of the first of its kind on the market;
• Big Bear Black Stout, which is an American stout;
• Peter Brown Tribute Ale, a malty American brown ale; and
• XP Pale Ale, an American pale ale.
The company also offers several seasonal beers including Black Racer, a black IPA that won the gold medal in the 2012 World Beer Cup in the Am¬erican-style black ale category.
'Slow, Steady and Profitable'
Brewing has long been a passion for Ricardo Norgrove, who started creating his own beer in college. After graduating, he began working for a bicycle framing company in the early 1990s and approached his father, then retired after 20 years of working for an optical film coating company, about going into business together.
"I told him that brewing beer for college kids was one thing, but doing it commercially is quite a bit different," Richard Norgrove says. The younger Norgrove then worked for Marin Brew¬ing Co. to acquaint himself with the beer business, visiting practically every micro¬brewery on the West Coast and building contacts that he would later use at Bear Republic, his father says.
After nearly two years at Marin, son and father, along with their respective wives, put together a business plan to start their own brewery as a way "to have a little fun and make a little money," the elder Norgrove adds.
Ultimately, the two opened the brewpub in January 1996 in the tourist hub of Healdsburg as a way to market and bring their beer to locals. "We decided to open outside of tourist season as a way to build a local following," Nor¬grove says. "This is the sort of town where everyone knows everyone else."
Richard Norgrove drew on his past experience setting up commercial distribution channels for anti-glare products to set up a distribution network. After a few years of self-distributing, Bear Republic started to establish relationships with distributors and wholesalers that continue to this day.
The Norgrove family – which also consists of Richard Norgrove's wife, Sandy, and daughter-in-law, Tami – runs the business with a philosophy of slow, steady and profitable growth. "We're looking to move into several key states where the beer market is really starting to develop," he says. "We're looking at 30 percent growth each year for the next three. We're building the business over time for future generations of the family."