Bear Republic Brewing Company's success stems from high-quality products and taking calculated risks that have fostered steady growth.
California's Wine Country is known worldwide as a premium wine-growing region, but it is also home to one of the pioneering forces of the craft beer movement. Founded in 1995, Bear Republic Brewing Company has been producing award-winning handcrafted ales from its original brewpub and distributing products in many American markets for more than 20 years.
The company began with a small brewpub system in downtown Healdsburg, Calif. It grew over time, with the Bear Republic Cloverdale production brewery established in 2006 just 15 miles north of the original Healdsburg facility. It has become the 39th largest brewery in the United States, and the Brewers Association has recognized Bear Republic as the 44th largest craft brewery in the country.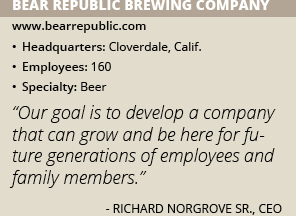 "We opened the brewpub in January 1996 in a place known for summer tourism, and opening at that time allowed us to focus on capturing the local community," CEO Richard Norgrove Sr. says. Norgrove owns the company along with his wife, son and daughter-in-law. "It was a calculated risk, but we were able to succeed with brewing and selling over the bar and then develop our own distribution system in northern California and parts of southern California and get closer to the consumer. Today we are in around 24 states and seven countries."
Exceptional Quality
What first stands out about Bear Republic is its beer, brewed and aged following time-tested and proven methods. The company hand-selects the best ingredients for each batch, using specialty grains and hops for their unique characteristics. The recipes and their final formulations have been developed over a period of several years to build solid commercial products. The company is continually developing new recipes using its proven brewing methods.
"We have a very strong commitment to quality and consistency of our products and the ingredients we use," Norgrove says. "We've invested a lot in our lab and personnel to be sure we can control the quality of what we put into the product and the completed product. We can use our brewpub to find out what consumers are looking for, and our brewpub and Cloverdale facility allow us to work on brands and styles that can be forward-thinking."
Bear Republic's brews have certainly carved out a place in the taps and on the shelves in many markets. The company's beers have earned many top honors in the American brewing industry. Its Racer 5 IPA is one of the most award-winning beers in the country, and the company has won 22 medals from the Great American Beer Festival and various medals from the World Beer Cup, Good Food Awards, The California State Fair and other outlets.
"Our Red Rocket American ale was our first signature beer and got us into the marketplace," Norgrove says. "After we developed our Racer 5 IPA, it propelled us and continues to be our No. 1 selling product."
Allocating Resources
Bear Republic has sought to take cautious and prudent steps to expand its operations. It has built a solid and well-defined wholesale and distribution business. As a manufacturer, it has worked hard to understand its wholesalers and the methodology that has allowed them to succeed.
Additionally, it has made investments in equipment and facilities, always with an eye on the future state of technology in brewing, fermenting and storage. Bear Republic looks to prepare for what the industry will want and what its cost structure will need to be several years down the road.
"Our goal is to encourage slow, steady, profitable growth, looking for around 15 percent annual growth," Norgrove says. "We don't want to over-expand, and we make sure we can invest into our people and facilities. There are only so many shelves and taps out there, so we are very cautious about looking at expansion."
The company is also capable of adapting, even in the face of unexpected challenges. Cloverdale's water systems didn't have the capacity to support the activity Bear Republic was looking for at its Cloverdale production brewery. Therefore, Bear Republic and the City of Cloverdale finalized a unique public-private partnership several years ago. Bear Republic provided the city with nearly a half-million dollars to help with the construction of water wells, allowing the city to build wells faster so the company could make more beer.
"We also installed our own fully integrated wastewater treatment plant," Norgrove says. "All of this will help us to establish ourselves in key locations domestically and internationally as we test market products and develop key players from wholesale and retail standpoints."
Now, Bear Republic plans to open the company's third brewery operation with another brewpub in Rohnert Park, Calif. The brewery and brewpub operation is currently in the planning stages and will commence with the construction phase at the site of a previous restaurant. The original Healdsburg brewpub will be remodeled once the Rohnert Park location has been established.
"Rohnert Park is less of a tourist destination and it has no brewpub," Norgrove says. "Another brewpub will help us to stay fresh and allow us to support new demographics."
To ensure future success, Bear Republic must stay in tune with consumers. Demographics and tastes change, and the company has to maintain the quality of the product. Utilizing proven brewing methods, investing in marketing and building strong supplier and distribution partnerships are all crucial to Bear Republic's long-term effort to remain a relevant player in the craft beer marketplace.
"This is an independently owned family company," Norgrove says. "Our family has been in Sonoma County for six generations and we've built a great staff here. We're proud of what we have done, and our goal is to develop a company that can grow and be here for future generations of employees and family members."