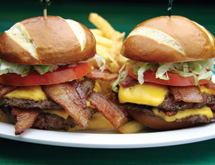 A combination of competitive advantages – a sports emphasis, being family-friendly, serving high quality food and being a great value – are the legs of the table on which Beef 'O'Brady's is building its franchised chain of restaurants. "It's those things coming together that make us very unique," Chief Development Officer James Walker declares. "We appeal to a wide audience – we appeal to sports fans and families alike."
Founded in Brandon, Fla., which is just east of Tampa, Fla., Beef 'O'Brady's currently has 125 locations throughout Florida and 211 locations in 24 states. Seven of those locations are company-owned. Price points vary based on conditions in each market.
"We always try to be a value for our guests," Walker emphasizes. "We want them to leave feeling that the experience, the food quality and the portion they got was an exceptional value for their money."
The sports emphasis at Beef 'O'Brady's separates it from many casual-themed restaurant chains, and most Beef 'O'Brady's locations have party rooms and offer catering that some competitors do not. "Being sports- and family oriented, local sports teams love Beef 'O'Brady's to have their meetings and award banquets," Walker declares. "Any of those types of events drive a lot of our business."
Selecting Franchisees
Beef 'O'Brady's encourages its franchisees to becoming involved with their local communities by sponsoring local sports teams and charities. The company checks the backgrounds of its franchisee candidates along with asking them to undergo personality and psychological evaluation.
"It's a pretty in-depth process," Walker asserts. "We're not looking for a single point to be the defining factor but a combination of experience, financial viability, personality, enthusiasm – we're looking at how a number of things come together. One of the things that is unique about Beef 'O'Brady's is we will take franchise candidates without restaurant experience."
But the company prefers that they have some business experience. "You can hire a manager to run the day-to-day, but absolutely, we're looking for franchisees who are heavily involved in their operations and their business," Walker stresses. "I think owner involvement is critical to the success of a Beef 'O'Brady's."
Who would be his ideal franchisee? "Somebody who has the financial resources, some business acumen, is willing to listen and learn, and has an outgoing personality," he says.
Middle East
With the participation of several new franchisees, Beef 'O'Brady's is expanding internationally to the Middle East. The first location expected to open in 2013 will be in Damman, Saudi Arabia, followed by Doha in Qatar and Kuwait City in Kuwait.
"Demand in the Middle East is huge," Walker maintains. "One of the things we did that was very unique is we created a menu that is very much a Beef 'O'Brady's menu, but most of the items are sourced locally. Only 10 items, which are our proprietary sauces, are coming from the U.S."
The regular menu in the United States for Beef 'O'Brady's includes Angus beef hamburgers, Angus skirt steak dishes and corned beef, along with wings featuring 12 sauces, chicken and salad dishes.
"We have a franchise advisory council that really is involved in every decision we make in the brand," Walker insists. "They provide feedback across everything, from marketing to menu to operations. We solicit their feedback. We've got fajitas in our restaurants – that was something that came directly from two of our franchisees down in the Fort Myers [Fla.] area."
Franchisees participated in the company's new Beef 2.0 format, which specifies color schemes, flooring and equipment for the company's new locations. "Two years ago, we used external focus groups as well as talking to a lot of our highly successful franchisees and developed a new prototype," Walker recalls.
The restaurant size should be at least 3,600 square feet but ideally approximately 4,200 square feet with at least 150 seats, Walker says. The format also features two separate areas – one for the sports bar and the other for the restaurant – that are separated by thematic or branded partitions to reduce noise.
"So you can have dining groups of families and diehard sports fans cohabitate within the same facility at the same time," Walker explains.
TVs are located throughout the facility, and some locations even have small TVs at restaurant booths. "From a franchisee standpoint, we have a back-of-the-house system and a back office system that helps manage food costs, ordering and labor control," Walker notes. "It allows our franchisees really to maximize their profitability in any given restaurant."
Location Finder
When searching for possible franchise locations, Beef 'O'Brady's uses data extensively. "Domestically, we have a site scorecard developed for us that basically ranks the potential for any given location," Walker notes. "We use that tool quite heavily. That tool utilizes demographic information, psychographic information and all those types of data points.
Information sources vary for international locations. "Internationally, we use a number of different reports," Walker notes. "The World Bank does a report that lists the viability of different markets."
The company currently is expanding into the West and has opened locations in California, Montana and Arizona. "We'd like to continue to build out our existing markets," Walker notes. "We want more stores so we are able to grab more market share and media. Beyond that, we love those West Coast markets. We'd like to open more stores in California. We currently don't have any stores in New England. We think that would be a great market buildout."