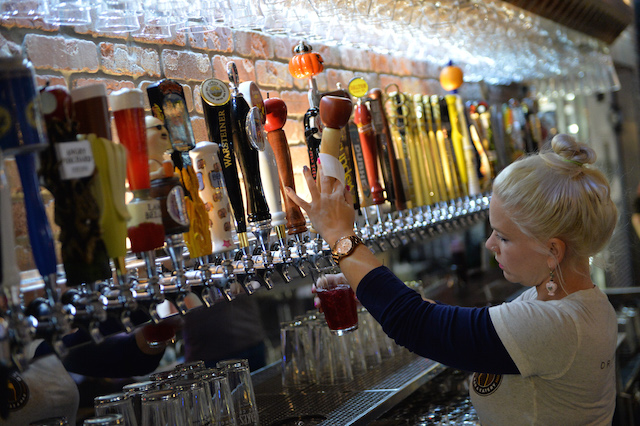 Beerhead Bar & Eatery is riding the craft brew wave with a massive selection on draft and in bottles, and software that makes profitable management easy.
For beer geeks, tap rotation at a bar, pub or restaurant is key to keeping interest in craft beers high. If an establishment keeps serving the same brand of beer all the time, it is missing not just avid beer aficionados but the adventurous craft beer newbie, who with the variety of brews available from thousands of microbreweries nowadays never has to drink the same beer twice.
It was with this understanding that co-founder and President Greg Goodrich and Co-Founder and Chairman Pasquale "Pat" D'Onofrio founded Beerhead Bar & Eatery. The boutique chain of six establishments has 50 beers on tap, nearly 500 bottles of different beers at each location. "We rotate our taps, so every time we run through a keg, we replace it with a different brand," Goodrich maintains. Beyond the beer, Beerhead Bar & Eatery also maintains a curated craft spirits and wine selection that complements the local, craft theme and appeals to today's consumers' zeal for the unique.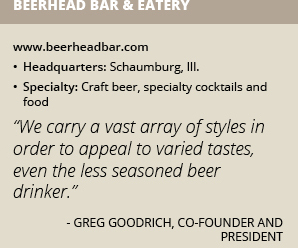 Beerhead concentrates on local brands of beer and spirits and has resident "Beer Pros" at each location to select the different styles of brews. The Beer Pros are typically Cicerone-certified buyers who work with both the purveyors and guests to first bring in the most coveted new brands and also introduce them to the guests. "We work a lot with local brewers, for example," Goodrich says. "We bring in local brand representatives to talk about their beer or spirits with guests and to host tastings. We are always seeking to carry some of our brands' more unique stuff. We're really focused on what the latest and greatest is in that particular area that we're located."
A variety of beer styles is encouraged for customer appeal. "We carry a vast array of styles in order to appeal to varied tastes, even the less seasoned beer drinker," Goodrich says. "Some people like hoppier beers, some people like fruitier beers and some like citrus beers. With over 500 brands to choose from, we serve an impressive mix of different styles of beers, which our guests really enjoy since they can expand their palate on each visit."
Cocktails and Wine
Beerhead Bar & Eatery offers craft cocktails as local licensing permits spirits. "We create custom craft cocktails and change them quarterly." Beerhead derives up to 12 percent of its sales from craft cocktails.
"Craft cocktails are a significant piece of our business," Goodrich says. "Although we appear to be more focused on beer, our craft cocktails are very popular and growing." The urban locations tend to do especially well with craft spirits and cocktails, and the interest in craft spirits is rising along a similar trajectory as craft beer.
Beerhead bars carry approximately six different varieties of high-quality wines selected by co-owners Pat and Tracy D'Onofrio that are responsible for approximately 2 to 3 percent of sales. "My partner and his wife were both in the wine business, so they are very well-versed in wines and are selective about what we choose for our wines," Goodrich says. "Even though they are not the largest part of our sales, we make sure we carry a good quality selection."
A Learning Experience
Goodrich emphasizes the educational value that Beerhead offers. "We want to keep our vibe current and interesting, so you're always experiencing something different and new, and you learn something. It's a fun place. You walk out knowing something you didn't know before. It's more of an experience than order-taking or placing." This applies to both Beerhead guests and staff, as each staff member undergoes a comprehensive training program designed to provide them with well-rounded craft beer and cocktail knowledge.
Beerhead Bar & Eatery tries to keep that vibe a little more urban and hipster. All locations feature live entertainment on weekends, usually acoustic music by one- to three-piece acts. The tables are arranged communally so customers can meet each other, learn about beer and perhaps make new friends. The restaurants also can hold private events for customers where, for example, a beer is infused with a custom blend of ingredients in a Randall.
The chain also offers beer-tasting events, usually quarterly. A style of beer is chosen by the location's Beer Pro, who pairs it with food to provide a lesson about the history and production method of the beer style.
Experimenting With Food
The regular menu at Beerhead includes personal pizzas, sandwiches, salads, desserts and the signature Barbarian Pretzel appetizer, a giant soft pretzel served with a selection of mustards for dipping that can be shared by a group. "It is one of our top-selling appetizers," Goodrich says.
The Beerhead Bar & Eatery concept has been evolving since its inception in 2012. The first location was called The Beer Market and served no food, although food could be brought in by patrons or delivered right to your table. "At first, food wasn't what we wanted to focus on," Goodrich recalls. "We wanted to focus on craft beer, do it exceptionally well and see where we could grow from there."
Subsequent locations added food in various capacities until Beerhead settled on the right fit. "We keep it simple, but we do it well. The food is very important because it's part of your experience, and we want to do it right."
Beerhead locations make many of their dishes on-site, including their own chicken and potato salad. "We test everything, and we use one purveyor to keep the quality the same," Goodrich says. "We update our menu twice a year, in the spring and the fall. We try to keep it interesting and always current."
Expanding Outward
Beerhead Bar & Eatery plans to open two new locations within the next 12 months. It also plans to franchise three to five new locations during the next 18 months. "We've received a lot of interest," Goodrich says. "A lot of people come up to us and ask, 'How do I be part of this?' So there's some demand. We also want to share the experience and grow and create a boutique brand. It's definitely something that interests people and people are excited about, so franchising was the best path for us to share our passion for our concept."
Beerhead's growth plan is to focus on developing the Midwest and then move into other areas as the base group of locations expand outward. A key consideration to the company's growth is maintaining its high operational standards and providing first-in-class support to the Beerhead bar network.
"We want to be concentric," Goodrich says. "We want to grow out organically from where we're currently located. We want to grow so we can really support the locations and not be all over the map. We can build a strong network if we can keep the growing in concentric circles."
Goodrich attributes much of the company's success to its vendors, such as BevSpot, whose software he relies on to keep track of Beerhead's massive beverage inventories and to provide costing and pricing analyses, sales data and to pinpoint any shrinkage. He also praises wholesaler US Foods for its support with menu development and his many equipment vendors for their support with product and equipment testing.
Goodrich also notes the importance of his partner and sticking to their vision of what Beerhead Bar & Eatery could become. "It's nice to see how our vision has evolved as we anticipated it would," Goodrich says. "We see a lot of great things going forward as we continue to do this and create this brand, which we think has a lot of appeal."