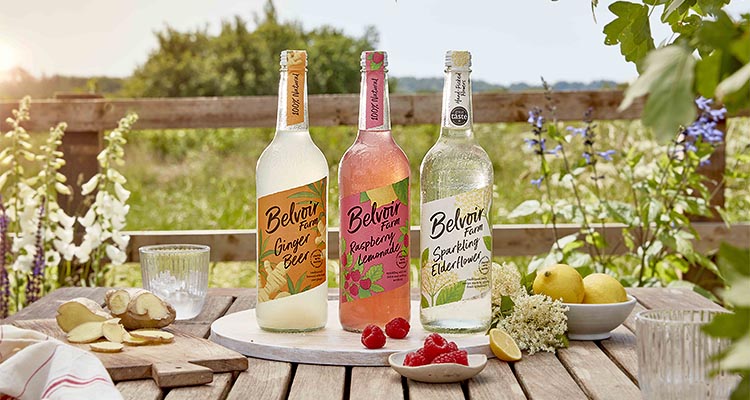 Belvoir Farm's Frank Fitzgibbons talks popularity, growth, and SMEs' modern day tribulations
Next year, Belvoir Farm (Belvoir) will celebrate 40 years of operations, and what a time it has been. The company was officially established in 1984 by John Manners, the current owner and managing director, Peverel Manners' father, on the site of a fruit farm that his parents had originally founded some time earlier. From its days as a humble fruit farm, Belvoir grew into the celebrated drinks business that it's known as today, based on its flagship flavor – elderflower.
Travelling back many years, the organization's plot in The Vale of Belvoir was home to some 80 acres of elderflower plantations. This has consequently had a huge influence on the company's long-standing relationship with the iconic ingredient, which back in earlier times was processed entirely by hand to produce cordials and beverages to be delivered to local farm shops and villages.
Commercialization can often be the fork in the road for small businesses, at which they stand to lose their founding culture and principles, but this is not the case with Belvoir by any means, which has steadily grown over the last four decades with unadulterated grace.
"Throughout its journey," opens Frank Fitzgibbons, Production Director, "Belvoir has successfully maintained its cottage-industry essence. Until the millennium, we were really just generating minor sales off the back of the elderflower cordial, before Peverel obtained a few key retail customers in the early noughties, which prompted him to start thinking bigger.
"We began expanding our offerings and targeting them beyond our traditional clientele in the single-serve market space. By the time I joined in 2003, we were picking up some serious pace, and by the end of the decade we had grown from a £2 million venture into a £14 million enterprise. Around 2008 we invested heavily in our capacity, in the form of a new bottling line, which was key to facilitating our future growth. However, what really drove us to building our first purpose-built facility in 2015, was the significant leap we saw in the brand's popularity."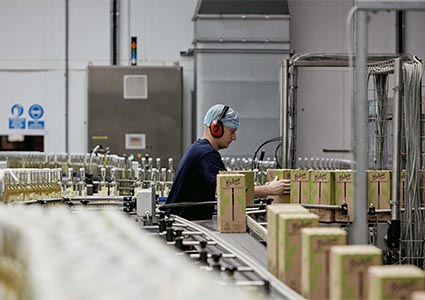 Weathering the storm
Today, Belvoir's capacity sits at around 26 million bottles per year, between its two state-of-the-art bottling lines and a new canning line, which are fully automated and operated by a shift pattern of employees. With further shifts added though capacity could rapidly increase. However, the drinks industry in 2023 is not what it was 20 years ago.
"Things have changed significantly," Frank reflects. "One of the biggest upheavals our industry has experienced has been the drastic changes in consumer behavior. Over the last two decades there's been a crackdown on peoples' consumption of sugar, as healthier lifestyles have risen in prominence. So much so that, amidst producers such as ourselves organically looking to adjust our recipes to suit customers' newfound needs, the government introduced the sugar tax a few years back."
In April 2018, the UK Government introduced the Soft Drinks Industrial Levy (SDIL). The two-tier tax was designed to protect children from excessive sugar consumption, as part of an initiative to tackle childhood obesity across the country. The total provisional receipts for the SDIL reached around £334 million during the 2021 to 2022 financial year.
"All of our ingredients are natural," he continues, "and we don't use any preservatives, additives, colorings, or flavorings at all, even our elderflower is still hand-picked and processed by hand to a degree as well. Without being too political, I think the SDIL could have been handled far better by the authorities. They've specifically targeted soft drinks, seemingly without considering the amount of sugar that goes into all other sorts of confectionery these days.
"It ultimately put a great deal of pressure on SMEs like Belvoir, which could also be said for the postponement of the deposit return scheme in Scotland. It means that businesses such as ours are put in a position where we have to undertake exceptional rises in certain costs. Again, I don't want to get too political, but these policies give the implication that the authorities aren't really taking notice of SMEs within the industry.
"The biggest issues Belvoir has faced in hitting its growth targets in recent years, have been the massive cost price increases we've seen across all of our commodities," he adds. "Beyond the SDIL there's energy, ingredients, and packaging, and it's difficult to absorb all of these whilst still obtaining your growth to hit specific targets. At the same time, you can't pass them all on, as everybody's purse strings have been tightening, and you don't want your loyal customer base to start feeling that your products are becoming too expensive. But regardless, the growth we've experienced over recent years has still been significant."
Ahead of the curve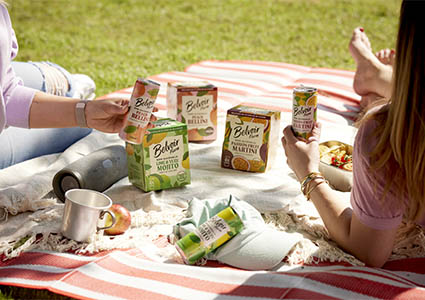 One of the business' tactics to stimulate its continued growth has been to invest in a state-of-the-art canning line, which has enabled Belvoir to move sideways into a new market. The £2 million investment was the product of a well-informed investigation into where the adult soft drinks category is currently headed.
"We knew that we were looking down the barrel of a rough ride on the commodities side," Frank explains. "And, although we sell single-serve products in glass, we established that adding multiple pack formats of single-serve cans to our offerings was the best way to continue playing in the adult soft drinks category. I obviously can't disclose who or where quite yet, but we've got some account listings for the backend of the summer, which are ready to go."
Sustainability strategy
Looking ahead, Belvoir has set the ambitious target of being carbon neutral by 2030. As close as that may seem, the organization is flying ahead with the initiative, having already reduced its carbon footprint by a huge 36 percent over the last five years.
"We always put our money where our mouth is," Frank concludes. "If we say something, it's because we're actually going to get on with it. We've just completed yet another stage of solar implementation during the first quarter of this year, and although we don't quite recycle our potable water yet, we utilize reused water for our site processes. It all comes back to Belvoir's heritage and legacy; we've planted loads of trees and elderflowers and built bird boxes and a beehive. It's all about looking after the land and caring for it safely away from manufacturing."