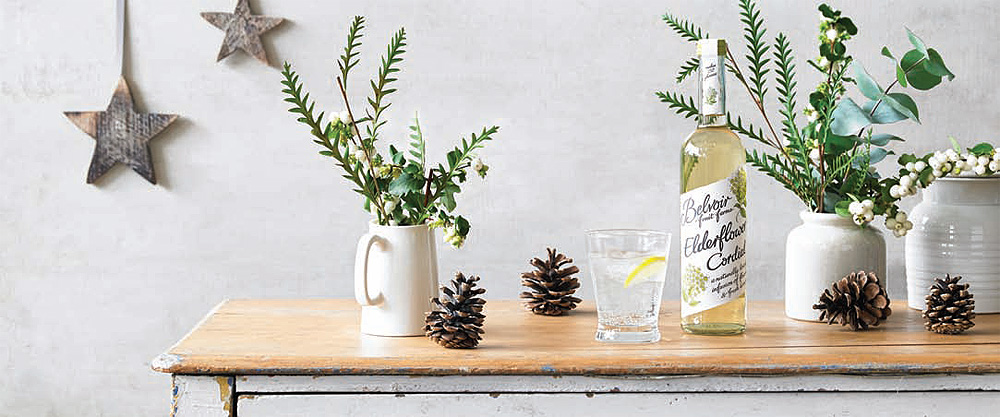 The taste of nature
Belvoir Fruit Farms makes cordials, pressés, and botanicals, with a wide selection of flavours, all of which are made through a traditional and authentic process, using the finest ingredients
Belvoir Fruit Farms earns its name from the vale of Belvoir, where the company has been making fruit cordials and presses since 1984, pressing fresh fruit and infusing flowers to mix with spring water. Renowned for its elderflower drinks, the company still uses the same elderflower recipe developed by co-founder Lady Mary Manners all those years ago. Today, demand is so high that Belvoir calls on the local community to help with the harvest, picking flowers from its own 90 acres of orchards and from hedgerows in the surrounding countryside. Over the years, the company has expanded its beverage range to include flavours such as Elderflower and Rose, Lime and Lemongrass, Raspberry and Rose, Blueberry and Blackcurrant, and Ginger to name just a few. The brand now produces more than 40 products, many of which have won multiple awards. Belvoir is still owned and run by the Manners family.
Some of the most recent additions to the Belvoir range have proven to be popular, as production director Frank Fitzgibbons explained: "We have had great success with Raspberry Lemonade, to compliment our Elderflower and Ginger Beer range so while the traditional range continues to prove very successful the new ranges offer something different. There have also been other niche ranges that we have developed at the company, these have been the Mango and Peach Pressé, which has gone down very well with our customers, as have the Cucumber and Mint Pressé, these have been a real bonus to us and they are picking up a lot of interest."
Another relatively new product range that the company has worked on and is tailored to the increasing sugar conscious market trends is its lower sugar range of pressés – called 'light'. There are several of Belvoir drinks that have this option, these currently include Elderflower Pressé, Raspberry Lemonade, as well as Elderflower and Rose. This diversification of its drinks demonstrates
that the company is actively working to appeal to a wide range of customers and adapt to market trends – all the while retaining its commitment to producing authentic drinks made with real ingredients.
Belvoir Botanicals
There has also been an exciting development with a completely new Belvoir Botanicals line that the company has unveiled and it will extend its use of natural ingredients to the health side of the drinks market. The product range includes Elderflower and Echinacea offering immune support, Lemon and Green Tea to help natural energy, Mandarin and Hibiscus for skin support, as well as Cucumber and Mint to help refresh.
Like all Belvoir drinks, the Botanicals range uses natural ingredients with no artificial colourings, preservatives, additives or sweeteners. They contain no added sugar and each of the four flavours offers a specific benefit obtained from flowers, roots, herbs or fruits that have long been known and used for aiding a particular function. All are blended with still water and come in re-sealable 330ml plastic BPA-free wide-necked bottles for easy on-the-go drinking.
Belvoir has recently taken the decision to expand its facilities, and this decision was fundamentally influenced by the increasing demand for its drinks. The development was something that Frank discussed: "The investment was an idea that both myself and the managing director Pev Manners discussed in 2012, and the decision was agreed by the board with the ambition to expand the business, and to help ensure that the facilities allow the increase in production that will meet the growing demand levels. The site occupies land that we already owned, and I was able to work on the concept design. The result has been a purpose built factory that will support our increased domestic and international presence."
The drinks company supplies a range of industries, which includes major retailers, fine foods, wholesale markets, and many more. Its products can also be found in a number of foreign markets, as Frank stated: "We have always had an export side to the business, and this was centred around Scandinavia and Japan, and we still see positive results in both of these countries. However, in recent years, we have also been expanding into mainland Europe, Asia and North America, and developing our footprint in these massive markets."
Award winners
It is no wonder that it has an increasing reputation and presence in markets around the world, as Belvoir has won a number of awards for its products – one of its very first was a Great Taste Award in 2001 for its Elderflower Cordial. Since 2001, Belvoir has won Great Taste awards for many more of its cordials, Pressés and Fruit Crushes, including the Organic Blueberry Cordial, Raspberry and Rose Cordial, Elderflower, Gooseberry and Muscat Grape Cordial and Lime and Lemongrass Pressé. In 2010, the judges for the Awards sampled over 5800 products, and awarded gold stars for Belvoir's Blackcurrant and Cox Apple Cordial, and its Blackcurrant and Apple Fruit Crush.
Belvoir's Elderflower Cordial has not only been awarded a Great Taste Award but it also received a Gold Award from the Taste of Britain 2005, run by Sainsbury's and The Daily Telegraph and has also been Highly Commended in the Best British Fruit Drink category in the Farm Produce Awards 2015. Elderflower and Rose Pressé, also won two gold stars in 2013. A single gold star award was given to Cox Apple Pressé, and Belvoir's Elderflower and Rose Cordial won two gold stars.
The company has achieved a great deal of success in a relatively short period, and this is down to some important factors, such as its family values, as well as some others that Frank mentioned: "The brand is pivotal – we believe a key factor behind the company's achievements is the strength of the brand, as well as the quality of the products that we produce. It really comes down to a combination of those two reasons, the brand and the quality, and we are pretty confident of that. We are so sure of this in part due to the market research that we have conducted, which has all indicated that the power of the Belvoir brand and the quality of the drinks themselves have enabled the company to be where it is today."
With a product range that continues to grow, expanding presence in more markets, and a brand with a reputation for quality, Belvoir looks set to build on its previous success and facility expansion with increasing sales – delivering the taste of Lady Manners' cordial recipe, and all the Belvoir drinks, to an even wider range of discerning customers.