Benchmark Resorts & Hotels continues to emphasize the importance of its employees and communities as it diversifies its portfolio.
In 1980, Humberto "Burt" Cabanas founded Benchmark Resorts & Hotels. A Cuban immigrant who got his start in the hospitality industry as a pool attendant in South Beach Miami, Cabanas' passion for the business helped launch the company, starting with a conference center.
"Over the years we got into resorts, lifestyle as well as boutique hotels," Senior Vice President of Operations Todd Felsen says. "Burt went on to become a founding member of the International Association of Conference Centers (IACC) and partnered with Redstone Capital in 1998, which established a real estate fund moving forward."
Thirty-six years later, the Woodlands, Texas-based company has more than 58 hotels and resorts, and independent conference centers that it manages for major companies, including Lockheed Martin, World of Whirlpool and Deloitte University outside of Dallas. The company also has an asset management division, which oversees 12 properties and is growing. Currently, Cabanas serves as the company's chairman, and two years ago passed the reins to his son, Alex, who now serves as CEO.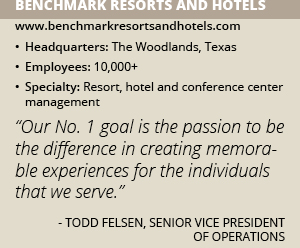 "Everything is a testament to Burt's vision and his strategic belief of what he wanted to see the company do," Felsen explains. "For me, being a part of such a great organization is very important for both my family and me. It's given me the opportunity to be an entrepreneur, and have the backing of a large company."
Seeing Growth
Benchmark Resorts & Hotels' strategic objectives have always been to be the best place to build a future in the hospitality industry, as well as create memories and deliver personalized and extraordinary service to guests. Felsen says the company knew it could achieve those goals by diversifying its growth. "We then acquired MTM Lodging in mid-2011 and launched our three brands: Benchmark Resorts & Hotels, Benchmark Conference Centers and Personal Luxury Resorts & Hotels."
This year, the company merged with Gemstone Hotels & Resorts, a 22-year-old business that managed many lifestyle hotels. "Gemstone's hotels replaced our personal luxury hotels with the Gemstone Brand, which includes Santa Barbara (Calif.)'s award-winning Spanish Garden Inn and Willows Lodge," Felsen explains. "Over the last couple of years we have said that anything is possible because, with these recent acquisitions and investments, the company will only get better, expanding our reach as we grow."
Keys to Success
Felsen attributes some of Benchmark Resorts & Hotels' success to its entrepreneurial leadership, integrity and the fact that the company dares to be different. "We learn from today so we can craft our tomorrow," he explains. "We not only coach, teach and encourage each other, but really take personal responsibility for our actions. Our No. 1 goal is the passion to be the difference in creating memorable experiences for the individuals that we serve. That's what sets us apart from our competitors."
In addition, technology has played a critical role in the company's success, says Felsen, noting that Benchmark Resorts & Hotels invests a couple of million dollars annually on cutting-edge innovations.
"In today's hotels, for example, you can basically pick your hotel room online just like you do with an airline seat," he explains. "You can check in via cell phone and not stop by guest reception. Even the guestroom key is now on your mobile phone, which a few years ago wasn't even a thought. So there's so much technology that has come out from a guest perspective that we feel is needed to stay on track with our competition."
Team Spirit
When guests walk into Benchmark Resorts & Hotels' corporate office in Texas, they see a large piece of mosaic art behind the reception desk. According to Felsen, every single one of the company's team members is given one of those mosaic tiles, which symbolizes the company's unity as well as being a piece of the company.
"As a company we promise that we will operate as one, as a team," Felsen explains. "So everyone is a small piece of that art and has a place in it, which is very important. That also carries over into how we train our employees as well because they are our No. 1 assets. Every company says it, but saying it and believing it are two different things. We believe it because that's what our company is all about."
The company created Benchmark University for employee training. It includes on-site and area training, e-learning, self-study courses and professional certifications. "BU's goal is to assist the growth in our employees that want to continue to thrive not only with our company, but in the hospitality profession as well," Felsen says.
"We have more than 10,000 employees," he adds. "As long as you have the will we can train the skill. So we are looking for people that are passionate about our business, that have a purpose for being in the hospitality industry and want to be or make the difference every day – whether it's in their own life, family life or someone else's life that they're affecting every day."
This strong emphasis on its employee and work culture helps the company position itself as the leader of independent hotels and resorts throughout the country, Felsen noted. "That's very important for us. Not being big necessarily, but being very grounded in the hotels and resorts that we operate as a team," he explained. "We have a very strong reputation in our markets and we want to continue those relationships. Longevity and loyalty for our team members is important, [and] relationships with our partners are as well because we want to attach ourselves to key partners throughout the U.S. that help us to continue to grow."
Benchmark Resorts & Hotels looks at its vendors as partners because the company is "all about family," Felsen says. "We want them to flex when we flex. When market demands and business models change over time, it's important that everyone flexes so that there's a win-win scenario all the time."
Looking ahead, the company wants to continue growing, but not at the expense of losing its purpose, according to Felsen. "As we continue to grow we have to keep that in mind because where we are and where we're going tomorrow is very important," he says. "That's why we're always grounded and making the most conscientious decisions that affect our owners and team members the most, so we can watch people succeed and grow, as well as make our properties profitable."
Community Engagement
Benchmark Resorts & Hotels does more than build a hotel in a community. Senior Vice President of Operations Todd Felsen explains the company adopts every single community where it is located because it is important to have a positive impact and show "hometown hospitality."
"Each of our hotels is there to participate in everything that the community does," Felsen says. "For example, we partner with Big Brothers Big Sisters throughout the U.S. by giving out rooms and vacation packages to participants, or hosting a reception or dinner for the families that participate in the organization. In addition, we always collaborate with first responders delivering thanksgiving dinners, or just bringing them desserts for the holidays. Habitat For Humanity where we help to build homes, as well as the American Lung Association for fundraisers and heart walks."