Berkeley Bowl shopper and registered dietician Laura McLively wrote The Berkeley Bowl Cookbook to inspire others to cook with unique produce.
Drawing food enthusiasts from around the world for its vast variety of produce, Berkeley Bowl has become an iconic California supermarket known as the place to find anything. In addition to 30 varieties of apples and dedicated 40 linear feet to mushrooms in the fall, the supermarket also features unique items like the African horned melon and lotus root.
The African horned melon is one of those fruits consumers pass by in a specialty grocery store that is most likely unfamiliar yet intriguing to them with its orange rind and spikes with a lime green jelly-like flesh. But how do you use it? Like many, Laura McLively, registered dietitian and food writer, had that same question when she began shopping at Berkeley Bowl in 2002.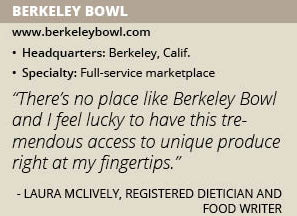 "I had heard of the store because it's pretty famous, so I came in and couldn't believe what I saw," she remembers. "There was a sea of produce and it was September, so there was a wall of mushrooms and some I've never seen before. There were tropical fruits I've never seen before. I got so excited by the store and that was the beginning. I continued to do my shopping for 'normal' produce and went home. I loved to look at the selection, but never felt like I knew what to do with it so I didn't take it home."
After living abroad in Spain for a year, McLively began a cooking club in the local market where she worked to challenge herself and others to cook with items they had never used in the kitchen before. When she returned home to California, McLively decided to bring that sense of adventure with her and in spring 2014 began the blog My Berkeley Bowl to chronicle her cooking with unique items in the store.
"The African horned melon was the weirdest thing in the store, so I tried it and realized it is incredible and unlike anything else," McLively remembers. "I made it into a cocktail. I've done 100 items and haven't exhausted the list. Every time I come here there's something new I haven't seen. There's no place like Berkeley Bowl and I feel lucky to have this tremendous access to unique produce right at my fingertips."
Today, McLively has turned her blog into The Berkeley Bowl Cookbook: Recipes Inspired by the Extraordinary Produce of California's Most Iconic Market. "The items can be intimidating and that's what stood in my way," she notes. "I didn't grow up eating these things and that's a barrier to bringing them home. That was the whole point of the book."
Embracing the Extraordinary
Berkeley Bowl, based in Berkeley, Calif., was founded in 1977 as a small neighborhood market with a focus on produce. The company began as a produce stand and that's still its main focus. "Berkeley Bowl started with the vision of making fresh quality produce available and affordable," General Manager Steve Tsujimoto says. "We based everything on the value to the consumer because the only way you get people to try something new is if it's reasonably priced."
McLively's goal in creating The Berkeley Bowl Cookbook is to help other home cooks embrace new products that may be foreign to them by showing them how to cook with the item. "People are tagging me on social media and letting me know how easy it was to cook with a new item," she says. "That was the whole point of the book. I remind them that the things featured are as normal to someone in the world as apples are to us and we should find out why."
The Berkeley Bowl Cookbook is divided into seven sections: leaves; flowers, seeds and pods; spores and succulents; stems; roots and tubers; savory fruits; and sweet fruits. The cookbook also provides tips on seasonality, safety, storage and selection. "My goal was to make it really easy for home cooks," McLively adds.
Berkeley Bowl will feature recipes from The Berkeley Bowl Cookbook in its deli department and is developing information cards for its produce section so customers can learn how to select the product and where to find the recipe in the cookbook. "We hear nothing but compliments about the cookbook," Tsujimoto says. "We have sold a ton of them here at Berkeley Bowl."
Bulk Foods
Now that McLively's cookbook focused on produce has launched, she says she has her eyes on another project for Berkeley Bowl. "They started as a produce shop, but their next thing was the bulk bin section," she adds. "People go to the bulk bin section and tend to get the things they are comfortable with, such as oats and granola, and leave. Again, they don't experiment. What do you do with Kamut? Berries? I want to encourage people to buy unique items and create simple receipes around them."
Berkeley Bowl offers 1,800 bulk items. It also allows its customers to bring in their mason jars, get the tare weight and fill them up with bulk bin items. "We are moving more and more towards a society that needs to be zero waste," McLively says. "I can create zero waste on this shopping trip. The whole point of being plant-based is to protect our own health and the health of the environment, so using plastic containers for bulk bin items makes me sad. I hope Berkeley Bowl sets the trend and bringing in your own jars catches on."
As McLively continues to create cookbooks based on Berkeley Bowl's inventory, she hopes to inspire confidence in people to move outside their comfort zone. "Don't let the conventional grocery store dictate what we think of as normal or permissible items to cook with," she says. "That is often determined by their bottom line and not necessarily what's in the best interest of the environment or our health. There's so much more out there and it takes a store like Berkeley Bowl that has the commitment and saves money by not advertising to offer items at a lower cost. Our diets benefit by being made up of a variety of things."
Broadening its Selection
After getting its start in a small bowling alley, Berkeley Bowl in 1999 moved into a 40,000-square-foot former Safeway site. In 2009, Berkeley Bowl opened its second store, Berkeley Bowl West, just a mile-and-a-half way from its first location. "Usually when you open a store so close to another they cannibalize each other, but we noticed there was a tremendous amount of people coming from outside of Berkeley," Tsujimoto notes. "We opened up Berkeley West closer to the freeway and now we have two predominate stores."
Berkeley Bowl is always entertaining the idea of opening a third store, Tsujimoto says, but there are no concrete plans of that happening yet. "The stores are significant in size and real estate is limited," he adds. "We require a lot of space because we do have variety."
Although produce has always been Berkeley Bowl's specialty, the supermarket also offers a wide array of organic and natural foods, conventional groceries and everyday items. Its departments include Asian groceries and housewares, bakery, beer and wine, bulk foods, a café, catering, dairy, floral, groceries, health and beauty, meat, seafood, cheese, deli food service and of course, produce.
Always looking to be in front of the trends and stay relevant, Berkeley Bowl recently became the first supermarket on the West Coast to offer kombucha on tap. The company is also focused on vegan products in its dairy department, as well as planning to launch sous vide products in its meat department. Berkeley Bowl prides itself on sourcing from the best. "We make sure our suppliers are meeting our standards," Tsujimoto says. "For example, our meat buyer has traveled to farms in New Zealand to look at cattle farms. We didn't' just open a supermarket and accept the status quo. We look at whether it's the right process, how they operate and whether they are sustainable."
Moving forward, Berkeley Bowl plans to continue supporting McLively's work that will center around its ever-changing inventory. "We hope it inspires people to eat healthy, look at the environment differently and helps them understand what to do with exotic fruits and vegetables," Tsujimoto concludes.