Berkeley Bowl succeeds with a massive selection of produce, bulk foods and proteins.
For shoppers who like to choose among 30 types of apples or 14 types of pineapples, Berkeley Bowl is grocery heaven.
"We carry every variety of produce that is available to us," General Manager Steve Tsujimoto says. "Our pineapples, for example, come from different regions and in different sizes. One might be from Mexico, another from Maui, Guatemala, Ecuador and so on. Many chefs shop with us because they know they can buy hard to find items at our stores"
An average grocery chain will allot approximately 10 to 20 percent of their floor space to produce. Berkeley Bowl, however, offers 35 to 40 percent. The grocery aims to keep produce moving fast, to ensure freshness and quality of its goods. The goal is for the produce to be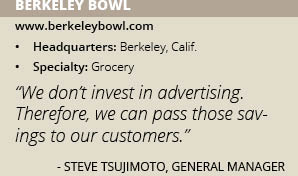 consumed before going bad.
While bulk foods only take up a small amount of space, Berkeley Bowl carries more than 1,900 items. For example, if a shopper likes almonds, they have a choice among conventional raw, California nonpareils, steam pasteurized, blanched, seasoned, salted and more. A walnut enthusiast could find whole, shelled, sliced, black and others. There are also many types of spices, herbs, teas, dry products, rice, beans, grains and pasta.
When it comes to meat and seafood, Berkeley Bowl goes old school with full-service counters and very little packaged. All the departments – grocery, dairy, meat, seafood, health and beauty, deli food service, bakery, Asian foods, cheese – offer an extensive selection to choose from. For example, shoppers can find a tremendous variety of Kombucha and Berkeley Bowl carries it on tap. There is an entire wall of eggs including a pasture-raised variety from a local supplier who maintains a flock of chickens that produce eggs exclusively for Berkeley Bowl.
Word of Mouth
There is competition; however Berkeley Bowl just focuses on what it does best and its philosophy, Tsujimoto says. The grocer lets customers do the advertising for it.
What Berkeley Bowl is doing appears to be working. Glenn Yasuda and his wife, Diane, opened their first location in 1977 in a former Berkeley, Calif. bowling alley – thus the name Berkeley Bowl – and later moved into a larger location (called the Main store) in 1999. In 2009 they opened a second store about a mile and a half away.
While some have questioned the wisdom of locating two stores so close to each other, the Yasuda's knew better. The Main store was quickly outgrowing the space. The Yasuda's noticed a lot of the customers were from outside the Berkeley area; such as Marin County, San Francisco, Dublin, Walnut Creek and elsewhere. A second store would alleviate the pressure on the Main store and help to accommodate shoppers outside the Berkeley area. Today, both stores are doing well.
Interestingly, Berkeley Bowl continues to grow without advertising; the word of mouth works well. Money that would normally be spent on advertising instead goes directly to lowering the margins and offering better pricing for their shoppers.
That word of mouth has reached as far as Viet Nam and Japan – both of which have filmed TV segments at Berkeley Bowl – as well as the Netflix documentary series "Salt Fat Acid Heat." In 2016, Oakland Magazine called Berkeley Bowl the best grocery store in the Bay Area.
High Volume
The biggest challenge Berkeley Bowl faces is labor. "The economy is doing so well, it is more difficult to hire," Tsujimoto says. "It's not just us, it's all retailers."
When prospective employees are interviewed, they are made aware of the workload. "This is not a regular grocery store; it's high volume. The company conducts reviews at 30, 60 and 90 days to ensure the new hires are being trained properly. Berkeley Bowl strives to offer competitive wages and offers an excellent health insurance plan." The future will bring more technology and Berkeley Bowl is taking steps to ensure they will be ready for that future.
Many customers ask if Berkeley Bowl could open a third store closer to them. Tsujimoto says that if the right opportunity presents itself and meets its business model, then absolutely Berkeley Bowl would consider it.