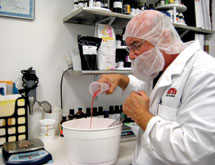 Berto's Gelato and Sorbet
For consumers short on time and money, food is often the best way to "travel." Paella steams with the scent of Spain, while crepes reflect the delicate decadence of France. For a true food travelling experience, the recipe has to be the real thing and not just an American cousin to the genuine article. Berto's Gelato & Sorbet, though headquartered in Phoenix, produces recipes consistent with its slogan: "Everything we do is the same in Italy, the only difference is the cow."
Ed DeBartolo, president and owner of Berto's for the past 10 years, says when he acquired the then-16-year-old company he knew he had the real thing. "The original founder, Berto Bertucci, was a gelato maker in Italy who moved to the United States and was producing for local customers," he says. "Once I tasted [the gelato], I knew I had to have it. I'd found something that brought me back to my family's homeland. I bought this company because I knew this was the closest to what you can have in Italy."
However, when he purchased Berto's, gelato in the United States was fairly unknown and a word that many people mispronounced. Over the last six or seven years, however, its popularity has caused some ice cream makers to join the bandwagon and launch their own gelato product – or rather produce their old product but change the marketing. "The word gelato in Italian does mean ice cream," DeBartolo says. "So a lot of ice cream makers are still making ice cream but putting the word gelato on it.
"To be a true gelato, you have to follow the standard of identity in Italy," he continues. "In Italy, you must have 10 percent or less fat, no more than 25 percent of overrun or air and 100 percent of the ingredients need to be true ingredients – no flavor or color added."
Even as Berto's has grown from a local name to an international brand, the company has maintained this authentic Italian, all-natural product. Berto's began as a 250,000-pounds-a-year manufacturer with only local distribution. Today it manufactures 10 million pounds a year of 80 core flavors with a coast-to-coast presence and reach into Central America, Puerto Rico and the Caribbean. Some of this growth has been spurred by the strategic 2009 acquisition of a 50-year-old Boston ice cream manufacturer that is now the company's primary manufacturing facility.
Something for Everyone
DeBartolo says it has widened Berto's capabilities in both the foodservice and retail sectors. "We bought this plant because it allowed us to expand our offerings from the basic pints and quarts and 2.5-gallon tubs to the individual portion control products," he explains. "We can make a 1-ounce truffle, 3.5-ounce or 5-ounce truffle and individual portions. This plant has enormous capacity for product and can produce as many as 72,000 truffles a day."
Berto's began rolling out its truffle line to both foodservice and retail customers this year in response to the consumer trend of scaling back in both caloric intake and monetary expenditures. The company will continue to expand its truffle flavors in 2012, the same year it plans to launch its no-added-sugar products.
"While gelato has a third less fat then American ice cream, it does still have fat in calories and consumers want the fat reduced without the expense of flavor," DeBartolo says. "We've been working on it for two years, and no-sugar-added will lend solutions to health concerns such as diabetes."
The Berto's food science division has taken the gelato flavors that possess the least amount of sugar and found ways to eliminate the sugar and replace it with other natural sweeteners such as honey or unaltered apple and pineapple juice. So far the team has developed recipes for standard offerings such as vanilla and strawberry and specialty favorites such as roasted banana and mocha swirl – a combination of chocolate and cappuccino.
While the Berto's team actively prepares to launch its no-sugar-added line, DeBartolo says Berto's has also been experimenting with an Italian ice recipe. The company has no expected launch date because it never releases a product until it knows it is just right. "We've been playing with the Italian ice for about one-and-a-half years, trying to get the right look and have a fresh-made taste, which is a challenging project," DeBartolo says. "The issue is how do we make it so when you taste it, it tastes like it was made today and how to maintain its integrity through distribution."
Ingredients Worth Sourcing
Whenever Berto's does find its solution to the Italian ice conundrum, anyone familiar with the company knows it will be the real deal – from the ingredients, to the manufacturing process, to those making the product. "What we've done is we've taken product made in Italy and recognized as Italian, authentic and artisan, and brought it to the U.S. and produced it on a large scale vs. your mom-and-pop shop," DeBartolo explains.
Berto's sources only the best-quality ingredients and even does its own pureeing. In the past it would peel and roast 2,000 pounds of bananas a week to make its roasted banana gelato and bring in crates of watermelon for employees to scoop the meat from the husk. Being that the company has grown tremendously in capacity, it now sources from suppliers who know and meet Berto's' high standards. Pistachios are from Sicily, and Hazelnuts are shipped from Piedmont, Italy, while mangos are brought in from India.
"Our suppliers understand the standard that we are looking for in our fruit and ingredients," DeBartolo insists. "We have our specifications for what our fruit can be, and we test all our fruit to our Brix levels, which is the sweetness of the fruit. It has to meet our specifications. We have our own in-house lab that tests the raw materials."
Our suppliers understand the standard that we are looking for in our fruit and ingredients.
Ingredients aren't the only source of foreign supply. All of Berto's manufacturing equipment hails from Italy. To orientate his employees, DeBartolo takes a few employees to Italy every year for training in gelato-making – a process that can sometimes take up to two weeks but is worth the expense. "It's not just the president and owner that cares," DeBartolo says. "I have a group of mangers that are as passionate about our product and what we do as I am. That is a hard thing to find."
Passionate employees combined with Berto's stringent requirements for ingredients and manufacturing pro­cesses have created a product that is recognized for its quality. Nearly 60 percent of its retail business is for large national private-label and co-packing customers. Even though growing its own brand is its main business goal, the private-label revenues continue to grow, as well. Berto's has also been propositioned by investors looking to create Berto's franchises – but just like the Italian ice, DeBartolo says it won't put its name on a storefront until it is absolutely ready.
"A number of companies and in­vestors have come to us and asked about franchising locations," he says. "My position on that is, yes, I would love to have a chain of Berto's around the country, but before I jump ahead that far I need to continue to educate the American consumer on what gelato is and continue to hone our skills and manufacturing process so when we go to retail, the product is consistent."