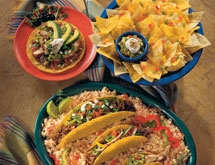 Then Louis and Carol Barbone opened a taco stand in New York City in 1968, there were only four Mexican restaurants in the entire city. More than 40 years later, Best Mexican Foods – the company the two later formed to distribute homemade tortillas to the city's then-small Mexican dining scene – today serves hundreds of eating establishments in the Big Apple alone.
"We serve restaurants of all sizes, from smaller taquerias to large chains," says Dan Barbone, one of Louis and Carol's sons who today co-owns the Chester, N.Y.-based company with his brother, also named Louis. "We have a large presence in New York City, and run at least three trucks there every day."
Both Dan and Louis Barbone started working in their parents' company as delivery drivers at age 16, and also worked in its warehouse and tortilla manufacturing facility. The company no longer manufactures tortillas, instead teaming up with suppliers to meet customers' needs for corn, flour and other varieties of the staple item.
Best Mexican's total fleet of 10 trucks primarily serves Mexican restaurants in New York as well as New Jersey, Connecticut and eastern Pennsylvania. The company offers products including tortillas, beans, cheeses, chiles, chips, meats, produce rice and tamales, and also distributes Jarritos, Mexico's first native soft drink brand. The company two years ago started offering fresh desserts. In addition to food, the company distributes restaurant supplies including bar supplies, take-out packages, condiments and cleaning products.
Although all of Best Mexican's products and services are geared specifically toward Mexican restaurants, the company also serves diners, pubs and other establishments, Barbone says. All products have the Barbones' personal seal of approval when it comes to quality. "We don't just carry any kind of product; we have to be excited about the products that come here and personally enjoy them, otherwise we just won't carry them," Dan Barbone says. "If we carry a product, that means we are endorsing it, and we don't take that lightly."
Service First
In addition to offering quality products, Best Mexican also prides itself on the level of service it offers to restaurants. Although the company's core mission has not changed during its more than 40 years of business, the expectations of its customers and the technology used to accomplish those goals have evolved greatly, Barbone says.
"Over the years we've strived to fine tune our procedures and systems to enjoy growth, even during this most recent soft economy," he adds.
Best Mexican runs close to a 24-hour-a-day operation and uses a tightly controlled routing system to ensure timely delivery. The company serves an average of 120 accounts daily covering approximately 2,200 miles daily. Customers are served from the company's 20,000-square-foot warehouse in Chester. Best Mexican Foods three years ago opened the new facility, which was built to have as small of a carbon footprint as possible.
'Cultivating Relationships'
Best Mexican Foods prides itself on its relationships with suppliers and employees. "My approach to business is all about cultivating the right relationships with vendors and understanding the value of those," Barbone says.
"We're proud of the fact that we have staff, customers and vendors who we've enjoyed working with for decades," he adds.