By leveraging key partnerships and cutting-edge technology, Bettcher aims to remain a leader in the industries it serves.
Bettcher Industries is a leading developer and manufacturer of innovative precision cutting and trimming tools for the food processing and industrial manufacturing sectors. The Birmingham, Ohio-based company also manufactures food preparation equipment for restaurants and commercial kitchens in the foodservice industry.
Since 1943, Bettcher has had a commitment to develop and manufacture cutting-edge products that not only increase worker productivity and ergonomics, but also improve the efficiency and bottom-line of the companies it serves.
Today, Bettcher is an employee-owned company (ESOP) with a global reach in more than 70 countries, and has offices in the United States, Brazil, China and Switzerland.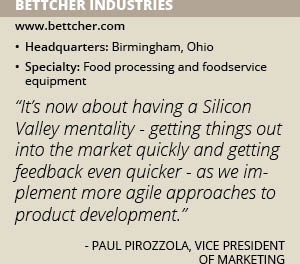 "We make everything from our flagship product, which is a powered cutting tool used in the industrial meat processing sector, to a bench-top version of a coating system, which batters and breads products, primarily used in foodservice kitchens," Vice President of Marketing Paul Pirozzola says.
Bettcher develops its products in a full-scale manufacturing plant with state-of-the-art manufacturing equipment in Ohio and through Gainco Inc., a subsidiary in Gainesville, Ga. It employs 300 people globally, and sells its products directly and through distributor partnerships.
Seeing Growth
Although Bettcher is a 75-year-old global leader in the industries it serves, it aims to grow further by creating additional value for its customers. The company aims to achieve this in several ways, but mainly through the development of new products and services.
"We've always had a very sound, strong project management capability when it comes to new product development," Pirozzola explains. "However, it was very slow and laborious like many other companies in the business-to-business space. One of the things we recognized in our strategic planning efforts was that we needed to be faster to market and get products in customer's hands earlier than we were accustomed.
"For Bettcher, it's now about having a Silicon Valley mentality – getting things out into the market quickly and getting feedback even quicker – as we implement more agile approaches to product development," he adds. "This mentality is really paying off for us as the company is starting to launch products at a much faster rate and is fully utilizing its resources to the highest levels."
Some of its products typically took 18 months to three years to launch, according to Pirozzola. "We are now launching products in a fraction of that timeframe without compromising any of our expected testing and future development," he says. "In the past, we would wait until our entire next generation was developed before we launched. We would also often regionally launch in the United States first. Now we launch models as we design and validate them with the emphasis of getting the product in customer's hands for immediate sale and feedback."
Bettcher also plans to grow by tapping new partnerships, primarily with technology companies. "We want to find partners that have unique understandings and capabilities, but are also looking for a partner to help bring them to life," Pirozzola explains. "Unique technology addressing customer needs are obviously the best. And by making and bundling it into a manufactured solution, or we can take a product and make it more refined for our customers.
"Although we're great engineers, designers and innovators, we also know there are others out there that we can learn and certainly grow from as a partner," he adds. "We bring a tremendous ability to execute, both technically and commercially."
The company will also continue working with its current partners, which range from companies in academia to original equipment manufacturers (OEMs) that distribute its products. "We also partner with consultants and subject matter experts to gain insight and understanding," Pirozzola says, noting Bettcher aims to continue those partnerships on a macro level.
"We hope to get more opportunities for us to invest in new projects, products and services that will ultimately help all of our partners," he says. "This will prove beneficial to them in one way or another, including a stronger product portfolio."
In addition, Bettcher aims to hire new employees. "We're happy to be able to provide career opportunities," Pirozzola says. "We're not too different from many business-to-business manufacturing companies, as we have strong tenure with our employees. Some have been with us for decades and are ready to retire. We recognize we need to absorb that knowledge while we can and create the next generation of high-performing Bettcher employee owners."
He adds that Bettcher is "accelerating our efforts" to attract and tap talent for the company from the plant floor to its administrative roles. "We are also making sound investments in employee training and workforce development for our existing employees," Pirozzola says, noting that Bettcher aims to remain active in professional development long after hiring new talent. "We don't have a hard number as to how many people we want to hire, but we know that we need to add value to our organization," he says. "We're looking for the type of employee that celebrates the inventive spirit of Bettcher, but is also agile in today's world in terms of speed, flexibility and ingenuity.
"Finding those people will be a challenge, but we know they are out there and want to bring them into Bettcher," he continues. "We think they will be the next generation of employees to expand the business."
Keys To Success
Bettcher prides itself on its innovative nature and understanding of its customers' needs. "We are a very inventive company with more than 120 patents," Pirozzola says. "We're rated highly by our customers in loyalty surveys based on our responsiveness to problems and overall sales model, which is very intimate."
He notes that in the food processing industry, Bettcher is known as an "old school" company. "We still go to customer sites and service them on a monthly basis." Pirozzola explains. "We're proud of our model because it not only gives customers tremendous level of service, but it also helps us gain access to industry insights. It also allows us to prepare and design solutions for our customers that are directly related to their bottom line."
Bettcher aims to provide its customers with value-added products and services. "There's always a value story behind our products," Pirozzola says. "For instance, we are driving value for our customers by either generating yield in the meat processing industry or helping them in the foodservice space by reducing costs and labor, as well as improving operational efficiencies.
"Bettcher is a longstanding, proud manufacturing company that has done a really great job of servicing our customers globally," he continues. "We have a very strong niche and have protected it with very strong patents. Recently, we received private-equity backing through an investment from MPE Partners. This gives us the ability to accelerate growth and expands our opportunities for acquisitions."
He adds that Bettcher has acquired companies over the years to expand its capabilities, which have contributed to its success. These include Georgia-based Gainco. "It's our complementary business in the food processing space with a current focus on poultry," Pirozzola says. "They make, distribute and sell products that are used for tasks in a plant pertaining to weighing, deboning, inspection, and yield management."
Bettcher also created its own startup, Exsurco Medical, which operates in the medical device sector. "Exsurco Medical is nearly eight years old and started as a business development effort evolving from our food processing technology," Pirozzola explains. "We've taken our powered cutting tools and redesigned them to meet the stringent requirements of medical device applications.
"It certainly was challenging and we have since separated the Exsurco business from Bettcher," he continues. "We also added talent from the medical device industry to lead and proliferate these products more directly as they require specific technical, commercial and regulatory challenges."
Looking Ahead
Pirozzola has been with Bettcher for more than six years. He says that he is most proud of working for a company that genuinely makes things and is always challenging themselves to improve.
"I'm glad that I work for a company that makes highly engineered technical products and is not afraid of big challenges," he says. "I'm also proud that I work for a company that makes things with local people who work hard and strive to be better every day. I've been blessed to do what I love with a company that does things in a way that I admire."
He adds that oftentimes companies in the business-to-business segment are criticized for not being as innovative or cutting-edge as those in the business-to-consumer industry. That is not the case with Bettcher. "What's great about Bettcher is that innovation is a part of who we are and what has made us great over the years," Pirozzola says. "We have always considered ourselves innovation and new product development junkies. Personally, I think we're progressive in those areas and I am proud to be a spoke in that wheel."
Ultimately, Bettcher aims to create the most shareholder value for its employees and private investors. "Creating value is our No. 1 goal. "We will create the highest level of value by keeping our customers at the center of what we do," Pirozzola says. "We want to sustain our legacy and continue to not only be an iconic landmark with our barn-style headquarters, but also remain an iconic company in the sectors we play in and service for another 75 years.
"To sustain our position in a world where things are changing infinitely, you have to be adaptable," he continues. "Our company is going to adapt to stay true to our core values, and what and who we are to our customers. I'm very confident in the Bettcher spirit."
Looking ahead, Pirozzola expects the next generation of Bettcher to be a bigger, better and more nimble version of itself. "If we do it right, we'll have a lot of fun, create a lot of value for our customers, as well as a lot of wealth and experiences for our employees," he concludes.