To get us started, can you begin by providing us with a brief introduction to Kellogg Company, including a bit of background regarding its history and any key milestones?
In 1906, W.K. Kellogg founded our company through his belief in nutrition and dedication to well-being. Motivated by a passion for people, quality and innovation, he created the first-ever breakfast cereal (Kellogg's® Corn Flakes®) and then shaped an entire industry. Today, Kellogg is a leading global plant-forward food company, marketing over 1,000 products in 180 countries including the US, Brazil, China, Egypt, Russia, India, Mexico, Africa and other key emerging markets.
Could you tell us a little about the range of products you provide, and highlight any that are particularly significant to the business and why?
Our expansive portfolio of recipes is 86 per cent plant-forward, including our snacks, cereals, meat alternatives and other breakfast foods, which include beloved brands such as Pringles®, Cheez-It®, Special K®, Kellogg's Frosted Flakes®, Kellogg's Corn Flakes®, Rice Krispies®, Kashi®, MorningStar Farms® and more.
Can you elaborate on Kellogg Company's sustainability strategy and explain why this topic is so important to the business?
Food insecurity is at an all-time high and is intertwined with other major challenges. Namely, the impact of climate, the dilemma of food waste and the depletion of our natural resources.
Our vision is a good and just world where people are not just fed but fulfilled. Achieving food security is at the heart of our commitment to society and it starts with creating a sustainable food system.
Our Heart & Soul strategy addresses these interconnected issues and are tracked and measured through our Kellogg's Better Days global platform and commitment to create Better Days for three billion people by the end of 2030. We have made tremendous progress towards our goals so far. Here are a few highlights.
Since 2015, we've donated 2.4 billion servings of food to people facing hunger, reached 3.2 million children through feeding programs, supported more than 433,000 farmers, women and workers with climate-smart agriculture programs that support biodiversity, and reduced greenhouse gas emissions to the equivalent of taking nearly two billion vehicle miles off of the road. In all, Kellogg has created Better Days for nearly 600 million people worldwide.
Are there any changes underway at your production facilities to meet your sustainability initiatives?
We have several initiatives in place to help us continue to grow and make our foods responsibly, while minimizing our environmental footprint. In 2019, we reached an important milestone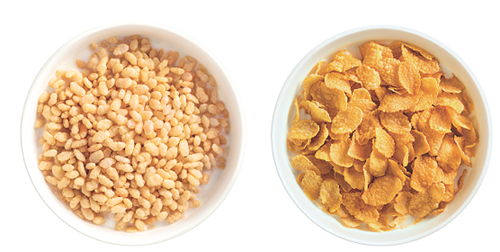 – we achieved a 20.7 per cent normalized GHG reduction in our manufacturing sites against our 2015 baseline. That is above our 15 per cent target for 2020, effectively reaching our target one year ahead of schedule. We know renewable energy is the future and already, 27.9 per cent of the electricity used in our food production facilities comes from renewable resources. Working in partnership with the nearly 200 companies who have joined RE100, we're increasing global demand for and in turn supply of renewable energy. For example, since 2015:
Across our Western European & Australian operations, 100 per cent of the electricity we use is renewable. • Our facility in Taloja, India was our first manufacturing site to install solar panels, which are already delivering ten per cent of the operations' power needs.
Our Enstek, Malaysia facility completed an on-site solar installation in 2019. We are also proceeding with plans for solar installations in our facilities in Sri City, India; Rayong, Thailand; and Valls, Spain.
In North America, we're purchasing renewable electricity in multiple facilities and offices. Our Kashi office in Solana Beach, California also has on-site solar panels to support their energy use.
Can you tell me more about your production facilities, equipment and technology, and any investments into upgrades/expansions?
In addition to our green power purchases, we've also reduced the energy we use by investing in infrastructure, training and system enhancements. For example:
In Botany, Australia, we introduced smart technology – including artificial intelligence – to best manage natural resources.
In the US, we had the first-ever installation of a R-514A ultra-low- global warming potential (ULGWP) chiller in our Cincinnati, Ohio facility. We installed three more units in our global headquarters in Battle Creek, Michigan. We've since established a global policy that all new refrigeration equipment we purchase must use ULGWP or natural refrigerants.
Pringles

®

facilities in Kutno, Poland and Jackson, Tennessee reduced their energy use by replacing more than 9,000 lights with newer LED technology and are operating more efficiently due to increased production.
Can you tell me how Kellogg Company drives sustainability across its entire value chain and how important it is to each segment of the business? How important is the role staff plays in this and how do you get them on board?
Driving sustainability and social impact are shared foundational values that our entire business is built upon. And the support of our employees is critical in helping us realize our goals. We attract incredible talent from all over the world because people know that Kellogg is purpose driven. We share how their roles are making a positive impact and we provide opportunities to engage in our Better Days work through volunteering in their communities. In 2019, Kellogg employees logged more than 90,000 volunteer hours to causes supporting food security.
As part of Kellogg's Better Days, can you tell me more about Kellogg Company's ambitions to get 'more food' to people and reduce food wastage?
Through Better Days, we're committed to reducing organic waste by 50 per cent, including food waste, across our facilities by the end of 2030. We also look across our entire value chain to identify reduction opportunities to ensure that as much food as possible goes to feeding people.
On farms, we're working with partners to help growers reduce food loss by providing training on improved agriculture farming and storage practices in India, Bangladesh, South Africa, Thailand, Philippines, and other countries. In the US, we're using 'perfectly imperfect' apples, strawberries and other fruits in the filling for several foods, including Kellogg's Nutri-Grain® bars and Pop-Tarts®. In our facilities, we've prioritized improving production processes and modifying equipment to reduced food waste.
From a packaging perspective, we continue to work towards resealable packaging to help reduce food waste and standardized our labels to 'BEST if used by,' to help people understand how to best reduce food waste.
We're also sharing our foods with communities by donating food to people facing hunger. For example, in Mexico, Kellogg partnered with the Mexico Food Bank Network to rescue fruits and vegetables from agricultural lands to provide people with more than 35 million servings of fresh fruits and vegetables that were at risk of being lost but able to be consumed. Around the world, we also donate foods that are acceptable to eat but unsaleable due to underweight quantities and less-than-perfect packaging.
How important is forming collaborative supportive partnerships with your clients and supply chain partners and what benefits does that approach bring?
We realize that we cannot achieve our goals alone, which is why partner with farmers, our suppliers, customers, and our consumers. Doing so enables us to learn from each other, share best practices and really drive impact at scale.
Are there any recent projects or contracts you would like to highlight, that illustrate how you work with your clients or partners?
In many of our projects, we're working across our supply chain – from farmers, to suppliers, to retailers and consumers. For example, our work with Arkansas rice farmers supports Kellogg's sustainable agriculture goals and it will help Walmart achieve its overall sustainability goals. Since 2017, Kellogg has been recognized by Walmart as a Giga-Gurus in recognition of our efforts that support Walmart's Project Gigaton.
The program also supports farmers in the rice sourcing area used in Rice Krispies® and Special K® cereals. The program benefits from being part of a larger partnership with The Nature Conservancy that reaches over 255,000 acres of land across the US.
In your own words, what sets the company and its products apart from the competition?
Research shows that eating a diverse plant-forward diet can have a positive impact on the health of people and the planet, it promotes the consumption of important nutrients such as fiber, protein, vitamins and minerals, and requires less land and water to produce.
Kellogg was founded as a plant-forward company in 1906 and we are proud of our continued leadership in delivering delicious, diverse, plant-forward foods. As transformational change is needed to feed a growing global population, Kellogg is uniquely positioned to help create a more sustainable food system for the future.