Betty Lou's Inc. is dedicated to making great tasting, healthy, gluten-free snacks while not sacrificing taste.
Betty Lou's decision to cut refined sugar out of her family's diet more than 38 years ago led her not only to a healthier lifestyle, but also to a successful business that continues to grow. Since 1978, Betty Lou has been the president and is the sole owner of Betty Lou's Inc., a maker of snacks that "believes there is a connection between what you eat and how you feel," she says.
Several of the company's original recipes have their origins in Betty Lou's kitchen, as she substituted honey and brown rice syrup in several of the baked goods she made for her sons. After receiving resounding approval from not only her sons but many of their neighborhood friends, Betty Lou started her own business.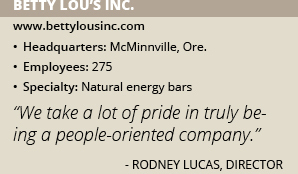 Today, the company offers an assortment of products including nut butter balls, fruit bars, powdered peanut butter, protein shakes and organic snack bars. Betty Lou's sons John Sizemore and Fred Brayton are involved in the business as vice president of sales and facilities manager, respectively. Betty Lou's products are available across the United States and in Canada at health food and specialty grocery stores as well as online.
Betty Lou's product line includes a variety of all-organic, all-natural, corn-free, dairy-free, low-fat, low-carb, vegan, wheat-free, kosher and soy-free snack items. Ingredients used in the company's products include organic cacao nibs, freeze-dried acai and raspberries, goji berries, mangoes, bananas and even freeze-dried spinach, kale and broccoli sprouts.
The company also uses non-animal products such as whey, hemp seeds and pumpkin seeds in its products. "I chose 'Just Great Stuff … and Plenty of it!' as our motto because it truly reflects the dedication that we have to the quality of our products and the ingredients that we choose," Betty Lou says.
"Every day at Betty Lou's we challenge the notion that healthy, all-natural, gluten-free products have to compromise on taste," she adds. "We've proven that the opposite can be true. Our delicious products have been made that way from the beginning and it's what we do best."
A Safe Process
The company has come a long way in its production capabilities since its origins in Betty Lou's kitchen. Betty Lou's 130,000-square-foot headquarters in McMinnville, Ore., includes 105,000 square feet of production space. The company also operates two warehouses in McMinnville that comprise 50,000 square feet, one of which stores the packaging for its private-label products. The second warehouse is a climate-controlled facility used to store ingredients and completed products.
The company operates five production lines and runs multiple crews on two main shifts. Most of the company's snack bars are produced using cold-press extrusion methods; other production methods include slab and slit and baking.
In addition to the 40 SKUs of Betty Lou's-branded products, the company produces more than 250 SKUs for co-packing partners in North America as well as overseas. The company provides private-label production and packing of snack bars for both large and small customers. "We are all about relationships," Lucas says. "We don't just look for customers who can order millions of bars a year – we are a custom, flexible and friendly co-packer. We aim to please."
Adding Capacity
Betty Lou's added the fifth production line last year to, in part, meet a growing demand for co-packing services. "We're definitely growing the brand and adding new co-packing private-label customers," Lucas says. "We've recently added several new customers, which has increased our volume dramatically, so that's a nice increase. We'd have no problem adding equipment or space to our facility if needed, but we like to do what we can with the facilities and equipment we already have."
The company continues to refine its own branded offerings as well. Betty Lou's this year reintroduced its Smackers line of snack bars. The line was initially developed more than 20 years and became locally popular, but was discontinued seven years ago. However, because of high demand Betty Lou began to reconsider.
"We've had people asking us to bring Smackers back, so our research and development team improved them quite a bit by using mostly organic ingredients," Lucas says. Smackers are available in flavors including its original peanut butter and caramel enrobed with chocolate, as well as a version without caramel and featuring an alternative nut butter.
Betty Lou and her team are also working on new product extensions to the company's line of nut butter balls. The company regularly exhibits its products at the National Products Expo East and West, as well as other trade shows, Lucas adds.
'Families Within Families'
Despite its size and growing reach, Betty Lou's prides itself on maintaining a family oriented culture. In addition to Betty Lou and her family, the company employs the relatives of several of its long-standing employees. "Within the company, we have people who've worked for us where we've hired their family members, so we have families within families here," Lucas says. "We take a lot of pride in truly being a people-oriented company, because that's who Betty Lou is – she truly has the biggest heart of anyone I've known, and that's why we're successful."
Betty Lou and the company are also committed to serving the communities they work in. Every year the company donates more than 1 million bars to the Oregon Food Bank Network, which helps an average of 900,000 people across the state each year. "Betty Lou has always believed that no one should go without food and feels really good about giving them healthy food," Lucas says.