BevMo! is making high-tech advancements and adding exclusive products to its private collection.
Meet BevBot. He's a 4-foot-tall robot that cruises down the aisles at one of BevMo! specialty beverage retailer's stores in California.
A user-friendly touch screen for a face and wheels to substitute for legs, BevBot is in the beta testing stage. His main job is to perform real-time inventory tracking as it cruises through the store – a task most human employees hate – and gather information to help identify shopping patters at its store's location.
But he can do much more. Customers can communicate with BevBot by speaking to it or using his touch screen. They can ask him where to find specific items inside the store and basic customer service questions. What brand of vodka is on sale this week? No problem. BevBot will lead the way.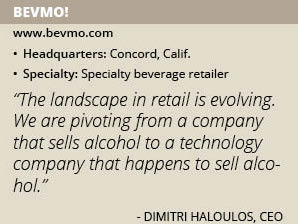 "We've even experimented with it telling jokes," CEO Dimitri Haloulos says, adding that he believes BevBot will be a very valuable resource for the company. "We believe that this technology will be scalable in the next 24 months."
Since taking over as BevMo!'s CEO in 2015, Haloulos has been focused on making technology a high priority for the company. He's combined the company's marketing and IT departments to help streamline the process. BevBot is only one example of some of the high-tech advancements the company is making.
"The landscape in retail is evolving," Haloulos says. "We are pivoting from a company that sells alcohol to a technology company that happens to sell alcohol."
The Secret Sauce
Concord, Calif.-based BevMo! is a leading alcoholic beverage specialty retailer in the western United States, with nearly 170 stores located throughout California, Arizona and Washington.
The company prides itself on providing a welcoming environment with competitively priced alcoholic and non-alcoholic beverages. "Our stores are inviting and our staff is extremely knowledgeable and approachable. It's like talking to a good friend," Haloulos adds. "That's been our secret sauce in the past and it will be going forward."
In addition to beverages, the retailer sells a wide assortment of beverage-complementary products such as specialty foods and snacks, cigars, glassware and related bar and wine accessories.
"We're like an adult candy store," Haloulos says. "We sell a lot of alcohol but we have cheese, meats and glassware for any occasion. Our philosophy is simple: 'we help find the perfect drink for every glass.'"
Founded in January 1994 as Beverages & More! in the San Francisco Bay area, and re-branded as BevMo! in January 2001. "Our current focus is on growing our core markets in Arizona, California and Washington," Haloulos says. "Our people and our technology will help us do that efficiently – given the competitiveness of today's retail market."
Moving Forward
Aside from beta testing BevBot, the company is making other investments into technology. It has collected more than 10 years of purchase data from its customers and started sending out personalized emails based on their individual tastes.
In addition, employees at each of BevMo!'s stores have access to iPads that give them access to a variety of purchase data. "If our shoppers can't remember what they bought last time, they can give us their phone number and we can tell them what they had previously purchased to ensure they don't miss out on that great bottle they loved," Haloulos says. "We can get the information for them very quickly, enabling every associate to give our customers the service they deserve."
This summer, BevMo! also is rolling out an upgraded version of its mobile app to make it more user-friendly. The company boasts a healthy e-commerce business and has the ability to ship its products to 15 states.
"Most of our engagement is mobile," Haloulos says. "This app has a content driven design. It's more personal and has a recommendation tool based on what you like."
Furthermore, BevMo! started testing curbside pickup at two of its stores in March. Each store has designated parking spots for customers that order online and wish to have them delivered straight to their vehicles. BevMo! does not charge extra for curbside service and there is no minimum purchase.
"The reality is that the consumer is changing," Haloulos says. "Today's consumers expect more and more convenience. They live in an on-demand world. We think curbside pickup is just an extension of that."
People Are Key
BevMo!'s philosophy for success centers around its people. To motivate and inspire its employees, the company rolled out a new performance management system last year. Instead of receiving one annual performance review that focuses on critique from a supervisor, the new "Mix" system moves away from traditional employee performance evaluations.
"Four times a year, we have what we call mixers," Haloulos says. "These mixers allow you to align goals as a leader and they become more employee led than manager led. The manager becomes a coach. Many large companies are moving toward this direction. We're pretty excited about it."
Haloulos says that BevMo!'s new performance management system has received a positive response in the company's annual employee survey that recorded employee satisfaction levels increasing. "We've seen a decrease in turnover and an increase in employee engagement," he adds.
Branded Products
Over the years, BevMo! has built up a private collection of more than 250 of its own branded products. In March, it added 25 new products to this collection. From limited releases to perennial customer favorites, BevMo!'s private collection is comprised of hand-selected wines and spirits from around the world.
"Products have been validated and rejected based on customer feedback we were able to collect through tasting panels made up of our most loyal shoppers," Haloulos says. "And we're seeing phenomenal results. Plus, we've rebranded the whole collection. So our shoppers can easily see what's unique to BevMo. The new process is much more consumer driven. We have all the brands you love plus exclusive brands from amazing suppliers, both small and large. That's really what makes us special."
Vetted by experts and approved by its customers, these exclusive items are sourced from the makers themselves. BevMo!'s tasting team has established establishes lasting relationships with vineyards and distilleries around the globe. By negotiating directly with its partners, the company can offer these products at bargain prices.
"For me, there's nothing more important than our people and our technology," Haloulos says. "And I think we've made great strides in those areas. That's what makes our brand."