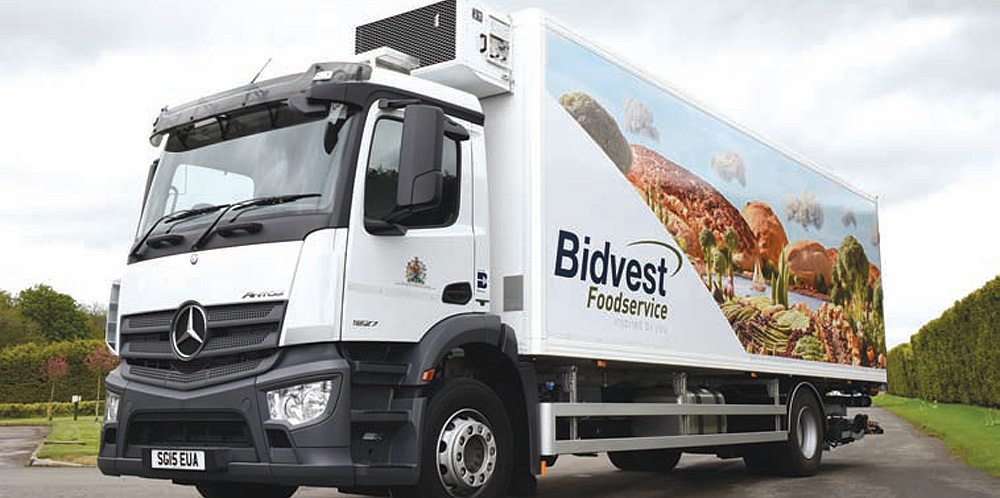 Recipe for success
Following a major rebrand in July 2015, Bidvest Foodservice, the leading foodservice provider for caterers, hotels, pubs and restaurants as well as healthcare and education customers, has embarked on an exciting new era.
The company has come a long way since it was first formed as 3663 in 1999, when Booker Foodservice was bought by the Bidvest Group. From a background of delivering chilled, frozen and ambient products to its customers in the profit and cost sectors, the company has since expanded into non-food products. Today it sells everything from catering equipment, tableware and cleaning chemicals to beers, wines and spirits – as well building its range of local products and fresh meat.
"A big step for us was the introduction of a range of own-brand products to complement the industry leading brands we offer," says Andy Kemp, Group Sales and Marketing Director.
"What's really driven our growth further has been the number of acquisitions we've made since 1999. Not only has this given us greater flexibility in our offering – allowing us to provide a greater range of services and products to our customers, including tailored solutions – but also grow our team, which now stands at more than 4500 employees."
To support its tailored approach, Bidvest Foodservice offers specialist guidance from its experts across all types of products it provides, so that customers get the most out of its ever-growing range of more than 13,000 products.
"Our insights team keep on top of current and future trends, which helps our customers keep their menus up-to-date," adds Andy. "Our chefs are constantly working on new recipes and products in line with the latest trends as well as industry regulations."
As part of the business' commitment to making life as easy as possible for those who rely on its services, it aims to be no further than 80 miles away from any customer. With orders taken either
online or through local teams by phone, Bidvest Foodservice's fleet of multi-temperature vehicles ensure that all products arrive in optimum condition.
A winning year
To add to its success in 2015, Bidvest Foodservice won a number of awards, including four Gold Awards from the Federation of Wholesale Distributors, plus the him! Wholesale Awards for Best Delivered Wholesaler and Best Wholesaler for Telesales Staff.
The company also walked away with a bronze award at the British Frozen Food Federation Awards in the Best New Dessert category for its own-brand prune and Armagnac sticky toffee pudding.
Looking to the future
Bidvest Foodservice's ambitious rebrand saw a step change in its evolution as a company, from its new name and logo to a wider look at its culture, including its vision, mission and values. This major milestone has seen an increased focus on driving innovation.
"The new name signified far more than simply redesigning a logo," explains Andy. "Our rebrand was also the start of a renewed focus on providing service excellence, which means we're always looking for new ways to improve our customer experience."
As one recent example, the company's expansion of its own-brand products include the launch of four new brands within the range. "Our own-brand offering ranges from non-food products that help 21our customers keep their kitchens clean, to specialist ingredients for scratch cooking and premium goods endorsed by the Craft Guild of Chefs," adds Andy. "We've developed the brands to reflect current and upcoming foodie movements, making it easier for our customers to continually update their offering with modern, on-trend dishes."
The own-brand selection includes Essential Supplies, a non-food range that focuses on keeping kitchens clean so food can take centre stage, and the Everyday Favourites selection of more than 600 products that caterers typically rely on day-to-day. The Premium Selection range features the finest quality food and ingredients, all of which are endorsed by the Craft Guild of Chefs, while Farmstead is the company's fresh meat brand.
"Farmstead is all about quality, consistency, trust and value, and gives foodservice operators reassurance that they are buying from a trusted brand that doesn't compromise on standards which are most important when it comes to sourcing produce," says Andy.
As well as focusing on launching new brands and initiatives, Bidvest Foodservice will also be enhancing its one-stop-shop offering, plus progressing with the opening of two new sites, including a new head office and depot facility, which is due to open in Slough this Summer.
"The move to Slough will bring together our head office and existing High Wycombe depot on one site, putting our central teams 'above the shop' and therefore closer to the customer," explains Andy. "This will enable teams to better understand our product range and depot processes and work with customers to help them grow."
With a firm vision in place for the company's ongoing success, the future looks positive for Bidvest Foodservice as it continues to expand and seek out new trends and solutions to satisfy its broad customer base.
"By providing excellent service we also believe we can make our customers lives easier so that they have time to focus on what really matters; producing great food," Andy concludes.