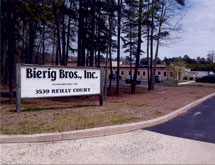 David Bierig, CEO of Bierig Brothers Inc., sees a few challenges for his business. He explains that "the economy is not helping," the prices on proteins are "the highest they've ever been" and veal is becoming more of a specialty item – it usually takes up less than 1 percent of meat case in any grocery store. Even so, Bierig Brothers is keeping at it, and the business remains strong by remaining true to its service focus.
"We are always trying to take on new customers, and word of mouth is our biggest help," Bierig says. "We are known for the special attention to give to customers with custom packaging. We are small enough to ensure strong and close customer relations."
Based in Vineland, N.J., Bierig Brothers was founded in 1955 by Herb, Alfred, Jake and Sam Bierig. These were the Bierig brothers for which the company is named, and each first-generation Bierig had a son. Now, David Bierig and his three cousins are the family's second generation in the business.
The company's brand of Nature Veal comes from milk-fed dairy calves and is available in almost any cut or configuration that customers need. Bierig Brothers also offers free-range, grass-fed and Black Angus and Angus crossbreed veal products in the same cuts as its Nature Veal line. To meet the ongoing specialty needs of its wide range of customers, it specializes in all-natural and grass-fed veal calves from farms and ranches in Virginia.
"We mainly service wholesalers, but we also work with hotels and institutional clients, restaurants and we serve supermarkets direct," Bierig says. "We started out in beef, but in the 1970s there was a beef shortage, so the family looked into other proteins and that's when we became dedicated to veal and lamb."
He stresses that Bierig Brothers is "small enough to focus on customer service," and that is what keeps the business strong. A big part of that service comes from the fact that the company has four owners and they are all actively working in the business to ensure customers' needs are met.
"We look at all of the products our customers get," Bierig says. "We are there at the shipping dock, during the cutting – there are eyes and ears in every aspect of the business because we care about our customers. Additionally, we pack to order – we don't just pull something off the shelf. We don't have any standard-size orders, we do what the customers want, and we are talking to them all of the time to meet their needs."
Pride in Service
Quality is apparent in all aspects of the handling of the product. Bierig Brothers has a strict HACCP plan in place at its facility, and the company has zero tolerance for inhumane treatment of the livestock. "No electric prods are used on any of the animals from they time they get unloaded until processing – they are all humanely handled," Bierig says. "That is something we stress, it is very important to us. We closely monitor the quality and safety, and we know exactly where everything is, where it came from and where it is being shipped to. Everything is accounted for."
Bierig Brothers has a fleet of five trucks, which it uses to ship throughout New York, Maryland, Delaware and Pennsylvania. The company also will use common carriers to ship its products across the country or to any destination needed. Bierig explains that the company's quality products, dedication to service and safe facility allow it to maintain its solid reputation.
"It's great because not a lot of family businesses make it as long as we have," he says. "It's not always easy, but the bottom line is that we have to take care of our customers and we pride ourselves on doing that. It really helps us stay together as a family."