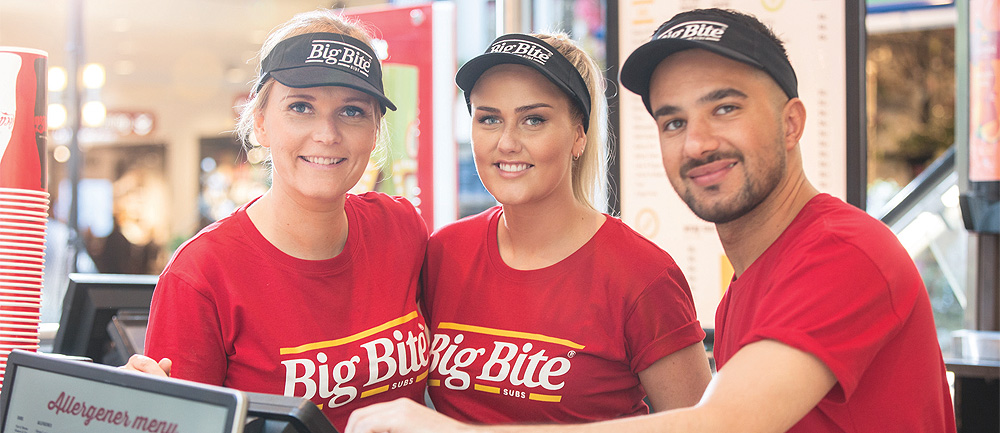 Hitting the big time
In the space of 20 years, Norwegian sandwich and sub chain Big Bite has established itself across the length of the country, and is well on its way to becoming Scandinavia's number one 'food on the move' company
By keeping consumers' appetites satisfied, developing products at attractive price points, and developing a range of menu options that encourage choice and creativity, the sandwich and sub store franchise industry has managed to create a business model that is able to not only weather varying economic conditions, but excel in spite of them. Examples of brands that have prospered thanks to the above approach can be found in markets all over the world, and in Norway the leading name is Big Bite.
In 2017, the company celebrated its 20-year anniversary, and there can be no doubt that it has come a long way since it began life with its first outlet opening within the City Syd shopping mall in Trondheim in 1997. "From our initial activities in the Trondheim area, we quickly began to spread our wings, moving into the Bergen region and then growing to the point where today we have 57 stores located throughout the country," explains Big Bite's Chief Executive Officer, Eigil Almenning.
One thing that has remained unchanged over the last two decades is the original Big Bite concept, which is to focus on simple and effective solutions for selling fast and affordable food to people on the move. "Big Bite has been, and will always be, about offering freshly made subs and accompanying products, made only with the best quality bread, which is baked to our own recipe, made in local bakeries and delivered to our stores each morning," Eigil enthuses.
Central to the appeal of the Big Bite brand is its motto of 'freshly made for you'. "The concept of being able to personalise one's food is very important in today's world," Eigil continues. "We work hard to provide as many menu and ingredient options as possible so that our customers can tailor their order to exactly what they want. Fewer people, in this day and age, wants things forced upon them and this plays well into the way we do business."
Menu development
Said trends also mean that the company can evolve its menu as consumer tastes and trends change. For example, there has been a recent rise in demand for Asian-style flavours amongst Big Bite's customers and this has been met with the introduction of new spices and sauces. Similarly, the company has been quick to respond to other growth opportunities, introducing a 'burger sub' to tap into the popular craft burger market and expanding its range of vegetarian options. The added ingredient, as it were, is that it takes each of these trends and adds its own 'Big Bite twist'.
Support system
"Speed is also something that is of vital importance for a 'food on the move' concept, and we know it should never really take more than two minutes to arrive at a counter, order and be on your way with a delicious fresh sub," Eigil adds. "In more recent times we have been looking to utilise technology to further enhance this capability, launching our Big Bite APP in 2017, and we will be actively researching pre-ordering and pick-up-point options in the coming months. We will achieve all this while also having the greatest confidence in the quality of our ingredients. By controlling our own distribution channels, we ensure that we have full oversight of the entire food chain, from point of origin until it reaches our stores."
Like many of the big players in the sandwich and sub store industry, Big Bite has successfully utilised the franchise model when it comes to expansion, with all but three of its stores being run by dedicated franchisees. "We have found great success in entrusting our stores to local owners who know their markets and their customers, and are able to create a more personal atmosphere to their stores," Eigil continues. "One thing that does differentiate us from our competitors in terms of franchising, however, is in the support system we provide. Through this, it is Big Bite itself that covers the costs and complexities involved in in-store investment and improvements. This allows our owners to focus on the most important thing and that is provide our customers with the great quality food they want."
Even with the solid growth that the company has experienced over the last 20 years, Eigil is keen to highlight the potential for expansion that still exists for Big Bite, with gaps in the market in a number of big cities that it plans to fill and strong relationships that continue to thrive with partners such as several of Norway's largest shopping mall operators.
"The goal that we are presently working towards is the opening of around eight-to-ten stores in 2018," Eigil says. "Meanwhile, when it comes to sales growth, we have a target of achieving organic growth of seven per cent and company wide growth of 12 per cent for the same year. These are targets that we consider to be very realistic if we are able to improve our speed of service, embrace digital technology, and stay in touch with current tastes and trends, all while we continue to do the thing that we have proven to be so strong in over the years, which is providing fresh, personalised food that everyone can enjoy."