With 83 years of a quality heritage, Big Boy is using its strengths to bring its iconic menu and imagery to new customers around the world.
During a summertime road trip through Michigan, my family stopped at a Big Boy for a meal, "because it was a place where all of us could find something we liked and eat well," according to my mother. I still have a photo of my younger siblings, posing in front of the restaurant's Big Boy statue, with their sunburned arms and legs. CEO David Crawford grew up with the brand in Ohio, because one of his aunts was a Big Boy carhop. It's not just coincidence that Crawford and I both have family memories tied to Big Boy – the same can be said of many Americans, because Big Boy's quality and imagery are so iconic in the national landscape.
Having been a part of the American restaurant scene for nearly 83 years, Big Boy is using its heritage and reputation for quality to continue its path of growth. Not only is Big Boy growing with new franchisees and international partnerships, but it has a new fast-casual concept that reflects its roots while bringing something new to fans – established and newfound.
"We are the original better burger concept," Crawford stresses. "When Big Boy was founded in 1936, the business was based on the three pillars of quality food, cleanliness and hospitality. Today, the business is based on those same three pillars, and we added a fourth pillar of brand.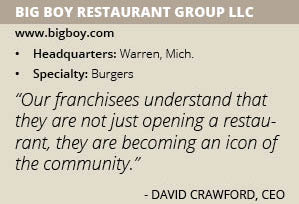 "This is what people think about when they think about Big Boy," he continues. "We make our own food, and we are one of the last chains to have our own food commissary. We make our own broccoli cheddar soup, ranch dressing, ice cream, spaghetti sauce – everything on our menu is specially made for our restaurants. I watched a video of Big Boy founder Bob Wian on the Groucho Marx Show in the 1950s, and Bob was talking about how Big Boy uses quality as a competitive advantage. That is still what we do."
Refocused on Strengths
Big Boy Restaurants got its start in California during the Great Depression. Founder Bob Wian was working as a dish washer at a tavern in Los Angeles, and combined three years of savings, money from the sale of his car and a $50 loan from his father to buy a 10-seat diner in Glendale, which he named Bob's Pantry. Here, he created a double-decker hamburger that he called the "Big Boy" after a regular customer asked Wian to create something new and different. This menu item was so successful that Wian changed the diner's name to "Bob's Big Boy."
The business's iconic image was created when a customer at the counter drew another customer on a napkin – a chubby, young boy in overalls with a curl in his hair.
Crawford visited Big Boy as a child when his aunt worked at one of the restaurants, but he became more involved with the brand in 2009 when he became the company's CMO. In 2017, he took over as CEO, and implemented a three-phased plan for Big Boy: first, improve profitability; second, to grow the brand; and third, to refocus the brand on what has made it an American icon.
"In 2018, I led a group of private investors to buy the brand from the former owner," Crawford says. "On Oct. 23, 2018, we went from over $30 million in debt to debt free in February 2019. We owned 10 properties in Michigan, sold several and this past January we sold the balance of our real estate portfolio and became debt-free. We refranchised 16 of the 29 company stores, which allowed the company to also pay down our debt.
"The goal is to get into a franchise model with about five company stores and have more initiatives to help our franchisees become more profitable, such as with marketing and delivery. We are focusing on programs that are seamless for the franchisees."
The company has a lot of business in Michigan and California, and it is refocusing on its strengths – burgers, shakes, and breakfast – to grow in other areas. Big Boy also is introducing a fast-casual store model to support its franchise growth.
He stresses it was important not to reinvent the brand – that was not necessary – but to refocus on who Big Boy was and how it went to business.
"We don't have to reinvent, we just added strategic partners to refocus," Crawford explains. "In 1936, the brand was known for carhops, diner culture and comfort food, and we're going back to that feel with the fast-casual concept. We pared down the menu a bit, but 40 percent of our business in Michigan is in breakfast, and there is a greater demand for burgers in California, so we're not changing a lot. We're doing more hand-held items, more to-go business with a focus on lunch because that's what is popular with independent franchise operators.
"We are really executing on all brand pillars, and we offer real food with a real price message, which will resonate with customers," he adds. "We will have a big lunch business, some dinner business and be a destination on weekends."
Emotional Connections
Big Boy continues to build its franchise sales department so it can expand its model. International owners are interested in opening numerous stores, and the company now is licensing restaurants in seven countries.
A large operator of hotels and restaurants is very interested because the Big Boy character is well known around the world. Big Boy was in one of the Austin Powers movies 20 years ago, and the company just signed a deal to be involved in a new Hollywood movie in 2020. Crawford notes the company's iconic brand and 83-year legacy has been key in this level of expansion.
"There is a lot of interest in California and we are working with a joint venture to open 200 stores," he says. "We are going to jump-start our Florida growth with about 50 stores. It is really fun for us because as we look at the brand, we feel like other family dining brands are fading away. We have great food and the icon of the Big Boy. Our franchisees understand that they are not just opening a restaurant, they are becoming an icon of the community. There's a pride in those statues and this brand – you're not just working for another restaurant, when you own a Big Boy, you have a huge source of pride.
"We just opened in Garden City, Mich., with no advertising," he adds. "It was all word of mouth, and the store is going gangbusters. The staff keeps hearing stories from customers that show the emotional connection and family memories people have with Big Boy. It's always been a very strong brand."
This is because even if someone has never visited a Big Boy location, they know the brand's imagery. Crawford stresses there are not many long-term icons in the world that continue to bring forth happy feelings from consumers, and the entire team takes pride in being a part of this.
"Young people recognize Big Boy and it resonates," Crawford says. "If we can get that first visit and then deliver on great food and service, we will hook them in and keep them coming back. Some brands have to fight for recognition in the market, but we just have to deliver on our pillars. Fast-casual is an underserved market, so there is a lot of potential for Big Boy."
'Craveable Moments'
Big Boy has focused on quality food since its inception, and the new focus on the brand will maintain this important pillar.
In addition to its burgers – always made with fresh beef and cooked to order – the company is keeping many of its customers' favorites with a number of improvements.
"We have a chicken tender – it is fresh and hand-breaded in the store," Crawford says. "It is the best in the category, I think, and definitely as good as or better than any chain that focuses on chicken tenders. We have a new line of soups, and it's another example of how we are refocusing on what got us here. Our primary soup before was a cream of broccoli with ham, but now we have a broccoli cheddar that is very impressive. We also have a great chicken lemon rice soup and Cheesy Chicken Tortilla soup. We have very strong sandwich R&D, but we're also focusing on comfort dinners, such as chicken pot pies and pot roast."
In the fast-casual locations, the company plans to have a 20-item menu with four or five items for dinner. It is important, Crawford notes, that Big Boy pares down its menu correctly. The goal is for consumers to think of Big Boy's menu items as its special, iconic items.
"We are going to keep our strawberry waffle and proprietary hot cake batter, and add a lot of hand-helds at breakfast," he explains. "The main burgers are still the Big Boy and Super Big Boy, but we also have the famous Slim Jim sandwich. We will keep our fresh diner sandwiches, like the BLT and club.
"We want to deliver craveable moments with best-in-category food," Crawford says. "We focus on serving real food that's the best it can be, so we're using the best cheese, best bread and freshest meat."
True to its Roots
Big Boy will launch its new store concept in June in Michigan. The company did a test run in Cleveland, offering burgers, chicken tenders, fries and shakes. The new store concept fit in well with the current market and is attractive to franchisees.
In terms of the look of the fast-casual concept, Big Boy is freshening up the design – the Big Boy red-and-white check will be more subtle – and there will be a bobble head wall so customers can see how the Big Boy toy has evolved over the years. The restaurant also will have a window into the kitchen.
"We wanted to make the kitchen as visible as possible because consumers want to know where their food is sourced from and what's going on in the kitchen," Crawford says. "The checker print will be strategically placed, and the entire space will be very open and welcoming.
"There will be a lot of large windows and a combination of comfortable seating with booths, high tops and four tops," he continues. "This concept will have a counter with 10 to 12 seats. It was designed to have a community vibe and ensure friendly experiences. It goes back to the diner heritage in California, and behind the counter will be a shakeologist."
To celebrate the brand, one of the California locations may create a bronze Big Boy statue or a large bobblehead, and the company has released Snapchat filters to allow users to "Big Boy yourself." Additionally, the Funko company's first bobblehead in 1998 was the Big Boy, and it launched a new Big Boy figurine for its 20th anniversary last year. This year, Pez introduced a Big Boy version of its popular candy container.
Not only do these trinkets call forth fond memories and fun for consumers and collectors, but the toys also continue to add strength to the brand. This bodes well for existing franchisees and those who are looking to own their own piece of American history. The company is confident that with its strong menu and commitment to friendliness and hospitality, Big Boy will continue onward.
"We're not changing from our roots," Crawford stresses. "This will keep us successful for the next 10, 20, 30 years. We are just refocusing on what got us here. The stewardship that I have to have for this brand is immense, but I am very proud to work for an 83-year-old brand and refocus it for the next 83 years."
Solid Venture
Big Boy Restaurant Group has a long and interesting history with 83 years in business. Not many other brands have started as small as Big Boy, to then become an international icon, while maintaining a high level of quality throughout the years. That double-decker hamburger may have launched the brand, but Big Boy Restaurant Group has endured with ongoing developments and creations of craveable moments. Now, it is expanding with more franchises, and has numerous reasons why this is a solid investment for potential franchisees.
* Big Boy has more than 70 percent national marketplace recognition, as determined by an independent research firm.
* The brand appeals to multiple generations.
* The company's successful, long-established franchise system has proven support tools.
* Big Boy's transformation involves new store designs, new menu items and a renewed emphasis on hospitality.
* Big Boy is listed on the Small Business Association Registry.
* Big Boy is a member of the Vet Fran program, which offers a reduced franchisee fee to honorably discharged U.S. veterans who meet the company's criteria.
"Big Boy® is much more than restaurant or a brand," the company says. "Big Boy is an American icon. For 80 years, we have been serving classic American comfort food while providing friendly and personal service. We exceed category expectations while retaining a strong connection with our powerful brand heritage. From our food to our statue, there are many reasons why people love Big Boy."
All-American Classics
Founder Bob Wian did not know how important the double-decker hamburger was when he created it, but customers have loved it since he made the first one in 1937. This made Big Boy the "original better burger concept," according to CEO David Crawford, and its quality menu items continue to resonate with fans around the world. Some of its comfort food menu standouts include:
* The Classic Big Boy – Two fresh seasoned beef patties with American cheese, shredded lettuce and Big Boy's famous special sauce on a sesame seed bun
* The Slim Jim – Layered lean ham, Swiss cheese, tomato, lettuce and special sauce that is grilled and pressed on a sesame seed roll
* Chicken Strips – Chicken breast strips are freshly hand-battered and fried in Big Boy's signature chicken breader and served with its zesty dipping sauce
* Strawberry Waffle – A freshly made Belgian waffle topped with sliced strawberries, strawberry topping and whipped cream
* Famous Big Boy Ice Cream Shakes & Malts – These premium hand-dipped ice cream shakes and malts are served the old-fashioned way with a chilled shake tin