Rockin' hops
At the forefront of the craft beer revolution since 1985, Big Rock Brewery's popular range of beers, ciders and alcoholic beverages are the result of hard work and courageous innovation
It was the 1980s and Ed McNally was thirsty for choice. A lawyer and barley farmer, Ed was tired of a Canadian beer market dominated by bubbly, yellow lagers and longed instead for flavorful, European-style ales, pilsners and stouts. When the choice between 'Lager A' and 'Lager B' finally became too tedious, and with established import brews difficult to find, Ed decided to act. He wanted to drink a better beer. So, he made one.
Taking its name from an iconic and mysterious 16,000-ton boulder that rests in the vast Canadian Prairies, Big Rock Brewery was launched in 1985 when Ed teamed up with a German Brew Master to bring better beer to Canadians every day, everywhere. Like most businesses, Big Rock endured a difficult start to life after the launch of its inaugural products – a Bitter, a Porter and a Traditional Ale – but the brewery's popularity skyrocketed in 1988, when the Winter Olympics visited its hometown of Calgary.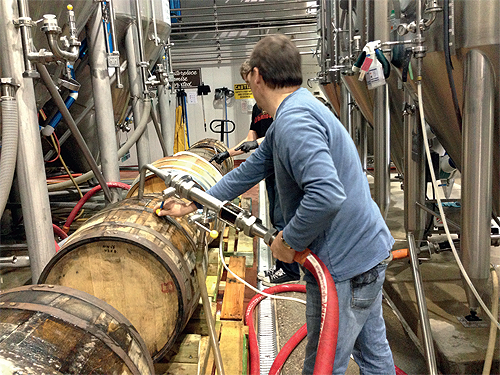 "The Winter Olympics was a big moment for us," explains Big Rock's Director of Business Development Brad Goddard. "There were a lot of international tourists visiting the city, so we set up a beer garden in downtown Calgary and that's where a lot of these international visitors gathered and celebrated the traditional beer styles we were making. It led many Calgarians to ask, 'Hey, what have we been missing out on in our own back yard?' Everything evolved from there."
In 2021, 36 years since its founding, Big Rock has ten signature beers, eight seasonals, and a growing collection of custom-crafted private labels brewed daily across Calgary, Vancouver and Toronto. Among these products is Grasshopper, a filtered wheat ale, Pilsner, an award-winning Czech-style pilsner beer, Citradelic, a single hop American IPA and Warthog, an English-style mild ale. However, limitless innovation remains a key driver behind the company's growth, and though beer was Big Rock's sole product for a number of decades, the company now produces a wide range of ciders and ready to drink alcoholic beverages (RTDs) in line with developing consumer trends and changing palates.
"No longer can you simply be a brewery that produces great beer; now you have to be a jack of all trades in the alcoholic beverage industry," Brad declares. "We have had a well-renowned family of ciders called Rock Creek for a while, but more recently, we've got into the RTD market with the launch of White Peaks Hard Steeped Tea."
Changing trends
An alcoholic iced tea, White Peaks combines glacial meltwater from the Rocky Mountains with pure tea, natural fruit flavors, and premium vodka to create a low-calorie, easy drinking beverage. Following the new brand's early success, Big Rock's Ontario Brewing Manager, Dan Ellis, is helping the company harness new trends in the face of a beer market that has stalled somewhat of late.
"Consumers are in the driver's seat. They are demanding seltzers, teas and new styles of alcoholic beverage, which is forcing breweries – big and small – to innovate," Brad reports. "Our Ontario Brewmaster, Dan Ellis, has been working away on different tea blends, different fruits, and different steep times as a way of responding to the global trend, and it's already proving successful. Beer has been relegated to the back seat and I think that's here to stay.
"Don't get me wrong, beer is still a very dominant beverage in Canada," Brad adds, "but annual beer volumes have been, at best, flat, and at worst, down two per cent for several years now. Conversely, we have seen RTD grow to around 20 per cent of the volume of beer in little more than two years. I've worked in brewing for 20 years and have never seen a non-beer product skyrocket like that. In Western Canada, we have seen entire store layouts change to facilitate the trend."
Improved facilities
While Big Rock is determined to continue building its RTD range, the company will not forget its roots and recently embarked on a program of revitalization for its flagship brands. An organization always on the move, the company's quest for continuous improvement is personified by 'The Big Rock Way' – a Lean-Six-Sigma-inspired process that permeates the brewery's Canada-wide operation. As part of this initiative, the company recently invested $8 million to improve its production capabilities.
"We have always had quite a large brew house, but it wasn't flexible enough to satisfy modern packaging configuration changes," Brad reveals. "Our recent investment has allowed for the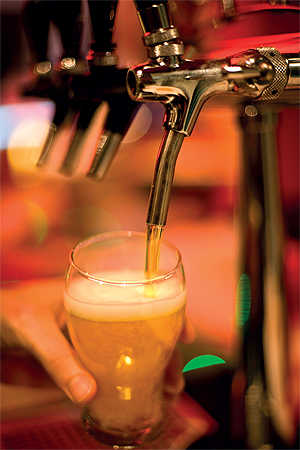 introduction of a new canning line, which has not only increased packaging capacity, but can change can format on the fly. That has been married up with a flexible cardboard and boxboard packaging system.
"As we move into ciders and RTDs, we are getting more fermentable sugars and that represents some risk of rogue yeast in our product, so we have invested in pasteurization technology to really try to stay ahead of the curve. A lot of American craft brewers have adopted pasteurization more regularly for products like unfiltered hazy IPAs, but it's not so much about beer for us and more about serving our innovation portfolio.
"Finally, the investment will bolster our co-packing operations," Brad says. "Big Rock has always been seen as so much larger than our peer brewers in Canada, but in the same breath, we are so much smaller than the Canada-based multi-nationals. People haven't always understood what Big Rock really is, but we now have the rare luxury of sharing our unique facility and helping other craft brewers achieve their market goals through partner brewing and co-packing. It has really helped us re-engage with the local brewing community and the larger North American beer market."
Looking ahead, co-manufacturing and partner production will remain key drivers of growth for Big Rock, as will the company's fresh take on RTD products. More specifically, Brad describes 2021 as a 'building year' for the organization, defined by a focus on making capital investments, updating brewing facilities and equipment, and ensuring that the foundation of the business is suitable for expansion in years to come.
"Our objectives fall into three buckets," Brad states. "Build Up, Fill Up and Drink up. Once this year's building phase is over, we will move into the 'Fill Up' phase from 2022 to 2026. This will involve entering new markets and aggressively marketing ourselves as a co-packing partner. After that, we will enter the 'Drink Up' phase, by which time we hope to have tripled in size."
Led by CEO Wayne Arsenault, Big Rock is confident of remaining a refreshing alternative to the status quo of the North American brewing industry in the years ahead. Unyielding in its passion for great beer, the company's hallmark quality, tradition and innovation will play a critical role in its journey. Whatever the next decade holds, in the spirit of the brewery's Founder Ed McNally, Big Rock will continue to make the brewing industry exciting.
"At Big Rock, we carry out exciting projects, and we get them done quickly, with fewer mistakes," Brad proclaims. "That mentality, and our ability to execute in such an efficient way, sets us apart from the competition, and when you look at the pace the market is moving, it's going to keep us ahead of consumer demand for years to come."