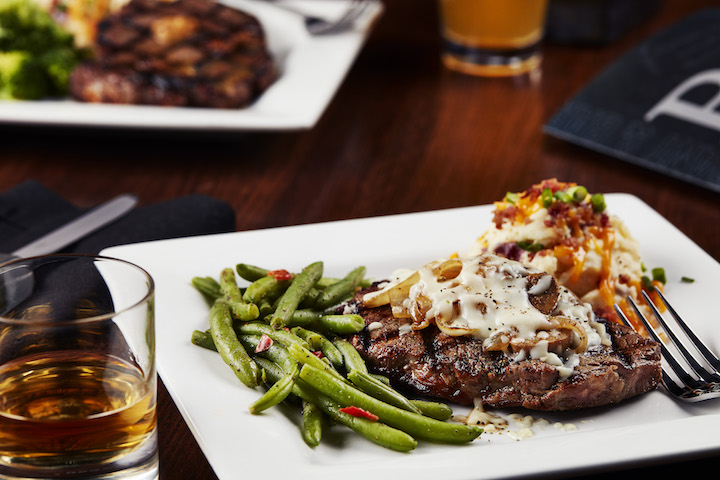 Big Whiskey's American Restaurant & Bar
Big Whiskey's American Restaurant & Bar takes its passion for whiskey, high-quality food and good company nationwide.
A few times a week in a small-town tavern in middle America, a seemingly ordinary man would walk through the door, take a seat and tell the bartender, "I'm only going to have one, so make it a big one." His ritual earned him the nickname Big Whiskey and a legend was born.
Paul Sundy's grandfather owned that modest tavern for 30 years and shared the story of Big Whiskey with his grandson who would continue to pass the story down for generations to come at his own restaurant and bar, Big Whiskey's American Restaurant & Bar. "We thought it was a killer name," Sundy says. "The name was very unique to what the industry was at the time. When we started 13 years ago, we couldn't have known whiskey would become the fastest trending spirit in the industry."
Sundy co-founded Big Whiskey's in 2006 with the opening of the flagship location in Springfield, Mo.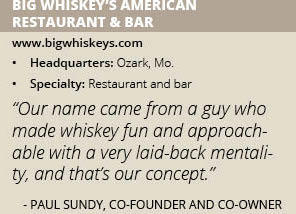 He describes the restaurant and bar as having a "heavy emphasis on whiskey and high-quality food with a sports mentality." The restaurants feature more than 100 whiskeys and whiskey-inspired dishes, combining tradition and industry trends with its own unique twist.
"We are all about whiskey, great food and sports, and the underlying thing for us was to bring whiskey to every person's palette," he says. "We want to introduce non-whiskey drinkers to a whiskey product in a highly approachable atmosphere. A lot of whiskey bars are almost intimidating if you don't know a lot about whiskey and sometimes people feel like they don't know enough to even walk in there. We wanted to get rid of the stigma so everyone can enjoy a good whiskey drink or cocktail in our restaurant and high-quality food."
On the Menu
Big Whiskey's goal is to educate its customers in a friendly and non-intimidating environment. "Our name came from a guy who made whiskey fun and approachable with a very laid-back mentality, and that's our concept," Sundy says.
The company's servers take "Whiskey 101" to help mold their knowledge of the spirit in addition to their expertise in the restaurant's high-quality food options. "People come in and spend their money on experiences," Sundy says. "When people go out to dinner, they are looking to use that as a moment to put their phones down have an experience. We are trying to nurture that mentality."
Although Big Whiskey's boasts an impressive whiskey menu, it is first and foremost a restaurant with a celebrated bar product. When it comes to the quality of its food, Big Whiskey's accepts nothing but the best. "We have the best products and highest-quality products," Sundy says. "We have the staple foods that people like and the dishes that people say, 'I have to go get that product from there.'"
Big Whiskey's offers 65 menu items that include fan favorite fish tacos, award-winning pasta dishes, craft burgers that have been voted the best in southwest Missouri and classic buffalo chicken dip, to name a few. It also offers a Strawberry Hill and Maple Apple salad that are unique to Big Whiskey's. The company also debuts new and trending menu items every year.
Nationwide Expansion
Big Whiskey's is in the infancy stages of franchising and has grown to 11 locations today with two more expected to open later this year.
The restaurant and bar is located throughout Missouri, Arkansas, Kansas, Alabama, Oklahoma and Nevada. "We have always had a successful brand in our local area and expanded out in the Midwest with corporate stores," Sundy says. "We made the decision about four years ago to get into franchising as we see the industry getting close to making the transition back to casual dining where the customer is waited on and it's more about the experience."
To date, Big Whiskey's has not found a bad location for its restaurant and bar concept. "We have had great luck in small markets with towns of 15,000 people that might have all fast food joints and maybe one sit down restaurant, for example, to larger markets like Kansas City, Mo.," Sundy says. "We are trying to figure out our sweet spot as we have begun franchising and have a number of great locations coming soon."
Big Whiskey's five-year goal is to have 100 stores sold and 40 open. "At this point, we can see the lightning strike coming down and we are holding onto the reins," Sundy says. "We have received such good feedback from franchisees, potential franchisees and industry leaders that we plan to stay the course. It's been a crazy, fun ride."
As a Midwest born brand, Sundy says he is starting to see a change in the industry where brands coming out of the area are getting more recognition than ever before.
"The Midwest offers great products and brands, and we are seeing that recognition with some of the franchise opportunities coming out of Las Vegas and Florida," he says. "Our name says it all and we know everyone will try us once, but it's up to us to keep them coming back."