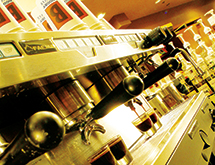 BIGGBY COFFEE® listens to what its customers want and if that is butterscotch mocha or a Neapolitan latte, the East Lansing, Mich.- based company makes it happen. "We are developing products that cater more to the upper middle class, as opposed to how many of our competitors brand their products as if they are in Italy," President Mike McFall says.
Starting as a single unit café in March 1995, the company quickly grew after it began franchising in 1999. Because of its success in franchising, BIGGBY COFFEE decided in 2006 to sell its company owned locations and focus only on building franchises. "Our objective is to come to work and assist people in developing a business utilizing the BIGGBY COFFEE platform," McFall explains.
Opening a BIGGBY COFFEE location can be appealing to franchisees because it is relatively inexpensive. Total cost is in the range of $200,000 and McFall says that is a competitive advantage. An average size store ranges from 1,200 to 1,600 square feet and can fit in any location, including shopping malls, a strip mall, standalone building in a rural location or a historic building downtown.
BIGGBY COFFEE offers a variety of coffee, tea, smoothie and baked goods. It has 164 cafes in operation mainly in Michigan, but also in Wisconsin, Illinois, Florida, South Carolina, Texas and Ohio. "We are in the process of dominating our home state and becoming the preeminent gourmet coffee shop," McFall notes. "We are starting to focus and develop the brand in markets outside Michigan."
Product Enhancement
BIGGBY COFFEE is always inventing new products to offer to its customers that start as limited-time offers. It's rare, but depending on the popularity of the new flavor, the company will make room on its permanent menu if a new product is doing well. Hours of research and development is put into creating new products, but McFall says that a number of ideas often come from its owner/operators. "They are in the stores and talking to customers, so they are constantly sending us ideas," he adds.
When developing new products, BIGGBY COFFEE always keeps in mind who its customer is and whether the product will fit into the brand. Its motto is: No idea is too crazy or out-of-the-box. BIGGBY COFFEE launched its butterscotch mocha latte in May for summer 2014. "The butterscotch mocha was out for three weeks and has been the best limited-time offer and sold more units than we have ever had before," McFall says. In 2013, the Neapolitan latte was a fan-favorite.
All the new ideas in the world would not matter without quality coffee beans and gourmet sauces added to the mix. BIGGBY COFFEE calls upon its neighbor Paramount Coffee, based in Lansing, Mich., for its coffee bean needs. Paramount Coffee is celebrating more than 75 years of importing, roasting and distributing coffee. With more than 100 varieties of premium coffee, the company guarantees 100 percent satisfaction on all of its products.
Paramount Coffee roasts coffee beans for BIGGBY COFFEE to use in-store and also provides pre-packaged coffee for its customers to purchase and take home. "We have worked together for 15 years," McFall says. "Originally, they kept coming to us and saying they could match our products and do it inexpensively, so we started listening to them."
The company is a reliable vendor to BIGGBY COFFEE and McFall says there have been virtually zero issues working with it. "Paramount has been a strategic partner for us," he adds. "They have lent us money and have been very committed to our growth by getting new products to owner/operators quickly."
A sweet treat would not be as appealing if it did not come with little flavor, which is exactly where Phillips Syrup comes in. The 93-year-old Westlake, Ohio- based company provides gourmet sauces to BIGGBY COFFEE for use in its products. "They provide our proprietary sauces and do a lot of research and development for our new products," McFall says. "When we want to roll out a certain drink, we may need different kinds of sauces and they will do the work to bring it to us. They put an enormous amount of time and energy into that."
Unified Brand
Because all of its cafes are owner/operated, BIGGBY COFFEE requires classroom and on-the-job training for a minimum of six weeks. To ensure that the company's high standards of product quality and customer service are met, all training must be successfully completed before any location opens for business.
By participating in the first training sessions, owner/operators will become familiar with the company's high expectations and clear guidelines that will position them for success. "The idea is to give them the baseline knowledge in advance of opening and then work to get employees, mangers and owner/operators back for more training," McFall explains.
Owner/operators, managers and employees who have been with the company since it began franchising often return for continuous training. "I met a manager in a training presentation who has been a manager at BIGGBY COFFEE for 10 years in the same store," McFall shares. "She came and that's cool. It's great to see her and have her there again. To us, the six-week training is just the beginning of our relationship. There needs to be an ongoing dialogue."
After a franchise is open, BIGGBY COFFEE offers support programs ranging from an online franchise resource center to in-store inspections, mystery shopper programs and customer surveys. An annual franchise meeting is also held to keep owner/operators up-to-date with changes, new products and procedures.
The one difference among all the BIGGBY COFFEE locations is how the owner/operators choose to give back to the communities that support their cafe. Because there are a number of owner/operators and different needs in each community, the company encourages each location to give back the way they want, whether that be participating in 5k races, donating to a charity or tent events.
"It's difficult to have broad-based initiatives," McFall adds. "It is very specific in every marketplace in what they want to do. We believe in that and it's one of our guiding principles. You have to give back to the local community and we strongly advocate for that."
Future Franchising
BIGGBY COFFEE met its sales goal in 2013 by achieving 48 new franchise contracts. To date, the company has 164 stores open and 52 in various stages of development. "There is a lot of growth there," McFall says. "More than one-third of the system is not even open yet. That's a lot. There is a lot of work going on."
In the future, BIGGBY COFFEE is preparing for the transition of being a 150-unit chain of coffee shops to a 300- or 400-unit coffee shop chain. "It's going to be very linear for us," McFall says. "We are taking the rifle approach versus the shotgun approach. We also give a lot of credit to the work the owner/operators do to develop the brand. We help facilitate, but in the end, they are doing it, working hard and are committed to developing the brand."