Biggby Coffee defies the stuffy feel of many coffee concepts with a fun menu and friendly atmosphere.
Many years ago, you had two choices when it came to coffee: regular or decaf. Within the last 25 years, however, the specialty coffee market has exploded, and most coffee shop concepts offer a wide variety of traditional and specialty coffee drinks. Ironically, this variety has made it possible for anyone to find a coffee that suits their particular tastes, but it also has made many coffee shop chains feel like they cater only to the hardcore connoisseur. Michigan-based Biggby Coffee isn't like those concepts, and Co-President and CEO Michael McFall says that has been key to its success.
"We cater to everyone," McFall says. The franchise concept started in 1998, after McFall and Co-President and CEO Bob Fish had success in coffee retail in East Lansing and felt like the concept could be a successful franchise. In developing the business model, McFall says the company was built around the owner-operator model because it gave each location a better chance of developing strong connections with the communities they served. The first Biggby Coffee location opened in East Lansing, Mich., in 1995, and had two successful locations before developing the franchise system.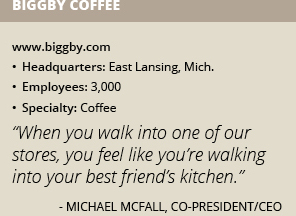 Today, Biggby Coffee has more than 220 stores open in nine states, and the concept continues to grow. McFall says the company's formula for success is based on a menu with something for everyone, a welcoming atmosphere and the strength of its owner-operators. As the company continues to grow, McFall says a careful approach to growth and a continued focus on what it does best will be critical for Biggby Coffee to remain on a path for growth in the future.
Fun and Friendly
McFall says one of the biggest things that sets Biggby Coffee apart from the typical modern coffee shop concept is its focus on delivering coffee beverages that appeal to a wide variety of tastes while concentrating on what it does best. Although McFall says traditional coffee drinks make up a significant portion of its business, Biggby Coffee is known for its various specialty beverages, which combine coffee with a variety of different flavors.
"What distinguishes Biggby Coffee in the coffee market is that we are highly focused on the part of our menu that's extraordinarily popular with our clientele, which we call our 'Sweet and Creamy' board," McFall says. The company's menu includes numerous specialty lattes and smoothies in addition to traditional coffee drinks, and McFall says Biggby Coffee is focused on ensuring that all of these beverages are delightful as they are made to order with the finest ingredients.
Another way in which Biggby Coffee stands apart from other coffee concepts is in the atmosphere it creates within its stores. Other coffee concepts try to give off a high-end vibe that can come off as pretentious or intimidating to people who just want to grab a cup of coffee on their commute or hang out with friends. McFall says Biggby Coffee, on the other hand, keeps things light and fun within its stores to create a more relaxed, welcoming environment. "I think that the biggest difference between our concept and a lot of the others is that when you walk into one of our stores, you feel like you're walking into your best friend's kitchen," he says.
People Power
A big part of the reason why Biggby Coffee's locations can feel so comfortable for customers is the owner-operators who run those locations, and McFall says this model has been a big success for the company. Owner-operators are more invested in the day-to-day operations of their stores and are more likely to develop strong relationships with their customers and the community as a result, he adds.
Biggby Coffee values that connection between its owner-operators and the community more than anything when seeking out new franchisees, and McFall says the company wants to bring in people who have a passion for taking care of people above all else. "The No. 1 thing we look for is energy, excitement and enthusiasm," McFall says. "Everything else is teachable. When people are enthusiastic and they come into our world and they want to learn, the relationship works very well."
Growing Carefully
Biggby Coffee has experienced a lot of growth over the last several years, and as a result the company has decided to take a step back and concentrate on being ready internally for the next phase of its evolution. The old ways of making decisions when the company was smaller won't be as effective now that the company is larger, McFall says, and the company is retooling its structure and investing in leadership development in order to be prepared for the future.
"We're in the middle of a very, very exciting moment, and we have decided to suspend franchising in Michigan for the short term, and we're going to open it back up to our existing owner-operators when we open it back up," McFall says.
McFall says the company believes there are more opportunities for the company in Michigan, but it wants to be sure it gives its existing owner-operators the chance to take advantage of those opportunities as a show of loyalty to them. "Our preference is to do that with our existing people," he says.
Biggby Coffee has 37 stores in development, but McFall says the company isn't worried about the number of stores as much as the quality of the stores it is opening. "We need to take a very controlled and methodic approach to these next 100 stores in Michigan. This is a critical time in our development," McFall says.