A resurgence to remember
The result of an amalgamation of two highly respected food manufacturers, Billington Foods is emerging from the Covid-19 pandemic in full force, providing vital support to its numerous customers as they embark upon their own recovery
While Billington Foods may be a newly established business – having been formed in September 2021 – it does possess a particularly strong heritage, seeing as it came about following a merger of two industry-leading food manufacturers, TSC Foods out of Scunthorpe and Billington Foodservice of Wellingborough and Newport. The result of this merger is a new entity that sits within the growing family of UK food and agriculture businesses that make up The Billington Group.
Providing FoodChain with the background behind how Billington Foods came to be is its Managing Director Peter Allan. "The aforementioned companies were brought together, at least in part, due to a post-Covid-19 approach taken by The Billington Group to examine its asset base, and focus on how best to respond to and capitalize on a very different looking market to the one that existed pre-pandemic," Peter details. "By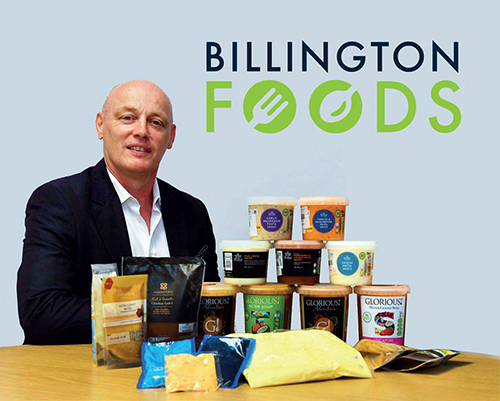 analyzing various product segments and determining which ones we expected and wanted to see grow over the coming years, we took the decision to bring together the best operational aspects of both TSC Foods and Billington Foodservice to create an operational center of excellence to serve our customers under the Billington Foods name."
Today, the business supplies the UK's foodservice, retail and B2B markets from its factories in Scunthorpe and Wellingborough. Predominantly a bespoke manufacturer, its product expertise covers chilled and frozen sauces and soups, frozen pies, and desserts. With all of its products developed to the highest of standards – with a leading technical and process team ensuring good quality and safety at all times – Billington Foods also offers a range of packaging capabilities, which allows its customers access to the right format to meet their respective needs.
"Our intent when launching Billington Foods was to take everything that was great about the previous companies and build upon this to deliver long-term future growth. To that end, our sites boast first-class levels of culinary expertise and innovative flair, with our chefs working hand-in-hand with our customers on a daily basis," continues Peter, whose responsibilities include bringing two past cultures together under one roof. "As well as being laser focused on serving our customers, we also want to ensure that we are as operationally efficient as possible as we go into 2022. One of the ways of achieving these aims is through the development and recruitment of a fully engaged, end-to-end workforce who can enjoy the best working environment possible. This has meant investing in all manner of new offices and amenities, which our people are extremely grateful for."
Business efforts
The story of TCS Foods and Billington Foodservice becoming Billington Foods is one that cannot be told without reflecting back on the period of time that has come to be defined by the Covid-19 pandemic, and the significant impact it has had on the food and drink industry as a whole. "Our story over the last 18 months will be one that is very similar to most in our field," Peter explains. "With one third of turnover pre-pandemic coming from retail customers, and the other two thirds coming from food service and B2B clients, the onset of the national lockdown in March 2020 led to the company's facilities shutting down almost all of their activities, baring producing a small number of lines for selected customers a few days a month. That understandably created a problematic situation in terms of working out how best to run said facilities at a fraction of their usual output in order to serve those customers, whilst still managing costs.
"With so many external factors out of its hands during this time, what The Billington Group choose to do was focus on its operational footprint and invest substantial capital into its sites so as to enable it to come out of the other side stronger than ever. This involved things like buying more modern and efficient equipment and leaning more into future automation so as to become less reliant on a labor market that has had its own difficulties in recent months. It could not come at a better time as we emerge from the pandemic, with the vast majority of our customers – especially those in the food service sector – keen for things to recover as quickly as possible, and thus thankful of the efforts that businesses like ours have and continue to make."
At this point, Peter is also extremely keen to bring up the contribution of the people who work across Billington Foods during recent months. "I would be remiss if I didn't say a massive thank you to all of our staff," he says. "As everyone knows, there have been some very traumatic and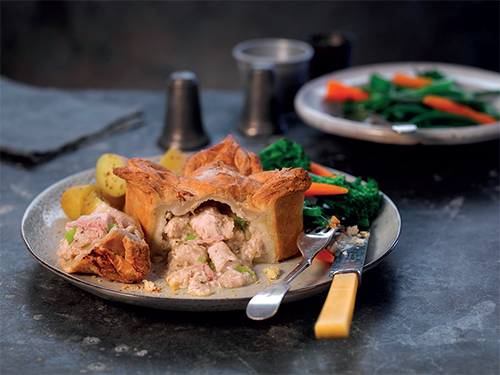 tough times in the last couple of years, but it is because of the resilience of our people that the business has recovered in the way that it has and our customers have continued to get the very best from us."
Product launches
As Billington Foods' continues to build back better from the pandemic, it is working hard to bring new talent into the business and increase production at its two facilities. "In Scunthorpe, we are making a £2 million investment to support the facility's recovery, which includes recruiting up to 65 new members of the team, with the help of Red Recruitment," Peter notes. "Meanwhile, in Wellingborough, we have engaged in a plan to grow and retain our workforce during these competitive times."
Continued investment is clearly paying off for Billington Foods, with sales now approaching the £65 million mark and its order books looking very healthy indeed. Peter goes on to tell us that a proportion of its success in what remains an unpredictable environment comes down to a prioritization of products and consolidation of SKUs. "Part of the challenge at present is that without 100 percent security of production volumes, there remains a strong sense of realism and pragmatism within the industry, which will bleed into the early part of 2022. This means that customers are more focused on getting reliable menus and products to the table, than they perhaps are of driving new trends and flavors at present."
That has not meant that the company has stopped pursuing new flavors and innovations however. For example, it has just recently relaunched its popular Glorious! Soup range, and is excited to be bringing a brand-new pie line into operation at Wellingborough in the first couple of months of 2022. "We have continued to build upon our pre-existing levels of culinary expertise, and our chefs are always on hand to work with our customers to cater to new tastes and preferences," Peter says. "There will always be trends that sit behind the market, trends such as alternative proteins and differentiated food specifications, and I think they will be even stronger at the back end of 2022. However, the first half of 2022 is more about focusing on the practical side of food production and food supply, which centers on getting core products to our customers."
Regarding 2022, Peter's optimism for the year ahead is strong, and as such plans for ongoing investment in the business are already well-advanced. "We have every aim of increasing our capacity throughout 2022, with the intention being to enable us to introduce new capabilities in terms of pie production, porridge production, and the creation of various desserts," he declares. "These different types of products – along with soups, sauces and so forth – will enable us to grow in line with our customers as they too enjoy a resurgence from the pandemic."
www.billington-foods.com