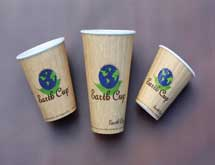 Biodegradable Food Service LLC
As the owner of the Bend, Ore.-based Biodegradable Food Service LLC, and home of Taterware, Duffy might be in the exact right place at the right time. The Bend, Ore.-based firm sells Taterware, a compostable and biodegradable foodservice product line made from renewable resources, primarily potatoes. The company also manufactures products made from corn, cotton and sugarcane.
Duffy co-founded the company 11 years ago after a long career in the packaging industry. He notes that the company's early products included compostable bags called Toters, (compost liners that line large organic collection bins), which were used for the disposal of food waste in compost piles. Often, "There's a 'yuck' factor involved with [emptying a bag of waste]," he says.
The Toters, he explains, eliminated that "yuck" factor by allowing users to throw away the entire bag with the waste still inside. Today, Biodegradable Food Service's products have grown into the Taterware line that includes Hot Cup lids, cutlery, trays, bowls, plates and clamshell containers. Biodegradable Earth Cups and biodegradable film round out the company's foodservice line.
The company serves such clients as Whole Foods Market, Hampton Hotels & Suites, and Hilton Hotels. In addition, "We do well with the university market, as well as the healthcare market," Duffy says.
With the current green movement, interest is strong in Biodegradable Food Service's products, Duffy says. For example, "It makes sense, when you're in a large cafeteria, to collect all the items to put back into the Earth," he says. "People are becoming stewards of the environment."
Driving Reductions
Duffy says he strongly believes in the business philosophy for Biodegradable Food Service. In his previous experience, he sold many products that were not as environmentally beneficial as the Taterware foodservice line that he produces today. "[There] was definitely a driving force to see what we could do to make it into a more Earth friendly [product]," he recalls. "We have a lot of environmentalists [here], including myself. If we [achieve] waste reduction, it's a good thing."
As the Taterware product line flourishes, the company continues to pursue new innovations in the biodegradable food ware industry. Its latest products include its Bio Wrap film, which is made from cotton. "It's able to take very high temperatures, so it can even be used in a microwave," Duffy says, noting that the film can endure temperatures up to 425 degrees F.
In addition, Biodegradable Food Service is taking other steps to help its clients reduce their waste. While the company previously relied on third-party manufacturing, it plans to open its own plant in Oregon later this summer.
"We've got three different locations we're evaluating at this point," Duffy says, noting that this will allow its clients on the West Coast to reduce the size of their carbon footprint as Biodegradable Food Service decreases the amount of transportation needed to move the products.
Poised for Growth
Recent market changes include new bans on Styrofoam and polystyrene, a move that has affected the growth of Taterware and other Biodegradable Food Service products, according to Duffy. When  these materials are eliminated, "We become very price competitive with other substrates [like] paper," he says.
Consumers of particular brands are becoming increasingly interested in biodegradable disposables like those the company provides, Duffy reports. "They want to make sure they [use a] green product," he says.
Duffy says he believes Biodegradable Food Service will continue to prosper. "We're planning to grow three to four times what we did in '09," he says. "We live in a disposable society, and it's a very big market.
"Our new little motto is, 'We're poised for growth,'" Duffy states. "We see tremendous opportunity [in] more domestic manufacturing and becoming more vertically integrated."