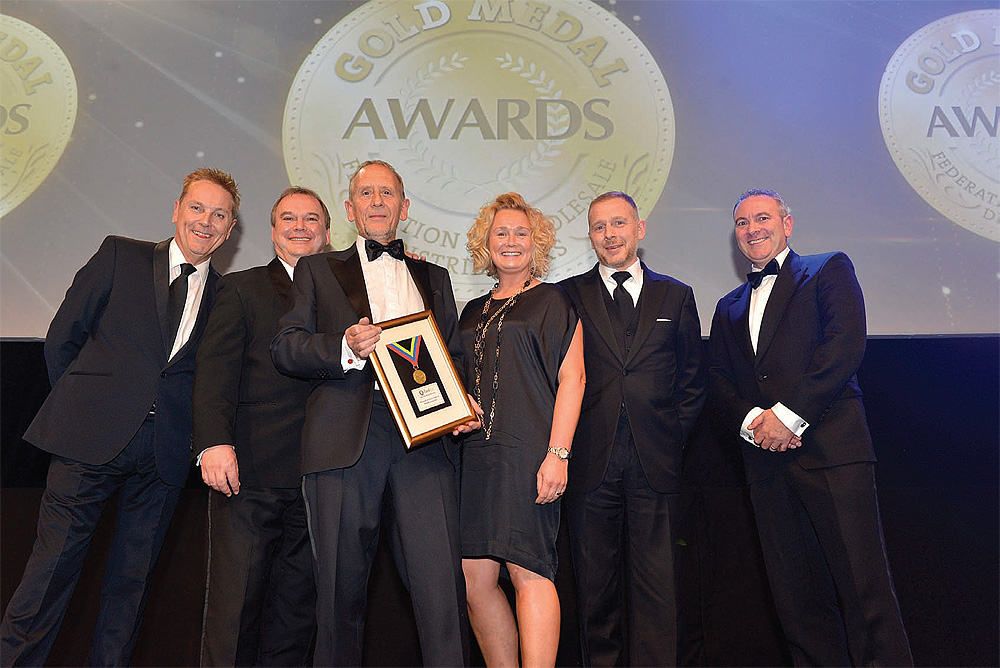 A family affair
Built on a foundation of strong family values, quality products and unrivalled customer service, Birchall Foodservice is growing at arguably its most impressive rate in its near 80-year history
One thing is immediately clear when speaking to the Birchall family, and that is that they are immensely passionate and proud of what they do, and rightly so. Since it was established in 1939, five generations of the family have been involved in the running of Birchall Foodservice, an independent company that has evolved into specialists in multi-temperature foodservice.
Focused on local markets, the company provides access to one of the most comprehensive, next-day delivery ranges of food for caterers in the North of England and Wales, including grocery, chilled, fresh, frozen, dairy and non-food items. "Having been based in Trafalgar Street in Burnley for some 40 years, we first moved the business to its own purpose-built building at the Network 65 Business Park in 2001," begins Birchall Foodservice's Managing Director, Justin Birchall. "At the time, we were turning over just shy of £3 million a year. Now, 16 years on, we have established ourselves within our state-of-the-art facility at Cobalt House and have a projected turnover for 2017 of £24 million.
"We have made huge efforts in transforming ourselves in that time from being a local wholesaler into a credible food service distributor that can compete with the national players in the market. From a portfolio of just ambient foods, with a small supplementary range of chilled goods, we now have a full range of both of these categories, together with a frozen range, a butchery service that
we introduced some 15 months ago, and now a fruit and vegetable range as well. Together with our non-foods, this gives us a real onestop- shop offering."
The company's frozen and fresh fruit and vegetable ranges are currently its two leading sources of growth, driven primarily by people's changing eating habits and the increase in demand for healthy, vegan and vegetarian items. As one would expect, Birchall Foodservice's widening product range has also coincided with it establishing a strong foothold across market segments such as the restaurant and hospitality sectors.
"The term one-stop-shop is used a lot in the marketplace today, but what we do is take this and approach each of our customers with a genuine desire to discover what it is we can offer them and how we might be able to help them do things differently," explains company Director Louise Birchall. "This may mean taking a fresh product they use and offering a frozen alternative which, for example, could help in extending the life of the product and reduce a customer's wastage levels. It is this commitment to making sure we can provide our customers with the right product for the right application that helps set us apart from our competitors."
Despite having only been at Cobalt House for just over two-and-a-half years, the growth of the business has facilitated the need for further expansion. When we spoke to Justin and Louise, they were two weeks away from opening an extension to their freezer capabilities, increasing what was a 7000-square foot area of freezer space into a 16,350- square foot area dedicated to frozen products. "This new freezer area will actually measure 3000 square feet larger than the entire building that we were based in only two years ago, which just goes to show how fantastic our growth has been in that time," Justin enthuses. "Further to this, we have also recently purchased a two-acre brownfield site connected to our facility. This space will allow for a 48,000 square feet extention.
"In the meantime, we have also just completed a large upgrade project on our management warehouse system, fully integrating ourselves with all goods in and picked goods out. Now that this has been bedded down we are turning our attention to implementing and introducing an online store, which will be active before the end of the year. All of these investments will future-proof the business for many years to come."
Customer events
In July 2017, Birchall Foodservice was awarded the prestigious 'Business of the Year' accolade at the Burnley Business Awards, following on from its hat-trick of wins at the Red Rose Business Awards earlier in the year and a coveted National FWD Gold Medal for customer service at the end of 2016.
"We host regular events for our customers, employees and our workforce, the majority of which are held within our Training, Exhibition and Development kitchen facility, which we refer to as TED," Louise says. "Here we host specialised and themed events for our customers. These can be in the form of talks surrounding topics such as FreeFrom foods and allergens, to holding supplier exhibitions and tasting sessions. We also open up the facility to a number of charity events, from gin nights to a recently held eight-course taster, fine dining evening where we welcomed 120 guests. When it comes to our employees we also use the TED facility to conduct food demonstrations in our fully-equipped kitchen and even to host special 'Head Space' sessions once a week where counselling support can be offered for any external issues an employee may be facing.
"As business people, we understand not only how important our customers are to us, but also how our employees are what make the company a success. It is why we invest so heavily in them and their development, providing comprehensive, accredited training to allow them to progress through the business. We are always on the lookout for great people and when the right ones come along, even if we don't necessarily have a space to fill within the company, if we feel they are the perfect fit for Birchall Foodservice we see bringing them into the fold to be an opportunity, not a cost."
It is clear that Justin and Louise love what they do, as well as the people they work alongside, and this stands Birchall Foodservice is great stead for the future. "We have a great team of people here, and together with them we want to continue pushing the business forward, whilst always remembering that we can do so in a way that is both rewarding and fun," Louise concludes.