Black Sheep Coffee's winning formula? Big dreams, heaps of energy, and the finest robusta
It all begins with great espresso. Macchiato, Cortado, Flat White, Long Black, Americano, Cappuccino, Latte. No matter the order, it all begins with great espresso – carefully sourced, beautifully roasted, and lovingly prepared.
Black Sheep Coffee (Black Sheep), a relatively new player in the London – and now global – coffee scene, understands this.
However, as its name suggests, it's also keen to buck the trend. Rebel, outlier, maverick – the name holds a certain weight and conjures connotations of proudly doing different, regardless of who it disappoints. Evidently though, it's not the public.
In the last month alone, Black Sheep has opened multiple stores across the breadth of the UK, the country where it all began, and was also featured in the Wall Street Journal across the pond – somewhere the company is looking to expand following the recent unveiling of its first US-based coffee shop in East Dallas, Texas.
Recently, we sat down with joint CEOs and Co-Owners, Gabriel Shohet and Eirik Holth, to tell the incredible story behind the brand, and find out what makes Black Sheep the enfant terrible of the British coffee scene.
"We were flat mates in our university days and had a shared passion for coffee. As students, we used to experiment with new brewing techniques all the time – from ways of increasing caffeine content to ways of creating the widest flavor profiles.
"After graduating, we went our separate ways – one of us ended up in New York City and the other in Milan," remembers Eirik. "Across the globe, we began working different office jobs; however, we both longed to start our own business."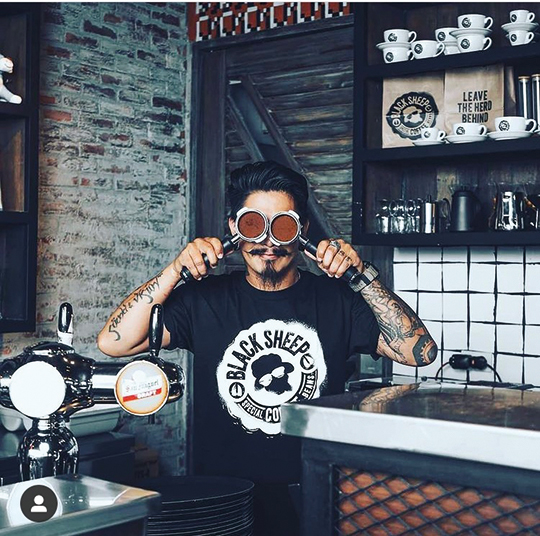 Hands-on approach
Inevitably, given the pair's shared passion, that business was going to involve coffee. "We missed experimenting with different beans, manipulating the strength and taste of coffee," Eirik continues. "We hosted regular catch-up sessions, chatting every Sunday evening to devise a plan, which, after a few months, turned into us quitting our jobs and getting down to business in earnest. It could have turned out to be a pipedream, something we talked about forever without actually doing anything. But we chose a date to make it become a reality, and we went for it."
After quitting their international jobs, the pair moved back to London with a small amount of savings to tide them over. Looking back on it now, Gabriel admits it was probably quite naïve to do so, seeing as the pair couldn't even afford to buy an espresso machine – which you kind of need when you're in the coffee business…
But they remained unperturbed by financial constraints, and braved life without an income. Gabriel and Eirik were too busy looking ahead, their eyes firmly set on the vision they'd concocted each Sunday evening back in New York City and Milan.
"It would be a long and winding road to make ends meet," Eirik says, reminiscing on Black Sheep's early days. "But we had big dreams and a ton of energy, so we put ourselves to work.
"First, we got hold of a trestle table," he explains. "Then we rented an espresso machine and applied for street trader licenses. Immediately after, we began making coffee out on the pavement: one day at Brick Lane market, the next on Leather Lane, then Old Street roundabout and Camden High Street. You name it, we were probably there!"
After two long years – and a lot of sweat and tears – running these pop-up shops, Gabriel and Eirik finally scraped enough money together to build their first shop. It was only a few thousand pounds, but it was hard-earned and every penny mattered. As they couldn't afford to hire a professional builder, the budding coffee nuts watched hours of plumbing and electrics videos on YouTube, rolled up their sleeves, and got stuck in themselves.
The result? The company's first ever shop: Black Sheep Coffee on Charlotte Street, Fitzrovia. "It was part of a run-down building that was set to be demolished, so the landlord let us trade there for 18 months prior to demolition – practically for free!" recalls Gabriel. "Admittedly, it did look bare and amateurish, but it certainly had character. We were just happy to have a place of our own. (And the fact we didn't have to pack up all our stuff, move, and set it up again the next morning!)"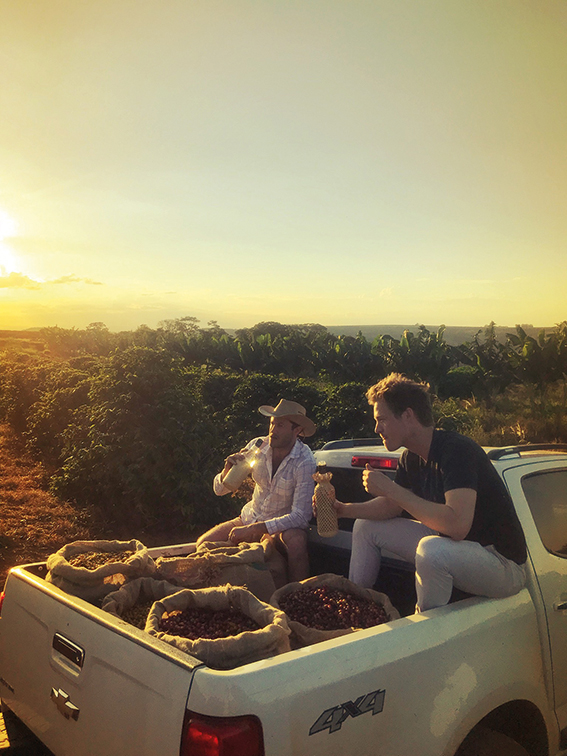 Roast boast
Indeed, much of Black Sheep's brand elements can be traced back to its first shop, where Gabriel and Eirik had to scrape together a variety of reclaimed materials, picked up for free on the outskirts of large construction sites around London, to create some semblance of character. Little did they know, the pair were creating a discernible, industrial-chic aesthetic that now typifies the brand.
"By this point in time, we'd traveled all over the world, visiting coffee plantations in Papua New Guinea, Ethiopia, Brazil, and Peru," Gabriel continues. "We called this 'searching for the perfect bean.' Indeed, we'd begun our mission to find a single-estate coffee that would change the way people thought about robusta for good.
"We found two plantations: one in western Uganda and the other in southern India. Both processed robusta in a way that had never been done before – shade-grown, hand-picked at high altitude, sun-dried, and religiously sorted to only keep grade size 17 and above," he explains.
In other words, the pair had stumbled upon something remarkable – and begun a coffee revolution in the process.
Once roasted back in the UK, Gabriel argues Black Sheep had developed the first coffee in the world that boasted the true qualities of robusta: twice the caffeine content, higher levels of protein (creating a thicker crema when brewed as espresso) the highest pH level on the market (leading to a much lower acidity), and strong notes of walnut and chocolate that, as he puts it, "punch through the milk like an iron fist in a velvet glove."
With that, Black Sheep decided to open shops across the nation and to rid the world of what Gabriel and Eirik call "boring, average-tasting coffee" – once and for all. To this day, the company's specialty-grade robusta makes up more than 85 percent of its coffee sales. "Simply put, it defines who we are: the Black Sheep of the industry," asserts Eirik.
As a self-confessed maverick, Black Sheep – like the coffee scene itself – is always evolving. For Gabriel, it all comes down to product quality, customer experience, speed of service, new technologies, and an acute focus on sustainability.
"Overall, there's a lot of fluff and greenwashing in our industry, and it could be improved by valuing truth over PR," he says. "Sustainability plays a massive role in the business. It's so important to care about your supply chain as much as you do about your waste.
"Therefore, we source robusta beans that have incredible credentials compared to arabica. Robusta uses much less water and produces three times as many cherries per bush. Plus, the higher caffeine content acts as a natural pesticide, meaning we don't have to spray our coffee cultures with chemicals. The fertilizers used on our plantations are fully organic and come from the fruits and vegetables grown on the farms, which brings us to the next big topic: shade-grown coffee."
Harmonious blend
Gabriel breaks it down for us in detail: "Our robusta beans are shade-grown; they grow alongside betel nut palm trees, mango trees, bamboo shoots, as well as banana and guanabana trees," he notes. "In fact, when you look at our coffee estate from above, it's almost impossible to tell there is any coffee growing there!
"This protects our beans from direct exposure to sunlight, meaning the cherries take twice as long to ripen and therefore have a higher natural sugar content. The result is an explosion of flavor. More importantly, it also means we don't disrupt the environment with our coffee cultures by burning acres of forest and ripping out plants.
"Our coffee plantations exist in harmony with the natural flora and fauna of the area; that's why you see so much wildlife on our estates – cobra snakes, giant sloths, bonnet macaques, striped hyenas, and wild boars, for instance."
Caught up on Black Sheep's story, the conversation inevitably turns to the future. For Gabriel, it will be one buoyed by a strategic franchising model. "We're currently looking for new partners," he concludes. "If you're an aspiring entrepreneur and have always wanted your own business, now is the time to get in touch and join our ever-growing team.
"We will be by your side every step of the way, offering the support and training needed to operate a coffee shop at the very highest of standards – all under a brand name that customers across the nation consistently rank as number one for coffee quality and customer service."