Blend Pak blends its long heritage of milling with the latest technology to create food coating products to suit almost any needs.
Tracing back the heritage of Blend Pak Inc. is like stepping back in time, all the way back to the 18th century when William Sutherland came to the United States from Scotland. Building on his family's seven generations of milling experience up to that point, Sutherland opened a flour mill in Kentucky in 1810. By the 1960s, the Sutherland family milling operation sold many different varieties of flour and corn meal to households throughout the country, and the introduction of a popular seasoned flour created for frying meats and vegetables drove the company to even further heights of success.
It was the success of that seasoned flour product that inspired the current generation of the Sutherland family to establish Blend Pak, which specializes in creating and blending ingredients for use by the foodservice industry. From its modern facilities in Bloomfield, Ky., Blend Pak develops and produces a wide variety of batters, breaders, marinades, seasoning blends and specialty mixes. The company's product lines include seasoned flours like the one that made the family famous for the restaurant industry, marinades for industrial foodservice customers and breading and cake mixes for foodservice customers.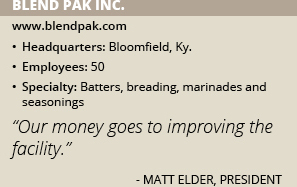 No matter what application the company's products are used for, Blend Pak approaches its customers with the same dedication to quality and commitment to delivering their needs that have characterized the Sutherland family for generations. President Matt Elder says the company continues to look for new ways to better serve its customers and keep up with the latest trends in the marketplace. He says the addition of sister company Bloomfield Farms, which specializes in gluten-free, nut-free and vegan products, is one of the most recent ways in which the company has changed to meet the changing needs of its customers. By combining generations of heritage with an eye to the future, Blend Pak and Bloomfield Farms are positioned to continue leading the way in the industry for many generations to come.
Extensive Capabilities
One of the biggest keys to Blend Pak's success is the depth of its capabilities. In addition to creating stock items such as its biscuit mix and its seafood breading for foodservice and restaurant customers, Blend Pak also offers customers the ability to custom-blend and package customers' existing formulas for them. According to the company, Blend Pak's research and development expertise includes wheat and corn flour products as well as dry marinades, gravy mixes, spice blends and batters.
In addition to its custom work, Blend Pak also excels at creating coating products that can meet the needs of multiple industrial food processing customers. "We specialize in supplying our industrial customers who process meat, chicken, and fish products for their customers with a variety of creative coating systems," the company says. "These blends – whether it's a marinade or rub, seasoned breader, predust or a batter – all help to create a uniform finished food product of optional flavor, texture, and appearance ready for delivery to the customer.
"Blend Pak has a breading system for all applications whether, red meat, seafood or poultry," the company continues. "Our research and development staff will work with [customers] to create a formulation that achieves [their] desired flavor profile, color, and texture. Blend Pak can also troubleshoot the process at [customers'] facility with [their] equipment to insure the quality and consistency of [their] final products."
Elder says the company is able to offer customers the most advanced capabilities in the industry because Blend Pak continues to keep up with the latest and greatest technology in the industry. "Our money goes to improving the facility," he says.
Blend Pak purchases new equipment on a regular basis, Elder continues, and this means the company continually gets more production out of its existing space. He adds that the company's warehousing space on its 12-acre property gives it more than enough space to handle almost any spike in production it may have to implement.
Also contributing to the continued success of Blend Pak is the accumulated experience of its management and the blending of that experience with its young professionals. Elder says the company believes strongly in developing its younger employees into the leadership of the future because it wants to hold onto their experience and share it with the next generation of employees. "We promote from within when we can," he says. "Those are the ones we know and trust and know the business."
Allergy-Friendly
The creation of Bloomfield Farms gives the company an opportunity to capture the growing market for allergy-sensitive food products. Elder explains that owners Dan and Sue Sutherland's granddaughter was diagnosed at an early age with an egg allergy and gluten sensitivity. After discovering how few food products were already on the market made for people with these allergies, the Sutherland family established Bloomfield Farms.
From its separate 3-acre site, Bloomfield Farms produces a large variety of baking mixes and spices aimed at serving those with gluten and egg allergies. The company says its products are free of the top eight food allergens, and its facilities have been certified as gluten- and nut-free. "From cake mixes to pizza dough, [we] take great pride in bringing the joy of eating back to so many who are suffering," the company says.