Bleyhl Co-op strives to become a world-class cooperative that leads the industry in research and innovation through its new farm supply stores and fertilizer plant.
Fifty-five years ago, Bleyhl Co-op was formed based on a promise that it would preserve a way of life for its members and communities throughout Washington's Yakima Valley. "We uphold Bleyhl Co-op as a community institution that reflects the honest, hard-working values of the communities and customers we serve," CEO Dan Morano says. "Our goal is to preserve a way of life where partnerships are secured through trust, relationships and handshakes. Our word is our bond."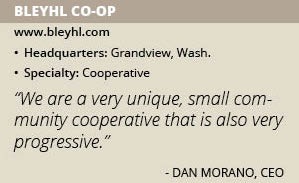 Named after brothers Alex and Carl Bleyhl, the Grandview, Wash.-based cooperative was founded in 1964 with 237 farmers who each chipped in $1. The cooperative began offering feed for turkeys and progressed from there. "What's really cool about Bleyhl Co-op and so different is the variety of crops we serve," Morano notes. "When people think of farming in general, they think of corn, but we are much more specialized than in the Midwest. Our crops include wine grapes, apples, blueberries, cherries, mint and hops, to name a few. We have member hobbyists who raise goats and chickens – we are a unique, small community cooperative that is also cutting-edge."
Bleyhl Co-op prides itself on being progressive when it comes to women in leadership roles and staying innovative when it comes to blending the values of its past with the technology of the future. "In the three years I've been here, I was able to recruit a new CFO, Viri Coleman, who is Hispanic and female, and recruited two of the top female soil scientists to set up a lab on site," Morano says. "Since 1964, we have never had a female board member and today, we have a young female board member, Leah Eddie of Eddie Farms, who has helped us make dynamic changes. Half our employees are Hispanic and we are a bilingual company. We pride ourselves on that and it's really gratifying to see how inclusive we have become. Which is to say how much more reflective our leadership team is of our membership and the farming community at large."
In the farm supply world, there is standard technology everyone uses, but Morano went against the grain when he took over as CEO. "The first think we did was reimagine how the co-op could use technology and differentiate ourselves from every other cooperative out there across the country," he explains. "We went to Velosio, a Microsoft partner, and asked them to build an entirely integrated system specifically for us. We will be five years ahead of the industry because of the systems we are about to roll out after a two-year development process."
Bleyhl Co-op is building a customer portal to create full transparency for growers when they interact with the cooperative. The "B" app portal will allow them to order products and view where their products are in the supply chain. "This is something few have tackled because of the complexities of our business model. Our board and leadership team agreed it would be a leading differentiator in our market," Morano notes. "Technology has become a high priority and our stake in the ground."
Supplying the Need
Bleyhl Co-op is opening the most interactive farm supply store in the world in Pasco, Wash., where it will deliver a whole new customer experience this spring. The 20,000-square-foot store will share the space with Great Harvest Bread Co. and True Value Hardware, to turn its business into a destination and gathering place for customers throughout the region.
"The store will feature interactive kiosks to choose the feed you need and an elevated level of customer service," Morano says. "The exterior of the building has a retro look, inviting and totally unique with the Great Harvest Bread Co. attached. Excitement really built up over that and our new retail concept. We set out to be the best farm supply co-op in the world through technology and truly believing in our core values, which are integrity, innovation and independence. Those are things that really drive us."
For the spring grand opening, Bleyhl Co-op is partnering with its vineyard customers to offer "B Courageous" branded wine. "We will sell limited edition wine inside our stores every year and will feature storyboards about the vineyard and company that produced it for us," Morano says. "We will donate the proceeds to local charities of our employees' choosing."
Donations given by the co-op are intended to support and strengthen the local farming communities, as well as the communities where its employees and customers live and work. Bleyhl Co-op funds projects and activities that preserve or enhance the farming community, giving priority to projects that include FFA, 4-H, rodeos and fairs, and other agricultural or farm related functions. "We are in rural America and it's a big deal to help community organizations, such as 4H and FFA," Morano says. "Rural areas are struggling; kids leave and don't come back, so we want to shine light on our communities, help to support and grow it while preserving the community's way of life. Farming isn't just about the cycle from harvest to harvest, it is generational. It is family."
Forefront of Innovation
Bleyhl Co-op's two master-degreed soil scientists, Catherine Jones and Sarah Del Moro, were brought aboard to focus on soil nutrients and organics in the cooperative's new 6,400-ton state-of-the-art fertilizer plant at its Grandview campus. "They have really advanced ideas and are working to put nutrients into the soil without using a lot of chemicals, and looking at continuous innovation," Morano says. "We are on the forefront of innovation here, and we will continue to push the limits."
The cooperative is excited for the spring opening of its fully automated fertilizer plant will get growers in and out quicker, but also the possibilities of scientific breakthroughs on site. "We are hoping to recruit one more soil-focused agronomist to work on soil samples in our own lab and use that information with the growers' to come up with solutions for soil deficient grapes, apples, cherries and hops, which are our main service crops," Morano says.
Each of Bleyhl Co-op's 900 members vote to appoint eight members who serve three-year terms and represent the voice of the members who drive the cooperative's strategy in terms of innovation, technology and progress. "One of our biggest focuses is listening to the farmers and developing new, innovative ideas, products or services," Morano says. "There are growing pains as we are a legacy company where everything was stable for 20 years, but if you look at the state of cooperatives, in the 1980s there were 120 and today in Washington state there are 15.
"Farming has changed significantly since then," he continues. "In our case, our membership operates some of the most sophisticated and bountiful farming operations in the world. We needed to elevate our game to better service our membership. In recent years, we have honed our offerings and approach to better mirror the needs of the farm families that call our co-op their home co-op."