The seaweed nation
There's something in the water in North America: seaweed. Thanks to the pioneering work of Blue Evolution, the plant-based product is set to take the continent by storm
Beau Perry was working for a friend's fish-farming business in Baja California, Mexico when, by chance, he came across Charles Yarish, a Professor at the University of Connecticut (UCONN)'s Department of Ecology and Evolutionary Biology. His work, promoting seaweed farming in North America, captured Beau's imagination. "We have great maritime industries here, great ocean territory," he insists. "It just occurred to me, why don't we grow that over here?" So, Beau set out to do exactly that. In 2013, he founded his own sustainable seaweed company: Blue Evolution.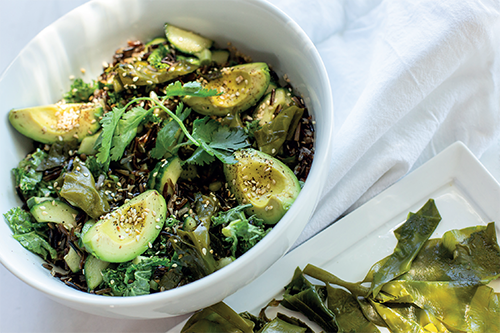 "I wasn't really sure what I was going to do with the seaweed, but I knew that learning how to grow and develop it in this part of the world was going to be worth something," admits Beau, now CEO at Blue Evolution. "I realized that seaweed could be so much more than just food – and even within food, it had unique and diverse applications. Nutritionally and intuitively for people in the West, flavor wise, especially for vegetarians, it has this savory, satiating property that is extremely useful, and can be applied across a broad range of recipes and formulas."
Like the seaweed it produces, the idea behind Blue Evolution has developed over time. With farming operations at two locations in the US and Mexico, and a broad range of customers and partners, the company is now pivoting towards a new era of wholesale seaweed production. "We're in talks with some of the world's biggest flavor houses and consumer brands," he notes. "Plant-based meat is a particularly interesting category for seaweed, because it supplies the meaty flavor that's so often missing from substitutes.
"Restaurants and food service have really provided the bulk of our traction to-date, as they tend to be faster deal cycles," Beau continues. "Although the sector is currently hampered by the lingering impact of Covid-19, we've found success with wholesale meal delivery and food kits. We're now working towards bringing institutional food service buyers onboard, including universities, campuses, and others that are a little less subject to the ebb and flow of lockdown restrictions. We're working all angles."
Adaptable and nutritious
Beau isn't the only member of the Blue Evolution team to have arrived where he is today, in part, thanks to Charles Yarish. In the 1980s, Jose Zertuche was studying at Stony Brook Island University, New York, when the so-called 'father of American seaweed cultivation' was appointed to the committee overseeing his PhD. It was through Charles that Jose was put in contact with Beau, and not long after the pair began collaborating on seaweed production.
Now Chief Aquaculture Scientist at Blue Evolution, Jose believes that the North American coastline offers a unique opportunity when it comes to seaweed. "You can find delicious and nutritious seaweeds all the way down from Alaska to Mexico," he insists. "All we're lacking is a culture of seaweed consumption. As a result, we decided to focus on products that could be added to the foods that we do regularly consume, from soups to salsa."
It was a bright idea. To bring it to life, Jose enlisted the help of his wife, Laura Chanes. A food engineer by trade, with decades of experience creating culinary delights, it was her genius in the kitchen that formed the basis of Blue Evolution's very first production line. "She prepared a wonderful dinner, showcasing the potential of seaweed in five different dishes," Jose recalls. "That was the beginning, and it took off very quickly.
"Seaweed is an incredibly adaptable vegetable," he adds. "You can eat it fresh, but it's also suited for a number of cooking methods. It always keeps an attractive texture and flavor. Now, we produce seaweed almost all year-round from our 2000-square-meter farm in Ensenada, Baja California, which we export to the US."
For Blue Evolution, the next step is to achieve scale. "The company remains relatively small," says Jose, now a researcher at the Autonomous University of Baja California. "Therefore, our main challenge is to improve the system and the seaweed stream to increase our productivity. As part of my research at the university, we're doing lots of work into identifying better strains with more proteins or antioxidants. Laura, meanwhile, has been working to market fresh seaweed to Mexican families, developing familiar recipes based around core Mexican ingredients. She's using her skills to educate customers about how to eat seaweed, and how to integrate it into their diets."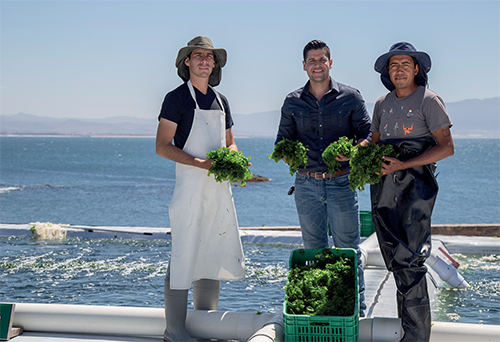 Much of the responsibility for growing the company falls to Abizer Khairullah, COO at Blue Evolution. "We already have a diverse set of highly valuable applications for our ingredients, and we are constantly finding more. Our seaweed is not some niche set of ingredients, it can be foundational in products in every aisle in the supermarket, and improve far more flavors and many more cuisine styles than anyone realizes. This is not an exclusively Asian ingredient – in fact the crops and product formats are distinctly different than what Asian producers export. So, when you ask 'where do we position Blue Evolution's product's?' I'd say: just about everywhere. With a very small inclusion you can have a major positive impact on consumer experience, and on multiple levels. We've done a lot of work with chefs and food engineers. This stuff is magic, and that's before we even broach our seaweed's extraordinary nutritional contribution, plus its incomparable environmental and social benefits."
"We're constantly innovating our processes in order to compete," Abizer continues. "In Kodiak Island, Alaska, for instance, with its clean Pacific waters but relatively underdeveloped manufacturing footprint, we're partnering with tribal communities to convert existing buildings in accordance with industry standards. We've designed our own equipment and processing lines front-to-end, borrowing technologies and innovations from other food industries, and applying them to seaweed."
As is to be expected, Abizer is a strong believer in seaweed's potential. "Look at Korea, where consumption is at 17kg per person," he tells us. "Okay, that's a country which is very familiar with seaweed, and has been for centuries. But even if we managed a 100th or 1000th of that in North America, it's a tremendous business opportunity.
"Global populations are predicted to push 10bn by 2050," he continues. "If that happens, and we've used up a lot of our land, and most of our fresh water is being put towards agriculture, where are we going to get our resources? We sense an opportunity to introduce it in small amounts. It's a product with the natural ability to enhance the flavors it's paired with – even in a dessert, like a chocolate brownie. To top it all off, it's plant-based, and requires no input to grow. There probably isn't a product as sustainable as seaweed."
Vast potential
Located approximately 45 kilometers off the southern Alaskan coast, Kodiak Island isn't only a hotbed of pioneering seaweed production. To Alf Pryor, Kelp Farmer at Blue Evolution, and his wife Lexa Meyer, Alaska Mariculture Manager, it's home. "I've spent pretty much my entire life salmon fishing on Kodiak," Alf reveals. "About five years ago, I was put in contact with Blue Evolution. A friend of mine knew my background, and asked me for some help with harvesting. He showed me what kelp farming was, and I immediately saw the potential. When that friend had to go fishing the next season, I took over.
"Coming from an established fishery, all the methods are the same when it comes to kelp farming," Alf tells us. "But Blue Evolution are the only ones actually doing it. We've taken it pretty far, but we're really just scratching the surface. With the capabilities we have, the sky's the limit."
"Here in Alaska, working in the kelp industry, we're at ground zero," Lexa agrees. "The trajectory is just up, up, up! For me it's a sustainable way to make a living from the sea. We're not taking anything out of the ocean, except carbon – which is beneficial.
"In most fisheries, management came after the fact," she points out. "What's really cool about working with Blue Evolution is, that's not the case. We're founding this industry with a lot of scrutiny from a scientific perspective, helping to ensure that we're not doing anything harmful to the environment right from the get-go. Our work here is a ten-year project, analyzing the impact of our kelp culture on invertebrates, algae, and the fish and bird species that interact with the farm. In doing so, we can continue what's positive, and address any negatives."
Understandably, the mood around Blue Evolution is one of excitement. "The moment couldn't be better for seaweed," Beau argues. "It's new and different, but we're enthusiastic about the movement towards plant-based diets, and how our products can actually accelerate the adoption curve, make food taste better, improve appearance, and enhance nutrition. We have a lot of interesting things in development in terms of new species, new product formats, and we'll be rolling those out throughout 2022.
"Every week, someone calls us to ask how much kelp we grow, what they can do with it, and whether they can have some," Beau concludes. "These are people from all types of manufacturing, from human food products, animal feed, and fertilizer, all the way through to biomedicine and refinery into bioplastics and biomaterials. There's so much potential, and it's our mission to transform the US and Mexico into seaweed nations. On top of that, we plan to further expand our operations into the south Pacific, Atlantic and Indian Oceans this year."
www.blueevolution.com