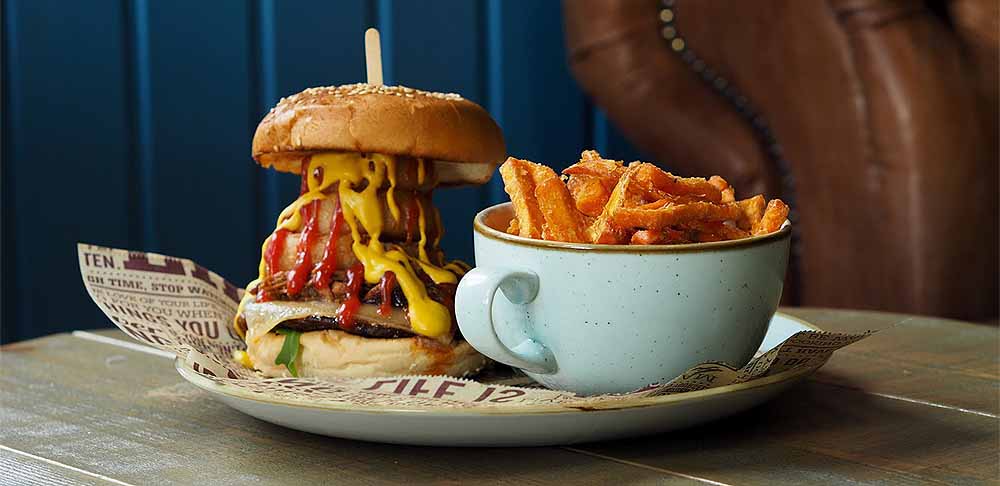 Niche eats
Opening its first store in June 2013 in Portstewart, coffee shop chain Bob & Berts has grown significantly over the last two years thanks to its 'local community' approach to business and expansive food offering
Independent, family owned Northern Ireland coffee shop chain Bob & Berts was founded in Portstewart by Colin McClean, his father Arnold and brother-in-law David Ferguson, who saw a gap in the market for something more than just a coffee shop. "A niche was seen in the market for something more than a coffee shop, with Bob & Berts we are offering a place where you can grab a coffee on the way to work but can also come and relax over a coffee at night. We don't want customers to come in and feel rushed, but instead to take the time to enjoy the great food we have on offer," says Colin McClean, Founder of Bob & Berts.
Seeking to create a differentiated offering, with a focus on satisfying the market's demand for high quality coffee and fresh food, the three founders sought to open a coffee shop with a distinctive relaxed style and a food menu that includes breakfast, lunch and evening meals.
"Our love of artisan coffee and great grub is shown through our extensive menu, from all day breakfasts to burgers, hot dogs, deli sandwiches and amazing deserts," says Colin. "We have always aimed to offer something different to large multinational coffee chains; our local community approach to the way that we run our stores has created a place for people to relax and enjoy our food and coffee from morning through to evening. When visiting Bob & Berts, people can expect a friendly welcome, a fun atmosphere and great locally sourced food!"
Significant growth
With 'keeping it local' at the heart of Bob & Berts operations, the company uses local suppliers and distributors, which means high quality, fresh ingredients are being used in its dishes. "All stores use the same suppliers to ensure that all food and coffee is going out at the high standard expected from Bob & Berts. Moreover, training is provided to staff to establish the knowledge of our food and coffee expectations," highlights Colin.
Since the opening of its first store, Bob & Berts has grown significantly, with 13 stores across Northern Ireland, in locations such as Coleraine, Stanmillis, Lisburn, Omagh and Dungannon. "Our
first store was placed in an ideal location as people from all over Northern Ireland visit Portstewart, particularly in the holiday season. Having a store here allowed us to be a recognised name when we ventured into new towns as people remember great customer service and quality of food – people love hearing that we're coming to a town near them. Another reason for our growth is that we entered an agreement with the department store Menarys, which saw us open in four of the retailer's stores, which was a move that helped fast forward our growth."
Expansion strategy
Seeking to offer a unique, different and quirky food experience, both in atmosphere and the taste of its carefully selected coffee, the company is set to expand further with plans to open 30 new stores, creating 600 jobs over the next four years; this development follows a £2 million investment from BGF, the UK's most active investor in small and mid-sized companies. Seeing opportunities for new stores across Northern Ireland, Scotland and the Republic of Ireland, the company will maintain the ethos of Bob & Berts and deliver its relaxed, local community vibe and high quality food offering further afield.
"Recent investment from the Business Growth Fund has allowed us to be ambitious with our expansion plans for the next four years. The £2 million investment will be used to support our company's growth strategy to open 30 additional stores in these strategic locations and also create up to 600 full-time and part-time jobs," says Colin. "There has been a rise in the interest in great coffee over recent years, which brings with it many opportunities and challenges as more independent stores start setting up shop and thus bringing competition into play. 35With our expansion strategy in place, we can see challenges ahead as each town is different; what sells well and works in one location may not work in the next, but we are prepared to embrace all of the challenges and grow."
With expansion on the horizon, Bob & Berts will be focused on growing its central management team over the next 12 months to ensure it has a strong support network in place as it extends its presence into new locations. "We also want to maintain our high standards across all stores so customers receive the same great service and food from store to store. Looking longer term, our goal for Bob & Berts is to introduce our company to many towns and cities. While doing so, we plan to keep supporting the communities that we serve while we lead the market forward when it comes to innovation, service and quality," Colin concludes.