Bob Chinn's Crab House aims to build on its 35 years of success by remaining authentic and valuing its relationships with customers, employees and suppliers.
In 1982, Bob Chinn launched Bob Chinn's Crab House in a Chicago suburb. At that time, fresh seafood was not popular in the Midwest and it was unheard of to source it from the coast. Despite that, Bob Chinn's immediately took off, creating a demand for fresh seafood including Alaskan king crab legs, notes third-generation family member and Employee Relations Manager Carly LeTourneau.
"My grandfather, Bob Chinn, opened the restaurant with his daughter, my mom, Marilyn," she says. "We not only serve seafood, but also a lot of steak. So our surf and turf combos are really popular. We pride ourselves on serving customers the freshest and best product in our restaurant."
By 1987, Bob Chinn's was so successful the Wheeling, Ill.-based company underwent an expansion, adding 450 more seats. "We already had two dining rooms at that time, and today we can seat 650 people," LeTourneau explains. "It was a great time for us and just proves that there was a demand for fresh seafood. For example, back then it was $1.25 per pound for Alaskan king crab legs; today it's $50 per pound. So it's incredible how much the price, supply and demand for it has gone up since then."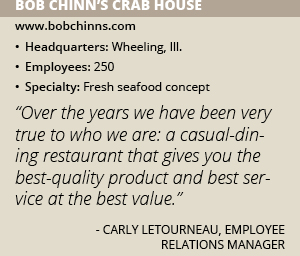 Building On Success
Bob Chinn's will celebrate its 35-year anniversary this year, an accomplishment that will not be taken lightly, LeTourneau promises. "I was born less than a year after the business opened, and my mom was pregnant with my sister, Maile, when we did the expansion," she says. "The restaurant had become very successful by then. So I've never known life outside of this restaurant. It's what has shaped my sister and I as people."
LeTourneau notes that though children of family businesses often "come to a crossroads" about whether to take over the business, it was not an issue for her and her sister. "This is what we love, what we know and what we feel passionate about," she says. "We worked outside of the business for awhile because that's what our family encouraged us to do. However, we came back. Now we are ushering our generation into ownership of the business."
LeTourneau's grandfather, Bob Chinn, turns 94 this year and is still involved in the business and teaching his family how to run it. "He doesn't come in anymore, but he wants to know everything that we are doing to improve the business," she says. "So he's still passionate about this restaurant.
"My grandfather started Bob Chinn's when he was 60 years old, which is a time most people are thinking about retirement," LeTourneau continues. "He was always and still is coming up with ideas to make things better and improve on the things that we do. His philosophy has always been that although we may do things successfully, there has to be a better way to do success. So he has never stopped thinking about how to improve, for example, our preparation, repertoire or our dining experience. There is always something he wanted to make better or enhance for guests."
Because of her grandfather's innovative spirit, LeTourneau notes that the company has never felt the need to keep up with trends. "We have always felt that continuously improving on our core values has kept us relevant," she says. "Those core values are that great customer service and great food at the best value never gets old."
Staying True
Bob Chinn's recently started remodeling the décor and look of its restaurant. "This building we are in gets a lot of traffic as we are only closed two days annually," LeTourneau says. "Although we always invest back into it, one of the comments we constantly get is that our décor hasn't changed in 35 years. We never really gave much thought to that because we were constantly thinking about the food and keeping the building in good shape.
"However, now we want to let our customers know we are truly invested into the look of the place," she continues. "So we are replacing table tops and chairs and switching to LED lighting. In addition, we are also implementing new software for inventory, rolling out an expanded and more user-friendly loyalty program, updated to energy-efficient kitchen equipment and have added paperless accelerator dryers in all our bathrooms."
With 650 seats and only two days of down time annually, LeTourneau notes that getting everything done will take some time. "Ultimately, we want to reinvest into our look, but we do not want to lose our authenticity," she explains. "For example, some of our hanging lights above the tables are bushel baskets, and they are all authentic. We found these at vintage shops and brought them back here. Also, a lot of the wood we have in here is reclaimed wood from old ships. So we want to keep that authentic feel at Bob Chinn's."
Valuing Relationships
When it comes to its vendor relationships, Bob Chinn's remains loyal to its partners. "We are unlike many other restaurants because we deal with a lot of vendors, for example," LeTourneau says. "It may be easy to deal with only three, but to us it isn't fair to our customers. There is no way three vendors can provide the wide variety and quality we want for our customers."
Bob Chinn's partners with more than 25 vendors. "For example, we have one vendor that we buy Chinese noodles from," LeTourneau says. "Although it's just for one dish, that vendor supplies the best chow fun noodles. So we go to great lengths to seek out the best and get what we need for our dishes, and then do our best to maintain a relationship that's successful for both parties."
LeTourneau adds that communication and sharing knowledge help to maintain those relationships. "We have worked with some of our vendors from the very beginning," she says. "It's important when you find people that have the same values in business as you do. There is always someone who is willing to cut corners; however, that is not us. We really respect and value our vendors who are like-minded, and appreciate our vendors for their business values as well."
With 250 employees, LeTourneau notes that its employee relationships are very much like its vendor relationships. "We have people who have worked here for 35 years, and there are a couple of people who remember me in my mom's stomach," she says, chuckling. "That's how far back some of our employees go. There are some families who have been with us for three generations and now work with a couple of their own family members. It's interesting because we have some who are retiring, but their grandkids work here now."
Bob Chinn's looks for hardworking and enthusiastic employees and also values loyalty. "It's nice knowing when you hire someone they will be with you for a while," LeTourneau says. "We bring them aboard, into our home and make them a part of our family because we are going to work together."
Because of that employee-company bond, the work culture is very family-like. "We try very had to instill family values into the culture. We like to do things together, like Christmas parties and put up annual decorations together, amongst other things," LeTourneau explains. "Last year we held an employee appreciation BBQ on Labor Day, and we shut the restaurant down for lunch. We had never done that before and we had a great turnout of employees and their families. We want to start involving all of the staff whether they work during the week or weekend to get to know each other."
In addition, LeTourneau works with many members of her family at the restaurant. "My whole family works here, so I see everyone every day," she says. "I even met my husband here. It's incredible because there are numerous other relationships that were started in this place. I can count on both hands how many employees who work here found their significant other at the Crab House."
Looking Ahead
At the end of the day, LeTourneau credits the company's success back to her grandfather. "He loves a challenge and likes being the best," she explains. "He wanted to be the best at everything so that we could turn around and give that to our customers. That has been the reason for our success: his innovative thinking. He never wanted to be the No. 1 restaurant in the world; he just wanted to be better than he was yesterday. Most importantly, it was never in comparison to anyone else. So over the years we have been very true to who we are: a casual-dining restaurant that gives you the best-quality product and best service at the best value."
"Now that my grandfather isn't here every day, we want maintain his values and vision for this place," she explains. "We want to ensure we are giving the best service and want every person who comes through our doors to have a wonderful dining experience. From the time they walk in to eating an incredible meal and having great interaction with their server. We want them to feel welcome, love their experience and come back again."