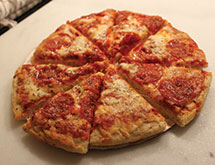 Bold Organics was founded on the notion that just because a product is healthy, it does not have to be flavorless. The New York, N.Y.-based company blossomed from a self-motivated lifestyle change CEO Aaron Greenwald made in high school to eat healthier and is recognized today as the No. 2 better-for-you frozen pizza company in the country.
"I was playing tennis competitively in high school and I was at a point where if I wanted to take my game to the next level I needed to drop some of the extra pounds I'd been keeping around," Greenwald remembers. "I was talking with my mom about it and she was recovering from breast cancer and had seen a big benefit from taking sugar, dairy and gluten out of her diet. She told me to try it and see how it affected my tennis game, life, school and everything." Although reluctant because of his love for pizza, pasta and bread, Greenwald cut gluten and dairy from his diet and saw an increase in his energy level while losing 20 pounds in two months.
The change in Greenwald's diet led him on a search to find good-tasting gluten- and dairy-free products, but he came up empty-handed. "I found people were settling for products that didn't taste as good as the ones that contained wheat and dairy," he says. "If I'm choosing to eat this way, why should I have to sacrifice on taste and quality of the ingredients?"
Bold Organics launched in January 2012 with four gluten- and dairy-free frozen pizza options. "You can't tell it's gluten-free and dairy-free, which was the whole mindset," Greenwald says. "This is a great-tasting pizza that we can serve to customers out there who are looking for a great-tasting pizza whether they have gluten sensitivities or not."
Brand Building
Bold Organics focused on frozen pizza because the market lacked product innovation and a push towards better-for-you options, Greenwald says. "The category is dominated by a few 800-pound gorillas that haven't done anything innovative," he adds. "We offer the quality more and more consumers are looking for in the better-for-you market that's skyrocketing that none of the other players made a move towards."
The company offers the only gluten- and dairy-free frozen pizzas made with real meat, Greenwald attests. Whole Foods in Florida was the first retailer to carry Bold Organics' products and today its frozen pizzas can be found nationally in CostCo, Kroger, Sam's Club and Walmart stores. "Retailers needed a brand and product that was better-for-you, and the pitch we gave to retailers was: Why shouldn't that be Bold?" Greenwald says. "We are the only ones doing this in the pizza space and will continue to innovate products inside and out of the freezer."
Bold Organics will not disclose the new products it has coming out later this year, but guarantees they will be healthy options with exceptional flavor. In the next 18 months, Bold Organics hopes to be the No. 1 better-for-you brand in frozen pizza. The Bold team's goal is to grow the brand to offer customers healthier options and achieve the same success in other categories that it has had in frozen pizza. "Just because it's healthier, doesn't mean you have to sacrifice on taste," Greenwald says.