With innovative technolgy and dedicated partnerships, Bonamar Corp. strives to provide customers with a safe and high-quality product.
Argenis Contreras founded Bonamar Corporation in 2003 in Miami, Fla. as an importer of fresh crabmeat from his processing and packaging plant in Maracaibo, Venezuela. Fourteen years later, the Medley, Fla.-based company has become an industry leader building its Premium National brand, Sebastian.
"We provide a variety of high-quality products that range from fresh, pasteurized and frozen crab meat," Vice President of Sales and Marketing Alex Cook says. "We also offer soft shell crabs, whole blue crabs, frozen crab meat, shrimp and breaded oysters. Additionally, we have launched a new irradiation process for our company to offer the safest crabmeat in the industry. We are rapidly evolving and growing into the fin fish and value-added channels as well."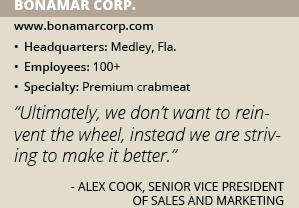 Adding Value
Bonamar's customer range is strategically divided into three sales divisions: wholesale, retail and foodservice. "We sell to everyone from the diner down the street to supermarkets and everything in between," Cook says, noting that the company's goal is to be a value-added resource to its customers.
"One of the challenges in seafood when you're dealing with commodities is to bring more value to customers," he explains. "That could be by a safer, improved product or a product that meets a price point that allows our customers to be able to menu it easily. That's why we are always looking to create that value."
Bonamar's culinary team focuses on menu creation and finding different applications for its products. "We're really trying to be the total package in terms of product support, quality, price and innovation," Cook says. "We're using new technology to improve our products and really lead the industry."
For example, the company has partnered with Gulfport, Miss.-based company Gateway America, to launch the first nationally marketed line of extended safety crabmeat products in the industry. "We are the first company in the U.S. to irradiate pasteurized crabmeat," Cook says. "With our partner, we use gamma ray irradiation technology, which makes our product the safest pasteurized crabmeat in the market. It has also expanded its shelf-life, flavor and texture. It is completely revolutionary and probably one of the biggest processing changes in 30 years in this category. Ultimately, we don't want to reinvent the wheel, instead we are striving to make it better. Our competitors talk about safety, but we deliver it in every can."
Cook adds that it all circles back to the company's commitment to add value to its customers. "We are not just marketing a product line; we're evolving and trying to be problem-solvers and help our customers solve their daily issues," he explains. "That includes quality, expanding shelf-life, price points, sourcing a product and menu ideas. We are probably one of the most customer-centric and focused companies out there as we really partner with our customers and it goes beyond selling them a case – we help them sell more cases. 'Standard' is not in our vocabulary; it's about exceeding expectations and industry standards."
Working Together
"Argenis Contreras constantly says that our team and partners are our largest and most valuable assets," Cook notes, noting the company has built a team of highly creative free thinkers. "We have created a culture that allows and embraces innovation, diversity and creation," he says. "Our partners around the globe and in the U.S. are like-minded companies with solid core values and a commitment to quality. As an example, Shaw's Southern Belle is another family-owned company, which has been operating for over 80 years with a solid commitment to quality and safety, something that is imperative in our industry.
"Additionally, Gateway America is a significant piece to our product safety and quality," he continues. "Frank Benso and his team of highly professional and trained personnel have allowed us to offer some of the safest products in our industry, every day of every week."
Finally, Marketing partnerships with VEJ Holdings LLC/Former NFL Super star Bo Jackson are instrumental programs within Bonamar's sales and marketing departments. "To be teamed up with Bo is a great honor," Cook says. "His determination and commitment to making amazing things happen are inspirational."
To make it all possible Bonamar has 25 supplier relationships globally. They are all strategic partnerships, according to Cook, because the company is "very engaged" with its partners. "We have quality control and purchasing people in different countries working with our production partners," he says. "I think one of the things we do an outstanding job in is communicating and working with our partners. Our founder was a packer in Venezuela, so he truly understands the business from the ground up and came from that background. He's very passionate about working with those packers and, again, finding market solutions and working through challenges together."
Bonamar imports its products from Venezuela, Colombia, Mexico, Ecuador, Nicaragua, Chile, Honduras, China, Vietnam, Indonesia, Myanmar, the Philippines, India and produces in the United States. To create Bonamar's value added line, the company has recently partnered with Fla.-based Shaw's Southern Belle. "They take our imported raw materials, like crabmeat and fin fish, and further process it," Cook says. "So we are supporting our local workforce as well."
Bonamar is looking to expand its presence, too. "We're ever evolving and constantly reviewing new sectors of the business to get into," Cook explains. "So again, we're looking to further that value with creativity and innovation. Right now, we are also on a global search to find sustainable resources for protein. Part of that is our commitment to sustainability and trying to use underutilized species to help us fill the gap. There are a lot of species around the globe that haven't caught on or aren't popular which have potential to be great resources.
"They could also give us an opportunity to help different parts of the world out because it's another resource for that particular country or area," he continues. "Ultimately, the future of our resources is of the upmost importance, which is why we exercise responsibility in any way possible. We strive for sustainable excellence, from our catch methods to every process in between. We have supported several projects to further research long-term sustainable initiatives, and have been a leader in the NFI for many years."
Assuring Quality
All of Bonamar's products are processed under the most rigorous quality and sanitation standards. Quality-control employees in each of its plants supervise these products to ensure quality. "We have two U.S. processing plants, one in Gulfport, Miss., and another in Florida," Cook says. "We have a few global processing plants as well. When we open new plants or partner with plants around the world, we are also training a new workforce and providing them with the skillset needed to excel in specific tasks. There's a real training and education aspect to it that, I think, is very impactful to those communities."
The company's production employees' training depends on the raw material they are processing. "Production employees go through extensive training to ensure they understand the species," Cook explains. "They also have sustainability training and safety classes so that they know how to properly process and handle our products. Additionally, they have extensive equipment and safety training on site. Most importantly, they are trained on our specifications, which are some of the tightest in the industry because they are taught what the color, smell and size of our product should be."
Bonamar's overseas employees are its "first line of defense" when it comes to quality control, Cook notes. "They are packing it in foreign countries and we are receiving it here in the U.S.," he says. "So they are the most important part of our quality control ensuring that production begins properly by packing to our specifications. We also have quality-control managers globally who work with and monitor these plant owners and managers to ensure we are packing a consistent product that meets our standards every time."
As Bonamar looks ahead, "this is truly an amazing time for our company and our goal is to continue creating additional value and innovation," Cook concludes. "We are considering other sales avenues, such as Internet sales. We are also looking into improving our distribution base, different product lines, and packaging and processing operations. Again, we want to keep evolving and improving not only Bonamar, but also the industry. The real goal in the next few years is to keep pushing forward in that manner. Bonamar's corporate vision is to bring innovation and create value in the market place, to bridge diversity with a global offering of cultural inspired flavors."