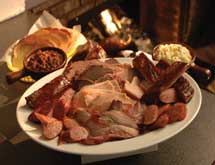 After more than six decades, Bono's Pit Bar-B-Q has made sure not to let go of the traditions that made it successful, Vice President of Operations Josh Martino says. "The integrity of the barbecue has not changed one iota since it began," he says. "We just feel like Bono's is a concept that has not needed much tweaking in the last 60 years to be successful."
The Jacksonville, Fla.-based company operates sit-down casual restaurants that serve Southern Pit barbecue made with the highest quality meat, Martino says. "We don't cut any corners," he says. "We take everything from a fresh raw state and cook it in our smokers and finish it on a live pit."
Founder Lou Bono started Bono's in 1949 with a single location on Beach Boulevard in Jacksonville. Today, CEO Joe Adeeb leads the company, which has 22 locations in Florida and Colorado. In addition, Bono's has started a second concept, Willie Jewell's Old School Bar-B-Q, which offers a fast-casual dining experience.
"We wanted a concept where we could serve the same quality of food, [but have less of a] franchise cost to get into," he says. A Bono's franchise can cost up to $2 million, while Willie Jewell's cost is $340,000 as a turnkey operation.
In addition, Willie Jewell's serves food to customers in a shorter amount of time. "We opened a store in August in North Charleston, S.C.," he says. "We're thrilled with how it came out."
Passion For the Business
Martino joined Bono's five years ago. An attorney by trade, he also serves as its legal counsel. "There's not much I don't enjoy [here]," he raves. "I love my job."
He adds that he has enjoyed the diversity of the company, which has a family feel within its operations. "We've got a large number of people who have worked for us for over 10 years and one gentleman who has worked for Bono's for more than 50 years," he says.
He notes that the company's success is due in large part to the employees, particularly the ones inside the stores. "They're the ambassadors for us," he says. "They're a true testament to what we're all about."
In addition, the company's servers strive to know its clients by name and remember their favorite items. "There's something to be said [about] walking into a place [where] a server knows you by your name," Martino says. "We like the feeling that [a customer will] drive past other restaurants to come see us, not just for the food, but for the overall experience."
Giving Back
In 2009, Bono's celebrated its 60th anniversary. To commemorate the occasion, the company dedicated the entire year to The Donna Foundation, a local charity that raises funds for women with breast cancer who need assistance.
To support the organization, Bono's created a gift card program and donated 10 percent of the funds to the foundation. "At the end of the year, we were able to donate $14,614.60 for The Donna Foundation," he says. "We're so proud of our effort, we have decided to do something like that for a local organization every year."
This year, Bono's will support the Wounded Warrior Project, which provides aid to severely wounded service men and women. "It's a way of giving back to those who serve their country," Martino says. "We are asking every one of our customers every time they eat with us [if they can] make a donation," he says, adding that Bono's rewards customers with Tootsie Roll Pops for participating.
One of the first customers the company approached donated $20 without any hesitation. "We've been blown away by the response," Martino says. "We're not looking for any recognition; we just want to give back."
Analyzing Expenses
Bono's has coped well with the economy, Martino says. "Before everything got really tough, we started to really analyze and scrutinize all of our expenses," he says. "Everything from linens to waste services. There's so much that goes into the restaurant business. In the last couple of years, we've cut our expenses probably [by] around $500,000 a year."
However, the company was careful not to cut anything that would detract from its customers' experiences. "We would never jeopardize a customer's experience," Martino says, adding that the firm's efficiency also has improved. "We expect to be more profitable than we were before because we have learned how much more efficient we can be and how much we can expect from ourselves."