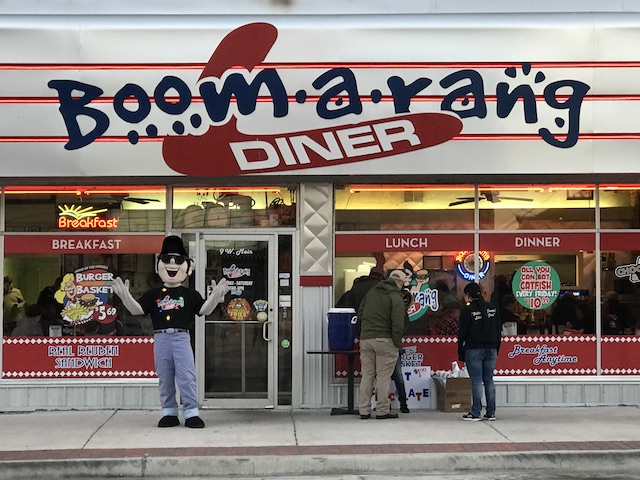 Boomarang Diner targets smaller towns and becomes active in the community to succeed.
Hard work and no wages can pay off. Just ask Steve Degraffenreid, who along with his brother Ron worked for free at the first Boomarang Diner which their father Charles opened in 1998 in Muskogee, Okla.
"When you have only one restaurant and it's a diner, you can't afford everyone's meal ticket," Degraffenreid says. "My brother and I had to get real jobs during the day and work in the evenings and weekends [at no pay] for dad. We always said to dad, 'when can we get paid?' He said, 'when pigs fly.' We found a stuffed pig and hung it from the ceiling in the restaurant."
Charles Degraffenreid opened a second diner in Muskogee three-and-a-half years later, then another in Tahlequah, a sixth in Shawnee – where the family later located their headquarters – and so on.
In those early years, the brothers Degraffenreid continued to work at other restaurants and hospitality companies. "We learned a vast amount of knowledge about their structures and how they did things," Degraffenreid says. "As we grew, we implemented those things [at Boomarang].
Boomarang is a community diner. "It's what people grew up eating," Degraffenreid says. That includes hamburgers, chicken-fried steak, deep fried pickles, catfish, shakes, malts pies and breakfast and lunch all day.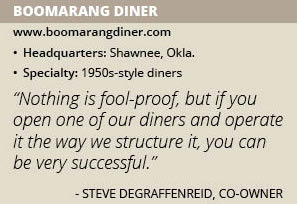 How to Succeed
Any restaurateur will tell you that he or she works in a competitive field and Degraffenreid is no exception. "The restaurant industry in general is pretty volatile and many restaurant fails in the first few years," Degraffenreid says. "What we've done is go into smaller communities. We're not in Tulsa or Oklahoma City. On the outskirts but not in the city. The big [restaurant chains] out there, they don't go to Chandler, Okla., because the population is 3,100."
It's a strategy that has worked. "We open five to six new stores a year on average, although we seem to be growing at a faster pace right now," Degraffenreid says. "In the last 12 months, we've opened four new stores. We're having discussions about master franchising."
Today, Boomarang has 53 restaurants, 26 of them franchises.
Active in Communities
There is more to success at Boom-a-rang than locating in smaller towns. One strategy is to be active in the community.
"We get involved in helping out the school system and store managers and franchise owners get involved the chamber and Lions Club and Rotary," Degraffenreid says. "I was at a high school football game the other night and I looked over and there was a Boom-a-rang Diner banner on the fence. They were giving away a Boom-a-rang gift certificate. We don't put our money into TV or radio. We put our money into the community."
Really Fortunate
The unemployment rate in Oklahoma in October 2018 was 3.4 percent, according to the U.S. Bureau of Labor Statistics. That can make it tough on any employer to recruit talented employees. Degraffenreid says recruiting can be "hit or miss" although overall Boom-a-rang has "been really fortunate." The chain has a management training program and along with good pay offers competitive benefits including flexible schedules, insurance and the opportunity to eventually become owner-operators.
Franchise Supports
According to their FDD, the initial cost to franchise a Boomarang Diner ranges from $111,800 to $550,550 depending on several factors, including whether the company constructs a new building, leases a building or takes over an existing restaurant.
New franchisees go through a 10-week training program with weekly tests. "We help them through the building process with architectural plans, equipment purchases, support on the construction process," Degraffenreid says. "We help coordinate the whole opening, marketing-wise. We deal with the local chamber of commerce. We send in a training crew for the first few weeks to help operate the stores until the franchisees get their sea legs. Nothing is fool-proof, but if you open one of our diners and operate it the way we structure it, you can be very successful."
All About Legacy
In 2019, the Degraffenreid brothers will celebrate the 21st anniversary of Boomarang Diner, which continues to be a family business. Steve and Ron Degraffenreid's wives, Kristina and Meredith, handled accounting for 15 years and the brothers both have sons who work for the company.
Asked about the company's future, Degraffenreid doesn't talk about profits. "The future, its all about legacy," Degraffenreid says. "I get a warm feeling in my heart when I see people succeed. I want to see that some of the people who worked hard with us fulfill their destiny. I'm excited to see where we go, the next five years."